CMO Roundtable: Spending Ad Funds to Get Results at the Local Level
How do you ensure that your franchisees spend the ad funds and get the desired results at the local level?
Casey Terrell
Vice President, Marketing & Operations
Pinch A Penny Pool Patio and Spa
As the world's largest swimming pool retail, service, and repair franchise, it's imperative that our marketing initiatives are successful in driving sales and traffic on a local level to our more than 230 locations across the Southeast. In our 42-year history, our brand has seen tremendous success by solely managing the entire advertising budget, which includes funds Pinch A Penny Pool Patio and Spa allocates to all of its territories in the Southeast.
Although our national footprint has grown over the years, we pride ourselves on our ability to remain "local," while also maintaining our position as one of the pool industry's leaders in the marketplace. We're a relationship-based business and fully believe in selecting the right media partners and owner-operators who can assist our marketing and operations teams to create, develop, and execute strategic marketing tactics at a local level.
We're very transparent with our franchisees and encourage them to share feedback and propose ideas about marketing and operational initiatives to our executive leadership team. Franchisees are also invited to attend the brand's various open forums to provide their feedback, such as our annual convention, where corporate shares its overall strategy for marketing and advertising and identifies new opportunities for growth and development.
In today's consumer landscape, our customers have access to a vast amount of technology and data for making purchasing decisions. Therefore our franchisees also must have access to the most up-to-date technology and analytics to continue to be at the forefront of the pool supply and service industry. In addition, having highly trained marketing and operations teams ensures that our advertising and marketing methodology not only resonates with customers on a local level, but also maintains healthy sales and increased traffic.
Artemio Garza
Chief Brand Officer
Driven Brands
Driven Brands features a dynamic portfolio of automotive retail brands, including Carstar, Maaco, Meineke, Take 5 Oil Change, and 1-800-Radiator, among others. As these brands have varying levels of maturity--from 45-year-old Maaco and Meineke to newer brands like Take 5--we manage numerous brand campaigns to build awareness for the new brands and brand refresh programs for the more mature brands.
Each retail brand has a marketing manager who develops a marketing plan each year to guide brand building activities nationally and locally. This is done in conjunction with national marketing advisory councils made up of franchise owners. Monthly and quarterly promotions are identified, and franchisees have an opportunity to vote on which ones are activated. Also, the national marketing team develops television commercials, radio commercials, digital graphics, and print graphics that local franchisees can use in their individual markets.
In addition, the national marketing teams work with national media buying partners and digital service providers on programs that can be implemented locally. This includes network and cable television, local radio advertising, and local print media. The national marketing teams, in conjunction with the Driven Brands digital team, help create national platforms to ensure a uniform, SEO-rich presence for all brand franchisees online. This includes national websites with store-focused pages, social pages on Facebook and Twitter, as well as, digital marketing like Yelp, pay-per-click, and retargeting campaigns.
Marketing campaigns are tracked through comprehensive monitoring, from tracking phone calls and web clicks to customer redemptions at the center level. In addition, ongoing brand tracking monitors brand awareness and engagement at all levels.
Published: October 28th, 2017
Share this Feature
Recommended Reading:
Comments:
comments powered by

Disqus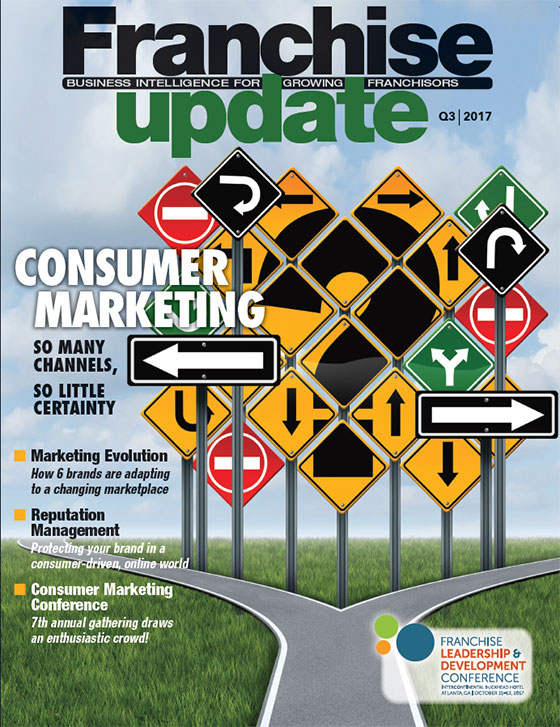 Franchise Update Magazine: Issue 3, 2017
BoeFly drives growth by delivering financially qualified candidates increasing lead-to-franchisee conversion, and helping franchisees secure...
Hub by Thryv is an end-to-end client experience platform custom-built for franchises. Its ready-to-use business apps help franchisees view their...