Back to the Future: Freddy's Frozen Custard Brings the 1940s to Life!
Shelley Young, vice president of marketing at Freddy's Frozen Custard & Steakburgers, cherishes what she calls her "dream role for a marketer." Young loves pondering the marketing and growth possibilities of the 15-year-old brand that serves up 1940s-style steakburgers, hot dogs, and custard treats.
"Beginning at Freddy's in 2011, when we had just 52 restaurant locations, has given me the honor to help shepherd the brand to where it is today, with more than 260 restaurants nationwide and no slowing of growth in sight," she says. Freddy's, she adds, is a brand with "values, integrity, hospitality, and quality."
Young complements her diverse marketing experience with an MBA in marketing, strategy, and finance from Northwestern University's Kellogg School of Management. Past experience includes brand management and product marketing at the Coleman Company, strategic planning at Koch Industries, and brand management at Kraft Foods.
Changes in technology and shifts in marketing strategies and tactics mean today's brands must stay flexible to adapt to an ever-changing landscape. That's not lost on Young, who says Freddy's is focused on how it can "stay relevant to our guests while also appealing to future ones--all while keeping our core brand values consistent and intact."
Describe your role as vice president of marketing.
First and foremost, I am here to nurture and protect the brand and lead my team--and all of our team members--to do the same. Leading the marketing strategy means being an ambassador for the brand, actively communicating across all functions of the company and the entire franchise network about living the spirit of the brand and protecting it, especially as we grow. The culture defines my role as well. I know as long as I am making strategic marketing decisions with Freddy's values as the foundation of the decision-making process, the integrity of the brand will be protected and allow us to more easily grow love for the brand among our guests.
What's unique about your position at Freddy's?
There are many wonderful, unique aspects of my position here, but much of this ties back to working for such a strong, respected brand. Our corporate office is strategy-driven, yet operates like a local restaurant in that we are focused on keeping the guest top of mind. From a marketing and operations perspective, we have a great program in place where we leverage our corporate stores to test, measure, and roll out new menu items and initiatives system-wide.
What's the most challenging part of being a marketing leader today?
As technology continues to play a major role in all of our daily lives, the constant messaging from numerous sources can cause brand overload and confusion, but also brand excitement and loyalty. The growth of technology brings a wealth of available tools. The key is to use the ones that provide the most valuable opportunities for the brand. Knowing and using the right tools to share our brand message and core values to reach our fans and create new brand loyalists can be a challenging process. Often, it's trying a new tactic, evaluating its effectiveness, and either sticking with it or being nimble and changing course as needed. But when that new tactic or tool is successful and our message reaches and activates our core consumer, the challenge becomes rewarding.
What are the 3 most important keys to being an effective marketing leader today?
1) Communication is of utmost importance. As in any relationship, strong communication is a means of connecting people through shared values and collaboration to create mutual understanding. This applies not only to a brand with its fans, but also within our marketing teams and the broader Freddy's family. Communication sets the tone to create a collaborative environment that our teams desire to be a part of and thrive in. It also ultimately strengthens them and, in turn, the brand itself.
2) Embracing the ever-changing role of marketing, in order to have the flexibility needed to adapt to the evolving landscape of our markets. It is necessary to allow our brand to evolve and stay relevant to our guests while also appealing to future ones--all while keeping our core brand values consistent and intact. If we look at marketing only from its traditional definition, this will hinder our ability to adapt to new and exciting ways of reaching our audience.
3) Finally, having passion for your brand is critical to fuel your drive and enthusiasm to see the brand succeed. That passion, and working to inspire it in your team and others in the Freddy's family, ultimately becomes visible to our guests and is what continues to help grow our national footprint--while sparking passion for the brand among our guests as well.
How do you prepare a marketing plan and execute the strategies?
I'm lucky to be part of a company with highly talented, engaged, and loyal team members, so we're better able to create and execute marketing strategies in an efficient manner. Working side by side with the founders allows us to channel their entrepreneurial spirit and business savvy to marry our brand, set in the 1940s, with today's modern marketing strategies and opportunities. We also work with loyal partners across the marketing spectrum who understand and love the brand and are excited to see it succeed. Our combined efforts allow us to effectively move the brand forward by rapidly and intelligently executing marketing strategies, while never losing sight of our core values that brought us to where we are today.
How do you measure marketing results and effectiveness?
We look at comparative AUV year over year, as well as social media traffic and other online measures for specific campaigns. Both limited-time offers and specific annual promotions provide measurable marketing periods in addition to our ongoing business.
Discuss your core consumer marketing strategies and objectives.
A traditional marketing strategist would say "targeting everyone is targeting no one." But with a restaurant concept like our, which appeals to such a broad range of ages, families, and individuals alike, it makes narrowing down that core consumer market a challenge. Instead of looking at traditional demographics, we focus on our guests' values. We know that people tend toward like-minded people and brands, and we keep that at the forefront of all of our marketing strategy decisions. As a company, we value hospitality and quality above all else, and we know our guests, both loyal and new, appreciate those same values. Highlighting those values in our marketing strategies is key.
How do you go about creating a customer-centric marketing and brand philosophy?
Freddy's story is the basis of our brand identity and provides the foundation for our positioning as a family-friendly restaurant with a focus on high-quality food and hospitality. It is also extremely important for us to be receptive to our guests' comments by incorporating their feedback into new ideas and better ways to serve them. Most importantly, our emphasis remains fixed on executing our core values of fast, friendly service in a relaxed environment coupled with quality food that's cooked to order and served fresh within minutes. It's the experience our guests enjoy, and it's what they expect as we continue to grow.
Describe your marketing team and the role each plays.
Our marketing team is small but mighty. Our core marketing team members work closely with our social media and PR teams to ensure that campaigns are well-rounded and reach our fans through multiple channels. Our team members have decades of experience with backgrounds in marketing, communications, and general business. Though each plays a unique role within the team, we are all very cohesive and bring our specific strengths and talents to every project. We are a highly collaborative and engaged team, and that benefits all of our work for the brand.
Why is it so important for the marketing department to have a personal touch when it comes to helping the brand connect with franchise prospects?
It may go without saying, but in the hospitality industry, everything is about adding a personal touch, and this is especially true of the Freddy's dining experience. Our brand was founded around one very special person, Freddy Simon--a lifelong family man--and his belief in American patriotism and family values. This is something that is deeply ingrained in our brand and something that we have held steadfast as we continue to grow.
How does this help your franchise sales and development effort?
Our values and brand standards--including the importance of maintaining a personal touch--are something we implement system-wide, and they are equally as important across all our networks. We do this by remaining accessible and available to meet the needs of our franchise sales and development team, as well as our prospects and partners. All departments contribute to the final decision of a prospective franchisee to join the brand. Many of our franchisees first experienced Freddy's as guests. So we truly have a brand that's driven by individuals who are passionate about the work they do and believe wholeheartedly in the concept and our core values. From support department employees and franchisees to restaurant management and team members, the Freddy's family works together to provide a genuinely exceptional dining experience that differentiates us from the competition.
What ways/tools do you rely on to do this?
We have a marketing committee that includes franchisees from across the country, in addition to our founders. It provides feedback on a variety of topics, so that we can evaluate the effectiveness of our efforts and adjust our strategies accordingly. The marketing committee has proven to be an incredibly valuable tool in helping us enhance our processes while allowing us to evolve our brand to the next level.
Do today's prospects expect more from the franchise marketing department? What, and how do you provide it?
In addition to offering comprehensive, seamless marketing campaigns and tools to our network of franchisees, we offer ongoing training and support to ensure operators are successful in executing local marketing campaigns and promoting their restaurants in their respective markets. With a strong, effective marketing program in place, the likelihood of franchisees being successful and using these tools in the future increases.
How is technology changing the way franchise marketing is done in terms of one-on-one contact?
Technology has had a strong impact on one-on-one contact with our guests. As it continues to evolve and opportunities to use it continue to multiply, it provides us with an ever-growing number of ways to better target our core guest with various tactics, usually at a much lower cost than traditional marketing.
How is today's consumer and marketing data helping you fine-tune your marketing initiatives?
Data provides a window into both the strengths and opportunities in our overall business, as well as into our specific marketing initiatives. The feedback we receive from our consumer and marketing data helps us better understand how what we do resonates with our guests. With the right data, we are able to measure guest engagement with the brand on a daily, weekly, or monthly basis so we can adjust and improve our initiatives in real time.
Describe the evolving role of social media in your brand's marketing efforts.
Social media continues to provide another way for our guests to stay in tune with our everyday menu offerings, limited-time offers, and special promotions. Today photos and videos that guests, team members, and bloggers share can spread to thousands, if not millions, of people, faster than ever before. As marketers, this is a very exciting time, but also one that we have to be mindful of, ensuring that we maintain these channels as a welcoming avenue for guests to communicate any questions or concerns about their Freddy's experiences. As we continue to grow, so do our social media and digital hospitality teams to ensure we are engaging with users across our various social media platforms as close to real time as possible. In addition, we post a combination of company news and community events with photos and videos to exchange information with guests. Our recent shift from studio-styled product shots to high-quality, natural images of an entire meal has noticeably increased the frequency in guests who comment, "Going to Freddy's now!" and "Will be there for lunch tomorrow!"
How are you assisting your existing franchisees with more contact and transparency? What are their immediate needs?
We understand and will always remain mindful that our franchisees are busy juggling different aspects of their businesses. As a result, we offer a convenient, consolidated online marketing portal where operators can download customizable creative templates for ad spots and other mediums on their own schedule. This not only saves time dealing with multiple vendors, it also helps to cut costs in the long run.
How do you work with other internal departments and does technology help?
Technology plays an increasingly important role in research and decision-making within our organization. Software such as SharePoint and other project management tools not only empower our team to take ownership of their decisions, it also allows our various internal departments to seamlessly collaborate with one another.
How do you manage costs and budgets for the marketing department?
My team and I develop and manage an annual budget for the department based on realistic marketing goals that are set for the year. Funds are then allocated toward different initiatives and marketing channels throughout the year where we feel we can be most effective in stretching our marketing dollars and boosting the bottom line.
Do you see vendors as business partners? Why/why not?
We embrace a philosophy of treating both team members and vendors as family, as well as treating and referring to our customers as "guests." Our belief is that it's the atmosphere of treating everyone with respect and offering a memorable experience that has been a catalyst for the growth of the brand.
How have marketing strategies and tools changed over the past decade? How have you adapted?
As we all know, technology and social media have dramatically changed and continue to change the marketing landscape. Though traditional marketing tools are still highly relevant, technology has allowed us to work more efficiently and effectively to target our core consumers and communicate the information they need, in the way they want to receive it, to make an informed decision about our brand. The Freddy's brand is set in the 1940s, but that does not prevent us from embracing modern marketing trends. We strive to keep the brand on-trend but not trendy, and keeping up with today's technology advancements helps us to stay relevant with our fans.
How is your marketing/branding strategy developed, and how does it flow through the system?
We launch annual promotions for various holidays, such as Freddy's birthday in February, National Frozen Custard Day, and Veterans Day. In addition, we provide marketing support for limited-time offers throughout the year as well as evergreen marketing pieces to support everything from a broad, traditional campaign to a specific local store marketing initiative. We work closely with our marketing partners to develop our programs and then share them with the executive team, other departments, and finally the whole system. Clear and thorough communication is key.
What advice would you offer to aspiring CMOs?
Never stop learning. Education in any field does not stop once the job starts. It really just begins. Continue to learn by listening to your team members--both inside and outside of marketing, experts in the field, those with years of experience under their belts, as well as those with fresh perspectives. Surround yourself with smart people you respect, whose strengths balance your weaknesses and who you trust with protecting and nurturing the brand just as much as you do. Keeping your finger on the pulse of marketing trends, business advancements, and leadership styles will allow you to grow in your career and not get stale in "how it's always been done." Asking questions to gain a deeper understanding and to uncover insights will always prove to be worthwhile.
Published: August 27th, 2017
Share this Feature
Recommended Reading:
Comments:
comments powered by

Disqus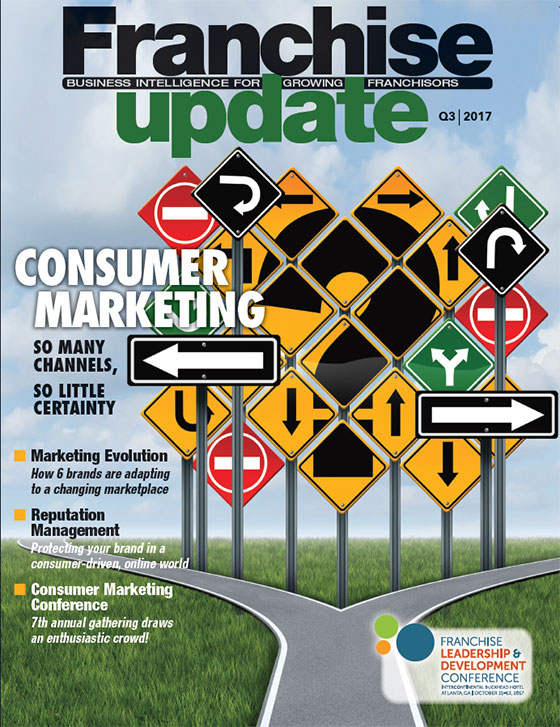 Franchise Update Magazine: Issue 3, 2017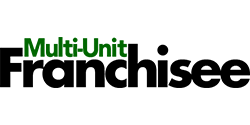 Published quarterly, Multi-Unit Franchisee Magazine is dedicated exclusively to Multi-Unit Franchisees. It delivers vital information and business...
Leasecake is location management made easy – from lease contracts and licensing agreements to ASC 842 compliance. Never miss a deadline, stay ahead...