CMO Roundtable: Keys To Better Communication Between Your Brand, Franchisees, and Customers
"What are the keys to better, more open communication between your brand, franchisees, and customers? What tools or strategies do you use?"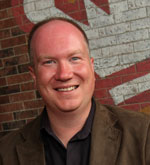 Scott Iversen
Director of Marketing
Toppers Pizza Inc.
When it comes to communication, no two brands are the same. While some of their technologies (extranet sites, social media footprint, advertising strategies) might align, communication is not a one-size-fits all box. Communication, though, is critical for success. It is the most crucial beginning to any process, whether brand, franchisee, or customer. Communication is where first impressions are made and, hopefully, last.

When it comes to communicating our brand, we take a very open approach, from our messaging to advertising to PR to social footprints. Toppers focuses on talking with the end user, not at them. This form of communication has led to strong unit-level economics, including average annual gross sales per unit of $932,761 and an average per-unit net profit of $131,341, as reported in our Item 19. We have achieved strong sales through our brand communication, as we focus on building loyalty among customers. The way our brand speaks sets the tone for the way we communicate with our franchisees: frequently and honestly.
With our franchisees, we walk a fine line of communicating, in that we don't want to over-communicate, yet still provide them with strong tools to be successful. Toppers does have the benefit of operating restaurants corporately, so we can test communication processes with our managers and leaders and judge their receptiveness to ideas and methods. One strategy we have implemented is a quarterly marketing kit, a deep document full of every marketing initiative we have scheduled for the next quarter, from the way we speak with our customers to our social promotions to our advertising collateral. All information is in one document, neatly organized to provide ease of understanding for our franchisees.
Setting up our franchisees for success with proper planning then translates to our customers. We are proactive in our communication and give the customer plenty of time to prepare for their Toppers experience. For instance, we have built a strong following on our Facebook Fan Page (we have more fans per location than any of our big box competitors) who patiently await our Toppers Tuesday specials, a socially promoted deal on our slowest sales day, used to reward our customers with an additional opportunity to enjoy our product as well as a way to increase our system-wide sales on a slow day.
Communication is key to our success, from restaurant to website to socially to marketing. Consistency of message and not overcomplicating our message is exactly what our brand delivers and our franchisees and customers desire.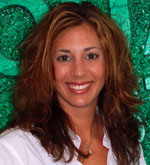 Marla Pieton
Quaker Steak & Lube
Senior Director of Marketing
Every quarter, we host a Franchise Owner Dinner and Roundtable. The purpose of this get-together is to allow a free exchange of ideas about how we can improve franchise support and further strengthen our brand. We also like to refer to the session as a "What's stupid around here" meeting, with the ultimate goal of having open, transparent dialogue between franchise owners and Lube team members. Being transparent, or operating with a lack of secrecy, has proven to be a critical component of our brand's growth and 38-year success.
At one memorable roundtable, we spent significant time discussing our menu and how it could be improved to strengthen our brand DNA. We ultimately came to three conclusions: 1) the current design is important, 2) when new menu items are added we should take old ones off, and 3) we must respect our base (wings, ribs, burgers, and salads) while continuing to find new and creative items that loyal Lubies would enjoy. Certainly the outcome of this discussion was important, but what was extremely gratifying was the interaction and exchange of ideas that took place among all parties. This is key to successful relationships.
Additionally, WYSIWYG--"what you see is what you get," a term that became popular in association with the original Apple computers because what you saw on the screen was what printed out on paper--is another important leadership trait we all try to exhibit at The Lube. By displaying commendable WYSIWYG qualities, we are creating a more open, honest work environment. Operating in this matter allows us to get more done, make smarter decisions, and build trust among one another.
Today, Quaker Steak & Lube has become one of the fastest-growing restaurant chains in the country, and has won hundreds of national and international awards for our wings and more than 20 different wing sauces. Further, we are rapidly expanding and are thrilled to be in a position to double our 50-unit footprint in the near future. This would not be possible without our franchise owners and Lube team members working closely together to grow the brand and provide the best possible experience for current and future guests.
Published: October 22nd, 2012
Share this Feature
Recommended Reading:
Comments:
comments powered by

Disqus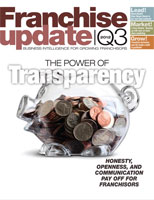 Franchise Update Magazine: Issue 3, 2012
Conferences
InterContinental, Atlanta
OCT 18-20TH, 2023
June 18-20, 2024 Marketing-Operations-Technology. Be a part of this ground-breaking new space for ideas, inspiration and networking for Franchise...
Clayton Kendall provides franchise communities nationwide with comprehensive branded merchandise programs leading to greater brand exposure,...