Coffee for Everyone! Drive-thrus lead to record sales for this Scooter's franchisee
Name: Jason Metcalf
Title: President
Company: Metcalf Coffee
Units: 27 Scooter's Coffee open, 2 under construction
Age: 42
Family: In business with my mom Rita
Years in franchising: 16
Years in current position: 16
"We're in a big growth mode right now," says 42-year-old Scooter's Coffee multi-unit operator Jason Metcalf. That's an understatement.
For the past 16 years Metcalf and his partner—his mother Rita—have been building out the Lincoln, Nebraska market for Scooter's Coffee. In fact, their company, Metcalf Coffee, was one of the first Scooter's Coffee franchisees back in 2005.
Earlier this year, the Metcalfs doubled their company's size in one stroke by purchasing 13 Scooter's corporate stores in the Oklahoma City market. Going a big step further, they signed on to build another 26 units in the area in the coming years. The partners currently operate 27 locations and are in the middle of building two more. You could say they're a mother-and-son power team.
Metcalf says his company has come a long way since the early days when the two of them wore every hat. Concerted growth became possible when they started hiring talented people who could take over the day-to-day workload, allowing him to focus more on developing the business. That strategy has evolved and today, he says, they are intent on hiring the right kinds of leaders who can be trusted to make good decisions within the framework he provides.
In fact, one of the ways Metcalf measures the company's success is by the amount of responsibility his people take on. "It tells us how well we've hired and how well they've been able to handle the workload we've thrown on them," he says.
Last year's pandemic took a toll on many businesses, but Metcalf says Scooter's drive-thru model was custom-built to meet the challenges of Covid-19. In fact, he says, "We had another record year in sales last year."
"We have the systems in place and an aggressive development schedule that will keep us focused on our goals," says Metcalf. "We follow the playbook that has allowed us to grow."
Inking that big expansion deal earlier this year was only part of their growth plans. "We expect to grow by 50% in store count in the next 5 years," he says.
PERSONAL
First job: It's actually hard to remember, but I believe my first job was delivering flowers!
First turning point in your career: The biggest turning point was when we started hiring talented people. That took the load off us and allowed us to focus more on developing the business. Reaching that point allowed us to not wear every hat, and things kept growing from there.
Work week: It's a lot of phone calls and responding to a lot of emails. Most of it is coordinating architects, engineers, and contractors. I also spend a lot of time on the phone with other franchisees providing advice on things like site selection and development.
Best advice you ever got: There is a lot, but one really useful piece of advice I got is to create an environment that you would want to work in as an employee. Another quick one is in terms of site selection, which is that you can't fix bad real estate.
How do you balance life and work? Being driven has been a personal blessing. But I think successful people have a hard time shutting it off because they're willing to do what others aren't in order to succeed. So knowing when to shut it off is the big sticking point. You just have to try to find times to be present in a social setting or at home.
Favorite movie: A couple of my favorites are "Tombstone" and "Top Gun," but I have a lot on the list.
What did you want to be when you grew up? Like a lot of people, I wanted to be a professional basketball player. And like a lot of people, I think high school was when it became clear that wasn't happening.
Last vacation: Colorado for fly-fishing.
Person I'd most like to have lunch with: I'd have to say Roy Williams, the UNC basketball coach. He recently retired, so maybe he has a little more time to meet with me.
MANAGEMENT
Management method or style: We want to hire leaders who can take a project and own it, so we give a lot of autonomy to our leadership. We have structure, but don't want to keep them inside a box. Give them the ability to make decisions and learn how they handle that responsibility.
Greatest challenge: We're in a big growth mode right now, so the biggest challenge is keeping our culture the same even when we can't be in every store every day. Our goal is to find talented people who buy into the culture we're trying to create.
One thing I'm looking to do better: Identifying who fits the culture and giving more opportunities to those folks, rather than to those who don't fit. Getting the right people in the right seats.
How I give my team room to innovate and experiment: Much like I mentioned before, it's about providing a structure, but not necessarily a strictly defined playbook. We hire leaders we trust to make their best decisions within a certain framework.
How close are you to operations? We're not making day-to-day operational decisions, but we're in stores every day and know what's going on at the management level. We're certainly involved every day in one way or another.
What are the two most important things you rely on from your franchisor? The first is supply chain, because it's so important not only to get your products, but to trust the quality of those products. The second is innovation with new products and keeping up with new trends and demand.
What I need from vendors: Reliability is key, first and foremost. You have to be able to trust that things will happen on time and to your expectations. Along with that, communication is the next step to building those expectations and knowing what to fix.
Have you changed your marketing strategy in response to the economy? How? Our emphasis has simply been less on product and more on people.
How is social media affecting your business? Ultimately, it's what they say about the business and not what we say. It's great for a business to be engaged, but at the end of the day, taking care of customers when they come through and building that relationship where they spread the word is more valuable.
How do you hire and fire? It's pretty simple. We look for personality and culture fit more than experience. We feel we can train people to have the right skills but it's harder to teach personality. That's mostly what we base those decisions on.
Fastest way into my doghouse: Probably three different ways that are mostly related to each other: complacency, defensiveness, and an inability to accept change.
COVID-19
What are the biggest impacts of Covid-19 on your business? We had another record year in 2020, in spite of Covid. I think having our drive-thrus stay open and having consistency endeared our customers more to us. Knowing they could trust the brand solidified our relationship.
How have you responded? We just followed the CDC recommendations to create a safe environment for both customers and employees. Doing that helped us remain confident to stay open and continue building that trust I just mentioned.
What changes do you think will be permanent? I wouldn't necessarily call them changes, because we have always taken sanitation and cleanliness seriously. Going forward, I think it's just continuing that emphasis. The great thing about our model is that there wasn't much that had to be adapted.
BOTTOM LINE
Annual revenue: N/A.
Growth meter: How do you measure your growth? The easy answer would be store count and year-over-year sales, but we also measure success by the amount of responsibility our people take on. We can use that as a measure of how well we've hired and how well they've been able to handle the workload we've thrown on them. Turnover is another side of that same calculation.
Vision meter: Where do you want to be in 5 years? 10 years? We have 5-year expectations to have stable managers and upper-level management in place in our markets. As for growth, we expect to grow by 50% in store count in that period.
Do you have brands in different segments? Why/why not? Just Scooter's. We love the brand and the concept, and we're just looking forward to staying with the playbook that has led to our successful development so far.
How do changes in the economy affect the way you do business? It hasn't affected us at all. We didn't terminate anybody in the early stages of Covid. We held our staff and have actually been continually hiring more. We think of it like a farmer plowing a field: you can't just look 5 feet in front of you, because it's more telling to continue looking down the row. The key is not being reactive.
How do you forecast for your business? We talk every day about trends we see and small tweaks that might be necessary. The development world kind of comes in waves where nothing happens for a while then three or four deals happen at once. So you always have to be looking forward to position yourself to handle the growth.
How do you reward/recognize top-performing employees? I've talked a lot of about this here, but advancement is really the biggest reward for us: giving them more opportunities to showcase their leadership and ability to handle greater responsibility.
What kind of exit strategy do you have in place? My mom and I are the only two partners and we have a buy-sell between us, but there is no intention of selling. We're in a really exciting growth period and looking forward to the future.
Published: July 24th, 2021
Share this Feature
Recommended Reading:
Comments:
comments powered by

Disqus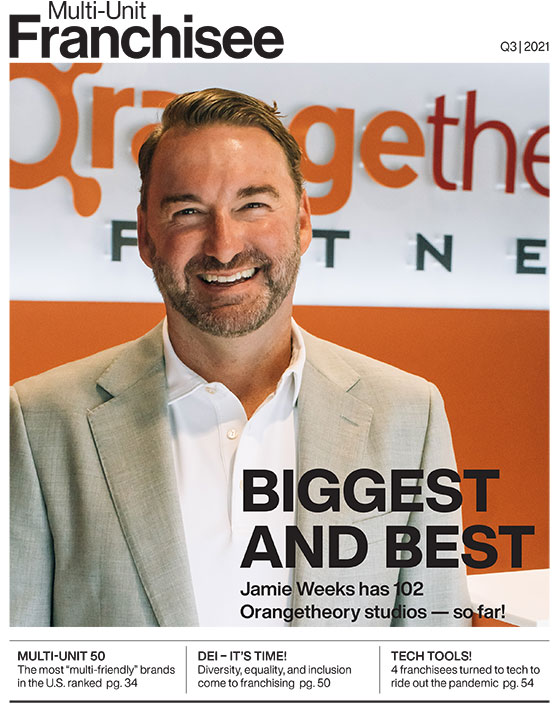 Multi-Unit Franchisee Magazine: Issue 3, 2021
The Habit Burger Grill comes equipped with its unique flavor created by chargrilling over an open flame and a diversified menu which appeals to a...
Build a Future with the Computer Service Industry Pioneers. NerdsToGo is paving the way as innovators, entrepreneurs, franchisees, and successful...
Cash Required:
$70,000