Mentor, Mold, Teach. Building tomorrow's leaders
Name: Peter Braun
Title: President
Company: Orchard Group
Units: 5 Taco Bell (1 under construction), 5 KFC (1 in development), 2 Jersey Mike's (10 in development)
Age: 61
Family: Wife Marty, 5 children
Years in franchising: 31
Years in current position: 31
The business philosophy at Peter Braun's multi-brand company, Orchard Foods, boils down to three words: mentor, mold, teach. Those are more than just words to Braun. They're action statements that affect how he operates his business every day.
"If I take care of my people, that will help ensure the business succeeds, and we can also develop future leaders who will care about people and their community," he says.
For more than three decades, Braun has worked to build a thriving business and develop a strong connection to the places he does business. "We have worked hard to support the communities that make it possible for us to operate," he says.
Braun opened his first Taco Bell in Port Orchard, Washington, in 1989. At one point he had around 40 Taco Bells and KFC locations before scaling back. Today he operates 5 Taco Bells, 5 KFCs, and 2 Jersey Mike's along the Olympic Peninsula in Washington. He's also busy developing 10 Jersey Mike's, 1 KFC, and has a Taco Bell under construction.
He became a Jersey Mike's franchisee earlier this year in part—and not surprisingly—because of the brand's reputation for having a culture that gives back. He was also drawn to the sandwich chain's program that allows store managers to become owners.
Like many multi-unit operators, Braun has weathered good and bad times and says he's done so with good advisors and a strong will to survive. He also points to his strategy of diversification as a key to his success. "Three brands helps even out our overall company performance," he says.
At 61, Braun says he's still going strong and remains active in his business, although his priorities have shifted. "My main focus these days is growing our leadership team. It's one of the best ways to ensure bright futures."
PERSONAL
First job: Running a printing press after school. My grandfather was a printer.
Formative influences/events: Grandparents.
Key accomplishments: Raising five great children. Marrying my best friend. Building a culture that matters. Being a big part of supporting our community.
Biggest current challenge: Building brand leaders/owners.
Next big goal: Make Jersey Mike's a power brand in our market.
First turning point in your career: Surviving two company financial crises, one in each of our first two brands. I considered it a PhD in finance and banking. I learned that with good advisors and a strong will to survive, a great small business can survive anything.
Best business decision: Asking leaders questions and listening. I really do not make any decision without my company stakeholders and some time "noodling" the thoughts they share and how they shape my direction.
Hardest lesson learned: Thinking I had all the answers. As a younger leader, I was more driven by energy and charisma. I have slowed down, and that has let us go farther.
Work week: Five days (I end up doing some weekend work, because I love it), lessening my time in day-to-day. Engaging with our community and my leaders is where I spend my time.
Exercise/workout: Walk, hike, bike, lift, ski (rarely lately). I do something daily.
Best advice you ever got: Take care of your people, the business will take care of itself.
What's your passion in business? Developing future leaders who will care for their people and community.
How do you balance life and work? I integrate life and work. They are both part of the same.
Guilty pleasure: Mountain Dew.
Favorite book: That's tough. I loved Tom Clancy's Without Remorse, and for nonfiction I enjoy Patrick Lencioni on leadership parables to share. I am reading Leading From the Edge of the Inside by Jim Moats, my Vistage Chair.
Favorite movie: Again tough. "The Godfather" is a classic. I saw "Top Gun" a dozen times.
What do most people not know about you? I am a pretty open book.
Pet peeve: Overexplaining.
What did you want to be when you grew up? Doctor and then journalist.
Last vacation: New Mexico for my mom's memorial.
Person I'd most like to have lunch with: My wife and/or our family.
MANAGEMENT
Business philosophy: Mentor, Mold, Teach. Mentor: Providing the time and space to help people develop their passion and direction. Mold: Providing a workplace that supports the molding of quality and character. Teach: We never stop learning; this is a lifelong process. We strive to teach our people how to succeed in whatever they want to pursue.
Management method or style: Integrated cooperative.
Greatest challenge: Building brand leaders/owners.
How do others describe you? Energetic, engaging, encouraging.
One thing I'm looking to do better: Listen.
How I give my team room to innovate and experiment: Slow to react, allow the lesson. I will not point out a mistake unless they keep making it. I really believe in 1-on-1 meetings and providing our people with leadership development. We are not shy about using outside experts to help and learn from.
How close are you to operations? Broadly, very much, and I leave brand details to brand leaders. I am at a point where my focus is on growing our leadership team. Still, I love being in stores and recognizing our people. Covid has made that tough.
What are the two most important things you rely on from your franchisor? Systems training and technology leading.
What I need from vendors: Reliability.
Have you changed your marketing strategy in response to the economy? How? Yes, very focused on local community giving and support.
How is social media affecting your business? Increased engagement, a new way for customers to talk to us. One thing I love about Jersey Mike's is their community/social scorecard.
How do you hire and fire? Slowly and quickly.
How do you train and retain? With integrity and with genuine interest. We want to personalize the experience from onboarding to the first-day tour with their new leader.
How do you deal with problem employees? Listen, make sure we know all the facts. I have always thought the "dynamic discussion" is a great model. Listen, agree on facts, agree on a plan to correct, and follow up. If the employee will not commit, then we have to move to progressive.
Fastest way into my doghouse: Overexplain. Get to the point.
COVID-19
What are the biggest impacts of Covid-19 on your business? Its impact on our employees. Protecting our employees, along with our customers, is our biggest priority. Our employees have fear and fatigue.
How have you responded? Take care of our people and customers. Safety.
What changes do you think will be permanent? Delivery and carryout.
BOTTOM LINE
Annual revenue: N/A.
2021 goals: Building our bench, adding to our leadership classes, brand leader development.
Growth meter: How do you measure your growth? Sales year over year, per store average, and most important, transactions.
Vision meter: Where do you want to be in 5 years? 10 years? A strong, connected team of leaders.
Do you have brands in different segments? Why/why not? Three brands: QSR and fast casual. All brands have cycles, good times and slower times. By having multiple brands we even out our overall company performance.
How is the economy in your region affecting you, your employees, your customers? While lockdowns have been hard, the Seattle economy was so strong and diverse it has been resilient.
Are you experiencing economic growth in your market? Yes, in spite of Covid.
How do changes in the economy affect the way you do business? Really the biggest impact is the ongoing changes to operating in Covid, and government regulations and taxes in our state.
How do you forecast for your business? Consider store-level trends, regional economic trends, and franchisor forecasts.
What are the best sources for capital expansion? Retain cash or a strong industry financial institution.
Experience with private equity, local banks, national banks, other institutions? Why/why not? No interest in PE and what comes with it. We are likely too small. Our local bank is helpful, but for development we rely on institutional.
What are you doing to take care of your employees? Making sure they have protective gear. Disciplined on health checks. We have done several financial "Thank-you's" as well.
How are you handling rising employee costs (payroll, minimum wage, healthcare, etc.)? Pricing, technology, and efficiency. Bottom line, it will curb margins.
What laws and regulations are affecting your business and how are you dealing with this? Wage and hour, as well as taxation. We have always been active in working with our associations and legislators.
How do you reward/recognize top-performing employees? We personalize it. What do they care about? What matters? What will help them?
What kind of exit strategy do you have in place? Brand leader equity.
Published: July 30th, 2021
Share this Feature
Recommended Reading:
Comments:
comments powered by

Disqus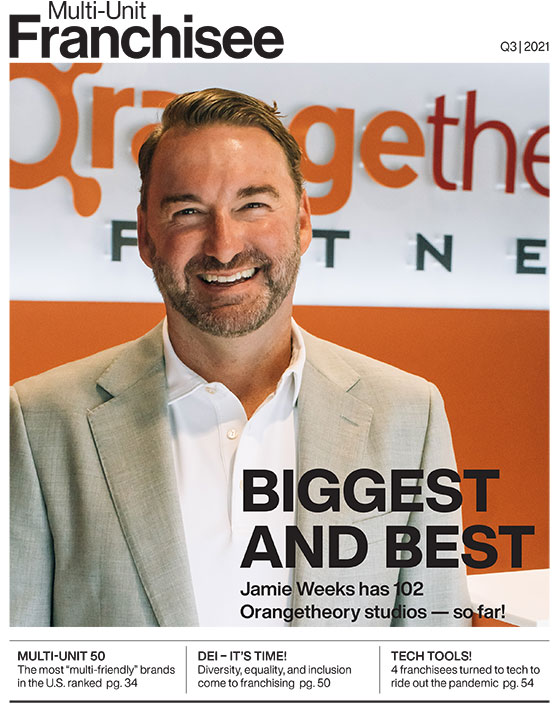 Multi-Unit Franchisee Magazine: Issue 3, 2021
Ace is #1 for convenience hardware! You pay no royalty fees. Instead, Ace pays you a year-end rebate based on your annual purchases. Enjoy the...
Cash Required:
$250,000
Owning your own Pancheros restaurant is a chance to start a business without starting from scratch.
Cash Required:
$250,000