Commercial real estate deals expected to rise in 2021
After months of operating in survival mode, multi-brand franchisees Jack Flechner and Fred Burgess have once again set their sights on growth, with an emphasis on real estate opportunities in 2021.
The South Florida Twin Peaks operators are set to expand the popular restaurant and sports bar chain. They recently signed letters of intent or leases for development in Fort Lauderdale, Doral, and Coral Gables—three high-profile sites in Broward and Miami-Dade counties. "We would never have been able to get in pre-pandemic," says Burgess, president of DMD Ventures, whose holdings include shopping centers, limited-service hotels, and 26 Papa John's Pizza locations in Minnesota's Twin Cities metro area.
After launching construction in July, they opened their fifth Twin Peaks site in December, in Hollywood, Florida, on a landmark downtown site featuring a double-decked patio bar overlooking Hollywood Boulevard. While they knew developing in the heat of the pandemic was problematic, their thought process was simple.
"We have a brand we love and believe in," says Flechner. "Our philosophy was just to survive—with 'survive' being the operative word. And when we come out of it, we will be stronger and better off than most."
MANY FACTORS AT PLAY
While painful economic and pandemic-related uncertainties remain, an expanding hybrid workforce, higher vacancy rates, and evolving customer needs are just a few factors affecting real estate strategies heading into 2021. The accelerated availability of prime sites for new construction and conversions highlights projected 2021 real estate trends as multi-unit franchisees look to rebound and recover—even as Covid-19-related closures continue to mount.
In a recent count, nearly 100,000 businesses listed as temporarily closed on Yelp.com had permanently shut their doors because of the pandemic, according to the platform's Local Economic Impact Report. And the shakeout isn't over, says Carty Davis, a North Carolina investment banker and Sport Clips area developer.
"In the short term, there has been a lot of kicking the can down the road until 2021, so I think you are going to see more tough decisions made in 2021," predicts Davis, a partner with C Squared Advisors. "There are still a lot of negotiations and restructuring discussions going to happen. Those are probably not good for real estate owners and the capital providers that supported them, but they are going to be good for concept operators because their occupancy costs are probably going to go down, and their locations could improve."
2021: EXPECTED TRENDS
Along with site upgrades, other expected real estate trends include the following.
Single-tenant property. The valuation winners during Covid and the foreseeable future are major brands with a drive-thru. If anything, their real estate valuations have gone up slightly because of the business model's sustainability and cash flow through the pandemic, making single-tenant property even more attractive, says Davis.
Drive-thru and off-premise continues. Major restaurant chains that have gone all-in on drive-thrus will continue to dominate development for the foreseeable future. Brands will look to reengineer their locations to boost drive-thru, delivery, and takeout efficiencies, often with a smaller dining room footprint.
Conversions, conversions, conversions. Expect to hear a lot about conversions this year. The burgeoning loss of independent restaurants, shuttered as the pandemic drags on, is expected to result in a boon in franchise conversions. From Twin Peaks and Fazoli's to Sonic and regional chain Ledo Pizza (see below), franchises of all shapes and sizes are bolstering development efforts through aggressive conversion strategies.
Operators should look to reinvest in their best restaurants or stores and trade areas for the benefit of all stakeholders, advises Davis, who sees the most significant opportunity—both in availability and cost—with in-line and end-cap locations.
"We view it as a good time to take a step back and look at your portfolio of units and see if there are some opportunities to upgrade space," he says. "There is always a cost of relocating a spot, but if you can relocate from a B-minus location to an A location, in most cases it's going to make sense for quick service casual or personal services. It's not just restaurants where availability of real estate is going to be enhanced."
Davis, an area developer with more than 70 Sport Clips, plans to close and relocate marginal stores to upgraded locations in the general trade market. "We can get a better site for the same square footage cost," he says. "I think you will see a lot more of that, particularly as tenants are close to the expirations of their leases. They can probably get out of them at minimal cost and not exercise options."
BIG CITIES & REMOTE WORK
While the coronavirus outbreak has accelerated existing trends such as retail footprint reductions, it has also stopped others in their tracks. One example is the now-diminishing appeal of big cities, according to "Emerging Trends in Real Estate 2021," a recently published report from PwC and the Urban Land Institute, which analyzed data and insights from more than 1,600 leading real industry experts.
Time will tell if this shift is permanent, but flexibility in where and how people work—whether in trendy urban neighborhoods or in the sanctuary of the suburbs—is not going away, prompting brands to rethink locations. Roughly 72% of the global workforce is still working from home and getting the job done. According to Enterprise Technology Research, the percentage of permanent remote workers is expected to double in 2021, from 16.4% to 34.4%.
HESITANT LANDLORDS
With five suburban stores in Maryland and Virginia, Ledo Pizza franchisee Rob Rubin has always been bullish on outlying locations for their lower overall cost of doing business and a more even lunch-dinner daypart split.
Roughly 70 percent of Annapolis, Maryland-based Ledo Pizza's buildouts are conversions, offering franchisees like Rubin flexible footprint options to retrofit failed restaurants or spaces that, he says, "We can build out like how we like." He plans to take a conservative approach to targeted and well-thought-out future expansion, including a sixth Ledo location, on track before the pandemic that remains stalled by the landlord.
"In our experience, the brokerage community is interested in new opportunities, but the landlords are slow grinding on their part of making deals," says Rubin. "They are under a lot of stress themselves. My guess is that fewer deals are getting done because landlords are not sure if they want to invest in new store development. This will change as things start to resume a more normal situation. There are going to be a lot of vacancies, and they want to fill the space. But the question is who is going to spend the money to renovate these stores?"
Real estate analysts say franchisees may drive better bargains and win greater concessions if they remain in their current space, though modifications and who pays will be location- and site-specific.
LEASE NEGOTIATIONS
Emerging viable on the other side of Covid is a marathon, not a sprint, says Las Vegas-based multi-brand operator Jeffrey Klein, who says now is the time to look at your lease to negotiate more favorable terms.
"I plan to be careful in my leases and am much more willing to walk away from a bad lease," says Klein, whose portfolio includes Capriotti's Sandwich Shop, The Gents Place, Auntie Anne's Pretzels, and Baskin-Robbins. "We are also trying to put Covid clauses in every lease, but I have yet to get one in, and I don't think it will happen because the lenders aren't going to allow it."
At Twin Peaks, Flechner and Burgess operate the chain's top three locations. Their development of strip centers and hotels has allowed them to pursue locations that would typically be cost-prohibitive. It also provides them with insights to all sides of real estate negotiations as landlord, tenant, and real estate attorneys.
"We are constrained as landlords to help our tenants by what we can get as concessions from our lenders," says Flechner. "It is a very complicated situation where we have shopping centers worth tens of millions of dollars that also have tens of millions of dollars worth of debt on the properties, so we can't just do whatever we want for obvious reasons. We are aggressive in trying to do it because we are tenants ourselves in many situations."
WHAT NEXT?
Capitalizing on available real estate is not without risks, particularly in times of stress. Franchisees, experts say, should avoid investing in subpar sites just because the price is right. Access, visibility, and other fundamentals of a good site remain unchanged. Some franchisees are also taking a wait-and-see approach to making development decisions in an uncertain environment.
"Everyone wants drive-thru lanes, smaller footprints, and no dining because of Covid, but a year from now, these changes might not be justified," says Rubin. "I want to see how things go for the next 6 to 8 months and see what the new normal is, and not assume that it will be what it is right now."
For franchisees everywhere, resuming everyday life can't come soon enough. "Once the vaccine gets to the general public, there will be a huge pent-up demand for hospitality, travel, hotel, and restaurants once we get through this," Burgess predicts. "I believe it's going to be like the Roaring Twenties again."
Klein, who remains growth-focused and plans to expand with Capriotti's and possibly two other unnamed brands, says, "I believe in 2021."
Published: May 15th, 2021
Share this Feature
Recommended Reading:
Comments:
comments powered by

Disqus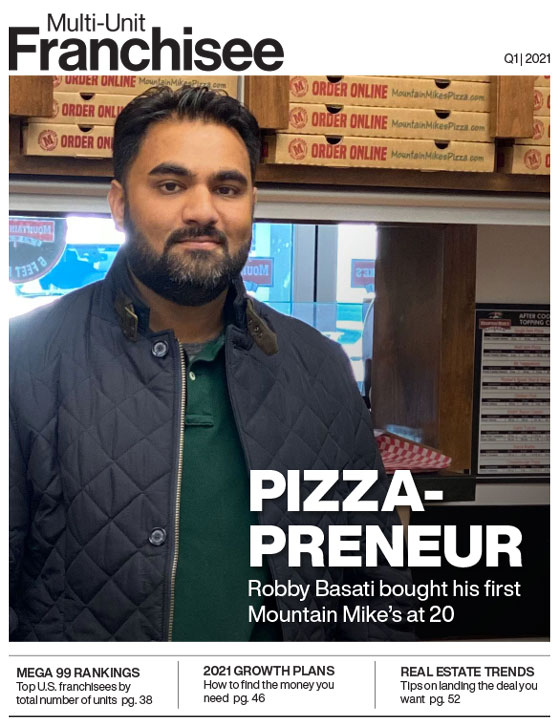 Multi-Unit Franchisee Magazine: Issue 1, 2021
Offering same-day service, a single low price, and a streamlined process that's simple to replicate, ZIPS is a standout in the garment care...
With more than 230 locations operating and 350 more sold and in development, Dogtopia is the largest and fastest-growing dog daycare provider in the...
Cash Required:
$300,000