Covid in the Rearview? Multi-unit operators plan for 2021
2020 was a year the world would like to forget and remember only in the rearview mirror of life. With Covid-19 vaccines now being distributed and treatments evolving, it appears 2021 may just have a light at the end of this tragic tunnel. Optimism about the end of this pandemic seems to be growing, and with further government stimulus money many economists say the U.S. economy could come roaring back by the second half of this year.
Positive indicators corroborate the projections. For example, in late November, the U.S. economy grew at a record pace, with gross domestic product increasing 33.1% in the third quarter, according to figures from the Commerce Department's Bureau of Economic Analysis. And while this is positive news, it must be tempered by a 31.4% decline in real GDP in Q2. "The increase in third quarter GDP reflected continued efforts to reopen businesses and resume activities that were postponed or restricted because of Covid-19," according to the Commerce Department.
More recently, Michelle Meyer, chief U.S. economist at Bank of America Merrill Lynch, told Fox Business that the U.S. economy is likely to expand 4.5% in 2021. She said that while economy may grow only 1% in the first quarter, that could be followed by expansion of 7% in the second quarter, and 5% in both the third and fourth quarters.
It's in this light that multi-unit operators begin 2021. We asked seven about the effects of Covid on their business, as well as their thoughts on growth, challenges, and how they are looking ahead.
FORCED TO INNOVATE
Covid-19 temporarily slowed growth for multi-unit operators Andy Somers and David Howell at their 1788 Chicken company, which operates 29 Zaxby's. Says Somers, "I believe going through the darkest days of Covid-19 uncertainty has refined our appetite for growth for the better." However, he adds, "The bar for acquisitions and new development deals in the current environment has gotten higher."
Though it's impossible to fully plan for uncertainty, Somers says having world-class processes to help operate at the highest level is a critical component. "We all saw the dramatic impact Covid-19 had in the hospitality space. Even some of the world's best operators and brands can't withstand such drastic impacts."
Innovation was an important part of the pandemic response for Howell and Somers, who says it came in the form of tweaks to operating procedures with the primary goal of ensuring the health and safety of their team members and guests. "The brand led this with daily communication and continual process enhancements," he says. "Follow-on innovation came through menu adaptations to fit in with the rapidly changing customer preferences as nearly everyone's daily routine was altered."
Somers is bullish on the future and says that he and Howell were continuing to seek acquisition and growth opportunities, even as Covid cases continued to rise in late 2020. "We are starting to see a return to some normal cadence—not normalcy—in our operations and potential deal flow," he says. "Our goal is long-term growth, and so we have a willingness to be patient for the right deal and aggressively pursue it when it comes about."
BACK ON THE GROWTH TRACK
Mike Vinckier, an A&W franchisee with two locations, was in the middle of opening a third location in 2020… until Covid. "In the uncertainties of the world, you have to be able to transition. We weren't able to open the third store in December, but our other stores were able to maintain steady sales and even growth," he says.
Like other operators, Vinckier was forced to close dining rooms and reduce hours to stay alive. That's why he added curbside service and focused on carryout and call-in orders. He also created an added bonus program to help his employees.
Vinckier, now set to open that third location, is optimistic about the future. "Stay focused and positive and continue to do what you are doing," he says. "You can't control everything, but focus on what you can control and make it the best it can possibly be. Always stay adaptable."
ADAPT OR DIE
Wayback Burgers multi-unit operator Wasif Saddique faced many of the same restaurant space challenges and subscribed to the mantra of adapt or die. "We were fortunate to have positioned ourselves in such a way that we did not depend on filling up large dining rooms to generate sales," says the 30-year-old operator with two locations in California. "We were able to adjust quite easily to takeout and curbside delivery, and this has paid off for sure."
Despite the pandemic, he was able to keep pace with his previous growth trends last year. "We were growing significantly in 2019 and generally continued the trend in 2020. We are quite fortunate."
Looking to 2021, Saddique says he is focused on providing his guests with "the most impressive experience possible and executing aggressive local marketing efforts to bring more people into the restaurant. This is a winning combination."
BETTER THAN EXPECTED
Multi-brand franchisee Sajib Singha also reported a positive impact on his business from Covid. "We projected six openings last year, which ended up turning into 10," says the operator of Captain D's, Dairy Queen, Golden Chick, Schlotzsky's, and Papa John's franchises. "While we've had to shut down our indoor dining rooms, we've adapted and found opportunity within the fast casual segment and off-premises business." He also quickly gravitated to delivery platforms, drive-thrus, and curbside pickup to get through the worst months of the pandemic.
Singha says regardless of economic conditions, it's important to be prepared for growth and make sure the right people are hired to manage locations. "There's no alternative to hard work. We see it in developing assets, not just restaurants. We look at the business as a whole—real estate, the market, happy returning customers, and overall profitable restaurant operations—day-in and day-out in this difficult circumstance."
He also relies on the proven franchise model his brands provide. "Captain D's is a legacy brand with 50-plus years of experience successfully navigating economic fluctuations," he says. "Because of this, we have never felt more confident in the brand. Once the pandemic is over, we know we can survive tough times and are more than willing to invest in our future."
SILVER LINING
2020 looked like it would be another banner year for multi-brand operator Luis San Miguel. "We completed the acquisition of 12 units during 2019, and our 2020 sales were projected to grow by 20% over 2019," says the operator of more than 40 Auntie Anne's and Cinnabon locations. However, like many others, he was forced to halt his organic and acquisition-based expansion last year.
"When an event like Covid-19 happens, one has to purposely stop growth activities and take stock of the current situation, including current liquidity position, availability of additional capital resources, impact on operating model, employee needs and challenges, supply chain concerns, and more," says San Miguel. He says it doesn't make sense to continue a "growth at all costs" strategy in the near term.
While circling his wagons during the pandemic, San Miguel turned to digital media to increase outreach to his core consumers, primarily through text message offers and advertising on social media platforms. The primarily mall-based operator is also evaluating alternate sites for new stores that don't require mass gatherings of people. "Malls will continue to be a very important venue for delivering our snacks, but we are seeking other locales that will allow us to fulfill ad hoc orders as efficiently as possible," he says.
San Miguel has found one silver lining during the pandemic. "Events like Covid-19 create excellent long-term growth opportunities as competitors not as well-capitalized or well-positioned exit, either by sale or by closure. We are now starting to evaluate acquisition opportunities once again, especially for properties that have largely returned to pre-Covid levels of activity," he says.
PRIMED FOR GROWTH
Paul Booth operates six McDonald's restaurants and was planning to acquire more before the pandemic struck last year. Shifting his business to drive-thru was one tactic he relied on to continue operating, but he also looked for ways to manage costs. "We controlled labor costs by staffing properly for the drive-thru," he says. "We also evaluated our organizational structure to become more nimble and responsive to the current landscape."
In fact, by focusing more on his existing units and improving their systems and operations, Booth says he feels better primed for future growth. Today he's looking at growing his footprint with new drive-thru-only locations and says he could be closing some underperforming restaurants.
"Before Covid, we were looking at the potential acquisition of more units," he says. "Now that there has been a shift in the business, especially with a significant emphasis on drive-thru, we are waiting to see how the brand adapts its store designs to a drive-thru-focused environment."
FORGING AHEAD
Personal services brand Sola Salon Studios had a different set of Covid-related problems to overcome than those faced by restaurants and traditional retail. "For instance, off-premises tactics were not an option for us because there's no other way to provide our services other than in person," says Heather Safrit, a multi-unit franchisee with 10 Sola Salon Studios in South Florida and Georgia. "Despite having to close our salons for 5 to 7 weeks, our business is really strong and has been rebounding nicely."
Safrit, part of the team that opened the brand's 500th salon early last year, is so confident in a recovery that she has continued moving forward with her growth plans. "We recently purchased rights to additional units in our geography," she says. "Our business has actually expanded because of traditional salons closing and salon professionals and clients wanting to work in and be served in a more private, one-on-one environment."
She believes the U.S. economy is fundamentally strong and that Sola Salon Studios is a solid business model that can't be outsourced overseas. "Even in bad times, people still need to get their hair cut and colored and want to feel good about themselves. Even in these uncertain times, we have held firm to our original growth plans and continued to forge ahead."
Published: February 16th, 2021
Share this Feature
Recommended Reading:
Comments:
comments powered by

Disqus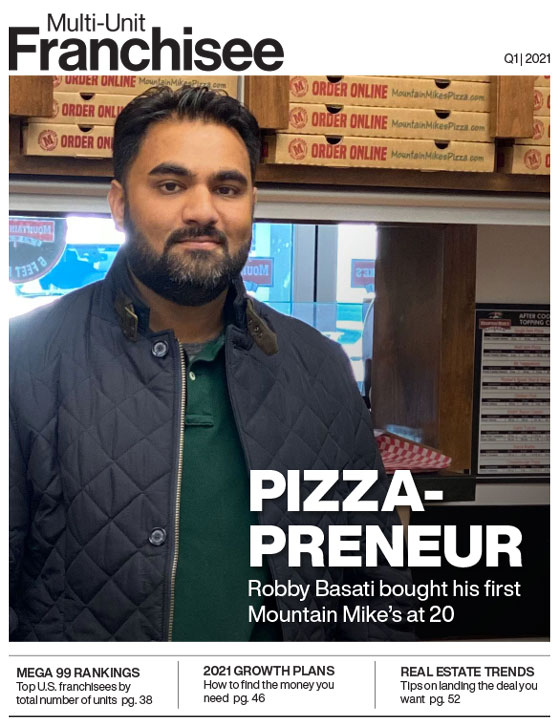 Multi-Unit Franchisee Magazine: Issue 1, 2021
Invest in a Dairy Queen® franchise opportunity and immerse yourself in familiarity. We invite you to get started today. Success has never been so...
Cash Required:
$400,000
With over 650 stores operating across 28 states and commitments to open more, Scooter's Coffee is in the midst of a strategic growth phase...
Cash Required:
$200,000