Communications in the modern era
I see that the dictionary companies are choosing their "word of the year." One has picked the word "crackberry."

For those of you lucky enough not to know what that is, here goes: If someone is so addicted to email on a mobile phone or other portable device that they are unable to be away from it more than a few minutes at a time, their device is a crackberry - crack + Blackberry.

You've seen them, I'm sure - still carrying the briefcase and coat, and still able to keep both thumbs working on a keyboard so tiny that no one can read it, putting words on a screen that is guaranteed to cause glaucoma.

It really is true that people can get totally hooked on various kinds of technology. It particularly seems to be a way to substitute for other kinds of communication.

I had a family as guests a few weeks ago - parents and three grown kids. At one point, the mother was knitting, and all four of the others had their laptops out, typing like mad. And it went on for hours, with one of them watching a football game on the laptop. Good thing I've got Wi-fi in the house.

For goodness' sake, why come from all over the country to spend time together and then do what you do every day of the week? Makes no sense.

I'm not blameless, I freely admit (first step in a 12-step program is to admit it, right?) - I had to have a PDA when they were hot, and I loved being able to write or type on that compact beauty. But over time, I've used it less and less, until it is pretty much the neatest clock you've ever seen.

And occasionally, I will admit to preferring to talk to people by email rather than in person, but at least I've never emailed them while I was sitting in the same room! Oh, well, maybe once.

Still, it certainly can be a way to supplement other forms of communication.

Way back when the electronic communication genie was just out of the bottle, I worked for a newspaper that put in an editing system. We all learned that we could send messages directly to one another, and pretty soon it was a whole new channel for discussion. I was showing another editor our newsroom, and he said he'd never seen a newsroom so hard-working at that time of day. I told him no one was working; they were just gossiping about him.

It's sort of like whispering in someone's ear. Come to think or it, that's not so bad, just so we don't lose all the rest. Ask any high school kid - they seem to be able to communicate on all kinds of levels (sometimes even with their parents).

The good news...

...is that our publisher, Steve Olson, is writing his sales column for us again. It starts up in this issue, and we're really glad to have this popular feature back in Franchise Update.
Published: March 20th, 2007
Share this Feature
Recommended Reading:
Comments:
comments powered by

Disqus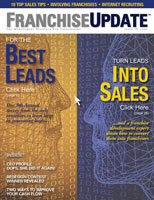 Franchise Update Magazine: Issue 4, 2006
Conferences
InterContinental, Atlanta
OCT 18-20TH, 2023
Franchise Update Media (FUM) is the trusted resource for the franchise industry. For 30+ years, FUM has been the leader in providing valuable...
Our franchise management software helps increase unit growth, reduce opening time, track and improve unit performance, automate financial reporting...