Cool and Disruptive!: Using Technology to Improve the Human Experience
I've been fortunate over the years to consistently think about and work on the intersection of people's experiences and how technology can help make them better. As an executive at Ticketmaster, I witnessed the box office going online, paper tickets nearly disappearing, and onsale lines happen in seconds, not hours. During my time at OpenTable, we helped eliminate the phone tree for Friday night reservations and built the ability to pay the check without waitstaff delivering the bill.
As I look at where we are evolving today, and experience these advances as a consumer and as a partner to many of these brands, I'm amazed at how technology continues to disrupt "the norm." Just as I get used to a technological innovation, something new presents itself to make me question my behavior all over again.
Companies are automating their workforces in new and interesting ways. Amazon recently announced Amazon Go, a brick-and-mortar store where customers scan their phones when they enter, track their desired items as they are removed from shelves, and automatically get their Amazon account charged when they leave. Uber and others aim to promote self-driving cars. Restaurants are blazing the trail, too, with self-serve kiosks. Chipotle is using drones to deliver food to college students. And some restaurants, like Eatsa, are trying out almost fully automated experiences.
Throughout all of these advances, I've always believed in the power and necessity of human connection. With restaurants it is easy to picture: you tend to dine out and eat with people because you want to connect face-to-face. Renowned restaurateur Danny Meyer shared a great point of view in an interview in Fast Company:
"First of all, the goal should not be to remove humans from the equation, but [to] empower human beings who actually have a beating heart and who are caring people to achieve a greater degree of hospitality. The moment you tell me that tech should be used to remove people, that's just not something I want to be part of."
The human factor
At Snagajob, we spend time thinking about how technological advances may affect the millions of workers in retail, restaurant, and hospitality businesses, among others. Our mission is to put people in the right fit positions so they can lead more fulfilling lives. Among this population, there is a valid concern over what may happen. But as we watch what is being experimented with around us, it's important to strive to learn from this innovation—and resist the urge to fight it.
Why? Advances can give us valuable insights into how we can improve roles that cannot be automated and that will always require a human touch (think quality reviewers, improved hospitality, customer service, etc.). Additionally, changes in consumer expectations, such as speed and flexibility, open doors to new ways of thinking about traditional roles. It starts with asking the question: "What would help drive the best human experience?"
We have some ideas on how to bring this to life for hourly workers and employers inspired by the appetite for speed and flexibility within this audience. One we are experimenting with now is an on-demand network that connects employers in real time with a pre-screened pool of workers so a shift can literally be filled in minutes.
We're exploring other places where technology can help, such as the interview process and the onboarding path. Our aim is not to reduce the people in the process, but to reduce staffing and operational challenges that prevent people from using their time where it can be best spent and appreciated.
We hope to create a technology that is both cool and disruptive—our version of a burrito-delivering drone. We continue to be inventive and respond to consumer demands, but we keep workers and employers at the heart of every product innovation. We're watching what's happening around us not out of fear of eliminating people's value, but revealing where it might gain new definition.
Jocelyn Mangan is the COO of Snagajob, the nation's largest online marketplace connecting hourly workers to employers.
Published: December 21st, 2017
Share this Feature
Recommended Reading:
Comments:
comments powered by

Disqus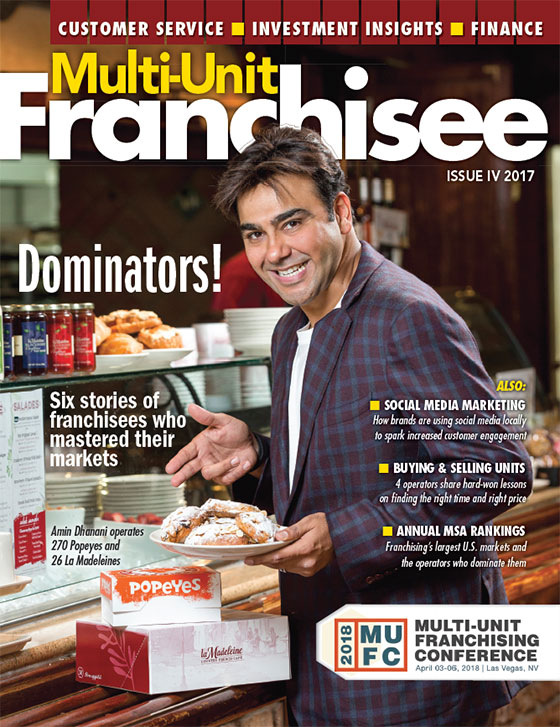 Multi-Unit Franchisee Magazine: Issue 4, 2017
With a passion for creating happy 'Human Beans', the company's drive-thrus have established a reputation for friendly baristas, high-quality coffee,...
Cash Required:
$200,000
Bad Ass Coffee of Hawaii brings an unforgettable brand, premium coffee products, and a proven business model to a booming coffee scene. We want...
Cash Required:
$200,000