Cost-Cutters' Evans Family Starts Small, Grows Big
But with a father who was a barber-turned-businessman and franchise owner, and a mother who was a stylist herself, they knew something about the hair business.

"I'm 43 years old," says Craig Evans, who now owns 55 Cost Cutters franchises in the Denver area, after starting out with seven salons in 1989.

"If someone asks me how long I've been in the hair business, I say 43 years."

His brother, Mark, at age 41, owns 33 Cost Cutters franchises and two City Looks salons in Iowa, the Evans' home state.

"Craig and I both grew up in it," says Mark, who left a retail career with Wal-Mart to join his dad's Cost Cutters franchises about 10 years ago. Eventually, he purchased his father's interest and became sole owner.

The brothers own no franchises jointly, but make no mistake - their venture into multi-unit franchising has been a family thing.
"Dad got into it first," says Craig Evans.

This was in 1984, when David Evans, who had grown up in a small Iowa farming community, then became a barber, shop owner and entrepreneur, buying his first franchise in Cost Cutters, a salon chain built around the concept of offering quality, inexpensive haircuts in quantity.

Just two years earlier, Cost Cutters had been founded by Joe Francis, a veteran in the salon business, whose The Barbers Hairstyling for Men shops dated to 1963. Francis opened 12 Cost Cutters salons in 1982, expanding to 300 within six years.

About seven years ago, Cost Cutters was purchased by Regis Corporation, a Minneapolis-based company that is one of the world's largest owners of hair salon chains, including City Looks, Regis Salons, Supercuts and We Care Hair.

David Evans was one of the early investors in Cost Cutters, and, he too expanded rapidly. By 1988, he owned six Cost Cutters stores in Iowa, and was convincing his sons to join the chain.

At the time, Craig Evans was operating his own small construction business, primarily building salons and doing tenant-finish work.

"I wasn't excited about the hair business," he says. "I'd grown up in it. I knew all the drawbacks, the employee problems. But my father convinced me it was something I should look at. And it looked like a good money-maker."

So Craig Evans moved to Denver, where he took over four Cost Cutters stores, sharing ownership with his father, his fiancé and future wife, Laura, and one of David Evans' longtime employees. Eventually, Craig and Laura Evans became sole owners and rapidly increased their holdings in Cost Cutter franchises in the Denver area.

The learning curve was a steep one, says Craig, who was 26 at the time. Laura was 21, at the time the youngest person in the Cost Cutters ownership chain.

"I'd never had so many employees," he says. "Instantly, I had 30 people working for me."

The couple read books, relied on corporate headquarters for advice, and put common-sense knowledge to use. A key factor, he says, was being an on-site owner. The previous ownership had been in Minneapolis, far removed from Denver.

"Just seeing what was actually happening in those stores was amazing to us, even not knowing how to run a hair salon or any retail type operation."

Quickly, he saw that employee training was lacking, as was professionalism on the staff. "We had people not showing up, not opening up on time. There was no training. Nobody did the simple basics - a dress code, a method for greeting customers, for customer service."

The Cost Cutters corporate office sent someone out to advise them on training and showed them how to set up schedules.

"We read the franchise manual, to know what was expected," Craig says. "My wife was very good at doing management training classes. We added common sense stuff we got from books."

The trench work paid off. "We started making a little money," Craig says.

Within a year, they bought seven other Cost Cutter salons in the Denver area. The expansion continued; since 1990, Craig and Laura Evans have averaged three new franchise openings a year.

Their corporate headquarters moved from their two-bedroom apartment to a 1,500-square-foot office, to their current 6,000-square-foot headquarters in Denver, where they employ 14 people - ranging from district managers, to maintenance specialists, promotions, inventory and apparel managers, plus an office manager and two accountants.

"It's been a growing curve," says Craig Evans.
"My philosophy has always been, until we stop growing, I'd rather be top-heavy in management to allow for growth than to try to grow without having upper management."

Last year, the couple expanded again, opening a Supercuts franchise in Denver. Super Cuts, a salon chain that focuses on a mostly male clientele, also is owned by Regis.

Unlike his brother, Mark Evans did have a retail background, thanks to his 10 years with Wal-Mart, where he became a store manager.

"A great company to work for, but a lot of hours," he says.

"The long-range plan always was that I was going to come work for my dad."

He started out as a partner with his father, handling operations. Then, like Craig, became full owner. He, too, expanded rapidly.

"We're continually opening Cost Cutters," says Mark Evans. "We've opened seven this year." His wife, Joni, also is a key to the business, serving as operations manager. She, too, was a hair stylist.

One secret to such success, Mark says, is a quality staff. "We have a lot of good district people and stylists. And we offer a pay scale and benefits that it's hard for small salons to match."

In Denver, says Craig Evans, some of his stylists make $50,000 or more a year, using a scale based on base pay and commissions. Retention is difficult, the brothers say, in a business staffed largely by young, transient stylists.

"A lot of people get into this business because their guidance counselor in high school told them they couldn't make it in college, so go learn a trade," Craig says.

"That's not the right message. There's a lot of money to be made in this business. In reality, there's a lot of opportunity for somebody who's a go-getter."

The brothers, though not business partners, talk often by phone, sharing ideas and seeking advice on new locations, recruiting, training and development and the like.

"It's a good sounding board, especially with Dad having been in the hair business," Mark says.

Their advice for would-be family franchisees: "You'd better be close," Mark Evans says.

Craig Evans, too, points to the example set by their father, who went from an Iowa town with a population of 500 eventually to owning franchises and businesses ranging from salons, to salon products, to hair replacement services.

"He didn't come from any money, and he ended up being quite a success," Craig says.

"I can honestly say I'm real proud of the guy."

Tom Steadman is a newspaper reporter in Greensboro, NC.
Published: April 13th, 2005
Share this Feature
Recommended Reading:
Comments:
comments powered by

Disqus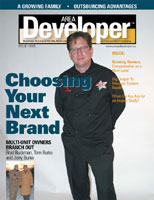 Multi-Unit Franchisee Magazine: Issue 1, 2005
The #1 fast casual Mexican franchise in the industry offering flexible formats with ample white space to grow.
Cash Required:
$350,000
Briggs Home Care® offers a one-of-a-kind franchise opportunity to build a successful and rewarding home care business. Invest in our home care...
Cash Required:
$50,000