Create Your Own, New Box!
Using innovation and technology to compete
If you and your franchisees are currently making a profit, let me remind you: There are people who are dedicating their lives to taking that profit away from you. (And no, I am not talking about the government.) I am talking about innovators: people who break with conventional industry practices while most players just maintain the status quo. I just had an amazing experience with a company called Uber, which is killing competitors with innovation.
My story starts at an out-of-town event held at an executive's home. When I needed a taxi back to my hotel, my host said, "You should user Uber. They are very fast and reliable. You download their app, sign up with your name and your credit card information, and it uses your smartphone's GPS to know exactly where you are. Then it shows you how many minutes it will take for the nearest taxi to arrive."
As soon as I confirmed my request, I got a text, "Hi Jack, your Uber is enroute! Abdul (4.7 stars) will pick you up in 7 minutes." With the app, I could watch the taxi progressing toward me on a map. When he was 30 seconds away I got another text, "Hi Jack, your Uber is arriving now!" It sure was--right on time, as promised.
But that was just the beginning of my loyalty-inspiring experience. What I did not know was that Uber drivers have cars such as Lincoln Town Cars, Cadillac Escalades, BMW 7 Series, and Mercedes-Benz S550 sedans. My Uber "taxi" was a spotlessly clean black Lincoln Town Car with black-tinted windows.
As befitted a limousine-quality experience, Abdul wore a black suit and tie, greeted me by name, smiled, and opened the door for me. Maybe that's because I would later be rating him on his service and he wanted to improve on his 4.7 out of 5 star ranking.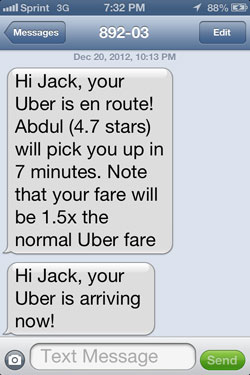 First question I asked him was, "Why is my fare 1.5 times the normal Uber fare? (See photo of text message.) Was it because of the neighborhood?" No.
Turns out Uber applies "surge" charges depending on taxi demand. That tiered-model pricing is crucial because drivers are not W-2 employees. They own their cars and Uber cannot tell them when to be available. The only way Uber can ensure there are enough drivers available is by giving them incentives to work more during the hours that have higher fares, like late Saturday night, Halloween night, New Year's Eve, etc.
Abdul said he loved the freedom to pick the hours he worked. And he made 25 percent more money working for Uber than he did in his regular job as a limo driver. Of course, customers also pay Uber more--at least twice as much as a regular cab fare--willingly!
Meanwhile, the big city taxi business is an industry that, except for accepting credit cards (grudgingly), has changed very little to benefit customers during my 40-year business life. As a result of this stagnation, the old-fashioned taxi business depends on positive macro-economic conditions for growth.
In contrast, Uber was started in 2008--in the teeth of the Great Recession--with a premium-priced service that has already expanded to 14 cities, with plans to add 25 more big cities around the world. Uber attracts reasonably affluent customers with a superior customer experience they can't get anywhere else. And here I am, a customer, voluntarily recommending Uber to every reader of this column, providing free advertising and helping drive new business for them.
What are the principles franchisors can learn from this story of customer experience innovation?
Pay attention to, and respond to, changing customer needs. Deep customer empathy allows Uber to capitalize on the frustrations and unmet needs of a target group of customers. The Internet and mobile devices and social networks quickly change expectations. Adapt.
Question your attitude about what customers will pay for. It's not just about price. Uber proved there is a market for value that is not price-driven, but experience-driven. Didn't Starbucks prove that great customer experiences are seen by many people as small, affordable luxuries? Get creative.
Measure customer perceptions locally to ensure service quality. Uber automatically adds a 20 percent gratuity to the customer fare, but they also have the customer rate each driver so that eventually only the deserving remain on the team. Reward those who deliver service exceptionally well.
One other bold innovation at Uber. The drivers also rate each customer. My guess is that abusive customers are disinvited from the community by one of the community managers assigned to each city. How smart is it to ensure a great work experience for, and loyalty from, your best service providers!?
---
SMG Chief Evangelist, Jack Mackey, CFE, helps companies transform the customer experience. Contact him at jmackey@smg.com.
Published: April 29th, 2013
Share this Feature
Recommended Reading:
Comments:
comments powered by

Disqus

Franchise Update Magazine: Issue 1, 2013
The Hungarian Franchise Association was founded in 1991 as an interest representation organization of the franchise business community.
ServiceScore helps businesses get the results they want from phone calls.