Customer Care: Hiring For Outstanding Customer Service
Let me get right to the point. The keys to success in any business are: (1) the quality of the products or services you offer, and (2) your employees' ability to deliver outstanding customer service. And I'm not the only one who thinks so.
When 555 CEOs of mid-sized to large firms were asked to name the most important source of competitive advantage, product or service quality and customer service came in neck-and-neck at 45 and 44 percent, respectively.
Ted Levitt, former editor of Harvard Business Review, summed it up this way: "The purpose of business is to create and keep a customer." And the best way to keep customers is through exceptional customer service. Yet, customer service specialists report the average business loses half of its customers every 5 years and doesn't even realize they lost the customer or know why.
On the other hand, organizations that increase customer retention by as little as 5 percent per year report increased profits of 25 to 75 percent because: (1) it costs 10 times more to acquire a new customer than to keep an old one; (2) satisfied, existing customers take less time, effort, and money to serve; (3) existing customers tend to spend more over time; and 4) happy customers bring in referrals.
Being able to deliver outstanding customer service is not an expensive proposition. The key is to hire for the right attitudes. Some people derive great satisfaction from helping others, but how will you know who among your job applicants truly fits the bill? If you're not pre-employment testing job applicants for customer service attitudes, at the very least ask them questions like these to find out if they have what it takes:
"Tell me about a time you got great customer service. What made it great?"
"Tell me about a time you got bad customer service. What did you do?"
"Have you ever sent food back at a restaurant or returned something you bought to a store? How did the server or salesclerk handle it? What would you have done differently?"
"Do your friends or co-workers come to you when they need help? Tell me about the last time you helped someone out."
"When a customer has a complaint, what is your main objective when you try to resolve it?"
People who expect good customer service have a propensity to deliver it. They will be able to describe good and bad service in detail. Good customer service candidates are naturally helpful, and their friends and co-workers often turn to them with their problems. The best applicants will know that, when dealing with a complaint, their goal is to ensure the customer comes back--and keeps coming back.
The best way to keep your customer service staff focused and motivated is to put employees first and customers second. It only makes sense: there are more of them than you. When you take exceptional care of them, they take exceptional care of your customers. In fact, you should treat your employees as if they are your customers.
Remind them frequently how important their efforts are to the bottom line. Find out what they need to do their jobs even better and provide it. Give them the authority to make things right when they hear a customer complaint. How big a mistake could they make? Could it cost more than a lost customer?
Just ask--and listen!
Once you have happy employees and happy customers, you still have to do a reality check occasionally. One of the best ways to do this is through customer satisfaction surveys. I've found the most effective tools are usually the simplest ones. That's why I love this survey suggested by Rick Crandall, in his book, Marketing Your Services: For People Who Hate to Sell. In part, he writes, "I suggest using three simple questions":
What do you like about doing business with us?
What do you dislike about doing business with us?
Is there anything else you can tell us that would help us do a better job for you?
People must be encouraged to say good and bad things. You can use the former as testimonials, but the complaints are more valuable. Criticism gives you the opportunity to find the flaws in your operation and fix them. And, if customers include their names when they return the survey, you have the chance to impress them with what Ken Blanchard calls your "recovery mode." This is where you sweep them off their feet by righting the perceived wrong. It also creates a story they can tell that will impress others. (It's highly likely to earn you referral customers as well.)
Set up a system to solicit customer feedback on a regular basis. (Don't survey any one customer more than twice a year though--they'll be turned off if you intrude on their time and good nature too often.) When you tally your survey results, keep in mind that "being good" just isn't good enough any longer. In order to win the kind of customer loyalty that builds a great business, you need to be exceptional.
Keep your focus on quality and customer service and these two keys will open the doors to your success.
---
Mel Kleiman is a consultant, author of five books, and a Certified Speaking Professional on strategies for hiring and retaining the best employees. He is president of Humetrics, a developer of systems, training processes, and tools for recruiting, selecting, and retaining the best. His books include The 5 Firsts: A Simple System to Onboard and Engage Top Talent, and he publishes a regular blog (http://humetrics.com/blog/). Reach him at 713-771-4401 or mkleiman@humetrics.com.
Published: June 18th, 2012
Share this Feature
Recommended Reading:
Comments:
comments powered by

Disqus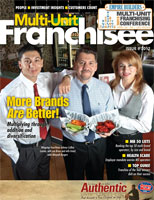 Multi-Unit Franchisee Magazine: Issue 2, 2012
Briggs Home Care® offers a one-of-a-kind franchise opportunity to build a successful and rewarding home care business. Invest in our home care...
Cash Required:
$50,000
Get A Piece Of The Booming Cannabis Market Without Headaches.
Cash Required:
$1,000,000