Danger Signals?: 20 Signs Your Business May Be In Trouble
In business, owners often become trapped because they don't heed the messages their business sends and don't pay attention to basic principles.
The following checklist represents a clear set of danger signals (situations and issues) that have a clear and negative effect on cash flow. Take a few minutes under the harsh, cold light of reality to ask yourself how many of the following danger signals exist in your business. Then evaluate carefully their implications.
An excess of unsold inventory
Customers not paying their bills on time
Tax obligations generally late and getting later
Writing business checks for personal expenses
Bank loan overdue
Paying suppliers late and getting later
Poor controls, presenting the opportunity for theft
Showing profits, but having no cash
Paying bills too early
Seasonal slump (or boom) creating cash shortage
Buying lots of fixed assets (like trucks)
Bank statement only reconciled once a year
Missing most purchase discounts
Excessive interest expense from high loans
Expenses rising dramatically from past years
Financial reports only prepared once a year
Bad debts increasing
High-moving items always out, always a "crisis"
Payroll checks written late
No lawyer or accountant
Perhaps the greatest danger of all: not having adequate records and/or financial skills to be able to answer all of these questions--or not having any questions to ask! Do you know where your employees and customers are at this very minute? Without adequate controls, they're stealing you out of house and home. Nero fiddled while Rome burned.
The danger signals listed above can creep up on you even in good times. It's like the chain letter phenomenon: it grows exponentially. The only successful strategy I know is a combination of planning, control, and attention. Successful business owners practice discipline every day so they're always prepared.
So we know planning is the vital element, especially when we're talking about cash flow. Danger signals are just that: signals. The longer you wait, the fewer options you will have. Protect your cash flow lifeline and your business will survive and prosper. Remember this: you pay taxes on net profits, but you eat on cash flow.
Steve LeFever is the founder and chairman of Profit Mastery, a Seattle-based eLearning company that has trained more than half a million people on how to measure and manage financial information to consistently increase business profits. Educational courses are now available as an on-demand, online video program that can be accessed any time. Learn more at www.profitmastery.net or contact him at 800-488-3520 x14 or lefever@brs-seattle.com.
Published: March 7th, 2012
Share this Feature
Recommended Reading:
Comments:
comments powered by

Disqus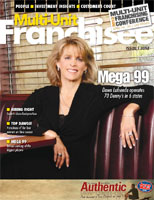 Multi-Unit Franchisee Magazine: Issue 1, 2012
Discover opportunities with Liberty Tax. As one of the nation's largest and fastest-growing tax preparation companies, there are tremendous...
Cash Required:
$65,000
Be in business for yourself as an owner of Sweet & Sassy
Cash Required:
$75,000