David Asarnow and his big, hairy, audacious goals
David Asarnow, 38, might make a good case study in the genetics vs. environment debate. His great'grandfather and namesake, David Bauer was an Eastern European immigrant who opened the first discount pharmacy in Newark, NJ in the early 1930s (according to family lore). But it was his grandfather, Jules Bauer, who also built a successful business, who set the 5'year'old David on the business track.

In 1971, when Asarnow was 3 years old, his grandparents sold their house and possessions and moved from New Jersey to Florida. His grandfather started an orthotics company, which did well. Two years later he bought a building and renamed the company Florida Brace & Limb.

"From the age of age of 5, I would spend a month or two at a time during the summers, and later on as I got older, all my holiday vacations, with my grandparents in Florida. And I would go to work with my grandfather every day," says Asarnow.

He did everything: cleaning wheelchairs and hospital beds, doing the filing no one else wanted to do (they saved it up for when he came down), vacuuming, and selling in the showroom. "They had wheelchairs and canes and all types of different things in the showroom, and he let me wait on customers when I was 6," says Asarnow.

"Although I don't feel like it was a big deal at the time-I didn't think anything of it-from the time I started going down to Florida and going to work with him, he had me sit in his office when manufacturers' representatives were making sales calls. After the call, he would ask me what I thought about the person, about the company. He really wanted to know my opinion. If you look at it now, we were debriefing the call. So I really grew up in my grandfather's business," he says.

"When I look at it, this is the foundation that helped shape and make me who I am today," he says. "He was like a second father to me."

Years later, when Asarnow was 18 and a freshman in college, his grandfather became very ill and asked him to take over the business. "It was a very hard decision, because I was so close to my grandfather. I grew up in the business and viewed it as mine, but I also realized at the same time that I would have certain responsibilities to him and my grandmother. I guess I was smart enough to know that I was not yet mature enough for the responsibilities of running the company," he says.

"I've never seen my grandfather so upset. But at the same time, he respected my decision. I wanted to try to make it on my own."

Asarnow studied photography at the Rochester Institute of Technology in New York before transferring to the University of Florida, where he graduated with a degree in advertising. After college, he remained in Florida and worked as a freelance photographer for about two years (models, portfolios, test shoots, weddings, bar mitzvahs).

He moved to Atlanta to take a sales position with the Sweetheart Cup Company. A couple of years later, he was hired as a district manager by a competitor, Fabri'kal, a manufacturer of thermoformed plastic packaging (cups, bowls, deli containers).

He started at Fabri'Kal with 3 states in his district, and about 2 years later, he was promoted to regional manager, starting with 12 states, which soon grew to 22 in his area of responsibility. Three years into that, the up'and'coming 20'something told his boss he wanted to start a national accounts business for the company and focus on getting new business from companies like McDonald's, Dairy Queen, Costco, Wal'Mart, and Sam's Club.

"He said I could take up that task, so I guess you could say I promoted myself. He asked me to present my goals and plans in an upcoming meeting," says Asarnow.

He'd recently finished a book, Built to Last, by Jim Collins and Jerry Porras. "I just ate the book up. It talks about BHAG's: big hairy audacious goals. If you want to achieve something greater than anyone can ever imagine for yourself, you have to set goals that people sometimes will laugh at and think are crazy." At the presentation, they did.

"I started off by telling them about this wonderful book I had just read, that I had highlighted like crazy, and that I had sticky notes all over, and it talks about BHAG," he says. At the time, Fabri'Kal was a 50'year'old company with sales in the $80 million range-and, says Asarnow, "sort of stagnant at the time."

"I got up in front of the company and I said 'BHAG, big hairy audacious goal: Within five years, we'll be our own division in the company, we'll be the fastest'growing division in the company, and we'll be the most profitable division in the company.' And at the same time I laid out my strategic plan and vision for achieving this.

"Everyone's laughing like crazy, my boss gave me a look like you wouldn't believe because the president of the company is in the room, the founder of the company, and none of this was run by him or the executive team.

"But if you fast'forward, within 2 years we were our own division, we had our own sales and support team, and we had approximately $24 million in sales. We were the fastest'growing division, and we were just having a blast."

Three years later, in 2004, "We were approximately a $45 million division of a $160 million company." And, he adds, of the company's $9 million in gross sales increase, more than $8.8 million came from that division. "We did everything we said we were going to do."

Rochester calls
Asarnow's wife had an uncle, Dick Kaplan, who was a successful businessman in Rochester. Three years earlier, Kaplan had seen what Asarnow was achieving at Fabri'Kal and offered him a job as an executive at his own company. He said no. "I just wasn't done building what I needed to build. Sometimes you set out with a mission to build something, and you have to complete it. And I needed to complete it."

In June 2004, on a Friday evening, Asarnow received another call from Kaplan, with a new opportunity: Austin Haines, founder of a photography company with seven stores, was working with Kaplan and several other investors. They were looking to franchise and were interviewing for a CEO. This time he was ready.

"He [Kaplan] thought based on who I am, what I like to do, and my personality, that Austin and I would be a good fit. He saw what I was able to do in a 50'year'old company, taking something from nothing and building a whole new division."

On Monday morning, Asarnow was on a plane to Rochester to meet with Haines, Kaplan, and some board members. Afterward, he says, "There was a lot of interest on both parts in continuing the process and seeing if it was a good fit."

Back home in Atlanta, he researched Haines' company, the photography industry, and franchising. Several trips to Rochester and more meetings ensued. In August, he presented a comprehensive plan to the board. "At the end of it, I said, 'So guys, when are we going to get started?' They said, 'When do you want to?' I said 'Right now.' And we were off."

Haines had a long and interesting history in the photography business. He'd been one of the first one'hour photo finishers in Rochester (a world center in photography and optics, and home to Eastman Kodak). He sold his company to Moto Photo and started a professional color lab. But as Asarnow tells it, "his weakest link was his customer." Haines, he says, called them "steak once a week" types, more interested in the art of the craft, so business was irregular.

Haines, he says, was fascinated with the idea of controlling the entire "food chain," from shooting images through manufacturing-and doing it digitally, with instant delivery. "He knew if could do it all digitally from start to finish, he'd have something special; but the industry wasn't right."

Haines sold his portion of the color lab to his partner and went to work as vice president of sales for a local multimedia company. In that capacity, he tested Kodak's new cameras, equipment, and software. That gave him a unique advantage, and in 1999 he launched DigiQuick.

"From what we know, we were the first all'digital portrait studio-with digital capture, digital process, and digital output," says Asarnow. "In 1999 when we were launched, we were a pioneer in the digital revolution." In fact, Kodak said it couldn't be done, but using Kodak's first digital SLR camera, Haines was able to pull it off, he says. "Kodak came to him a year later and asked, 'Can you tell us your process?'"

As a business, Haines knew he was onto something. "Austin and Clix (DigiQuick at the time) saw a huge opportunity to change the face of portrait photography-to make it all about fun, friendly service in a hip and now environment," says Asarnow. Haines knew, says Asarnow, that with professional quality portraits and instant delivery he'd be able to capture a large segment of the population.

Haines and the investors formed the Comon Group to franchise the concept (and hire a CEO). Investors included Kaplan (CEO of Pictometry International and former owner of the Max Pies flooring chain), along with Colby Chandler (former chair and CEO of Eastman Kodak), Richard Fox (owner of Wendy's Restaurants of Rochester), The Trilium Group, and other investors.

After Asarnow signed on in August 2004, he and Haines, with help from Kaplan, set out to raise a "significant amount of capital to get our start," says Asarnow. They achieved their goal in November and officially launched the franchise business.

Haines, who also has a stake in the Comon Group, chose to continue operating those first seven locations in Rochester and Buffalo under his own company, Instant Images, and has the franchise rights in upstate New York.

On the road to franchising
"We were (and we still are) a disruptive marketing force. We look for opportunities within our industry that aren't being served well, and we find a way that we can deliver a competitive advantage," he says. "There are companies out there that offer bits and pieces of what Clix offers, but there's really no one who put the package together quite like we have."

He says Clix was first in the photo industry to offer multiple revenue streams: 1) in'studio portrait photography; 2) on'location event photography (preschools, day care, youth sport leagues, proms, community, charity, and corporate events); and 3) a digital design center within the studio where customers can do digital scrapbooking, make greeting cards, and more.

To the customer, Clix presents itself as a "fun, friendly, hip, and now place," in contrast to the formal, stodgy, boring studios of the past. (Its logo swaps an exclamation point for the "i" in Clix.)

Clix began offering franchises in August 2005, and awarded two by year'end. That number rose to 9 in 2006, despite a goal of 30 entering the year. "We had very aggressive goals-and still do-and we didn't realize how many people we were going to need to turn away," he says. "We decided that it was more important to bring on the right franchisees than to bring on the number of franchises we had planned on. So we modified our plan."

Asarnow and Clix ran head'on into the hurdle all new brands face in their startup phase. "There are a lot of people attracted to a brand new franchise, but you also don't have enough franchisees. So you're in a Catch'22, where you get a certain segment of the population who's interested, but a majority want something that's tried and true. At the time, we didn't have enough stores open and operational where they had people they could talk to," he says. "It's a challenge because as a franchise system when you're first starting to grow, you want the franchisee revenue, but more importantly, you need people who are going to be successful."

Today, with 21 sold and 12 operational, the model is proving itself, and the results are showing: in April, Clix was meeting with 11 individual parties interested in franchising the brand. Asarnow says he has the coming years "all planned": 24 in 2007 (6 awarded so far), 32 in 2008, and 36 each in 2009 and 2010.

And he's already staffed up to support it. "We made a conscious decision in summer '06 to add probably more staff than we needed. For a company the size we are, we have a staff of 12 people, which is high. But we wanted to make sure we could handle the growth, that we could open a number of locations. If we didn't have the staff that we have, we wouldn't have been able to open five locations in October'November of 2006."

Clix will sell single or multiple units. For Asarnow, it's still all about fit. "Not everyone wants to build something big," he says. "Some people will be happy with a single store and a single events business," he says. "It's really a decision that they have to make, what's best for them individually and their families."

Something the young brand did get right: "When we started in franchising, one of the things that I knew was very important for us to do on the front end was to learn what the best practices were within the industry," he says. He did that by reaching out and asking people what they do, how they do it, and what their best practices are, and why; attending trade shows such as the IFE; and attending regional training sessions where he met more people in the industry.

"That's why we spent the first year building out our system and infrastructure. I wanted Clix to adopt best practices within the franchising industry before we started franchising. It's easier to change when you're just starting out," he says.

Making it happen
Clix uses outside vendors to make opeining as easy as possible for startups. Franchisees receive help with site location from Baum Realty Group, a national real estate company; and they get their business in a box from Total Resource Group (TRG), which provides build'out, fixtures, and camera rooms.

"At the end of the process, they're handed keys and a franchisee walks in and they're ready for business," says Asarnow. "From the time a person becomes a franchisee, we want them to focus on learning and operating their business." And after opening, franchisees can choose from more than 30 kinds of marketing and advertising promotions.

Innovation remains a key part of the brand. "The lifeblood of any business is growth-new products, services, and offerings," says Asarnow. To that end, Clix has put in place a system encouraging franchisee input. "If they have an idea and they're really passionate about it, and can present to us a business case and a business plan why it will be successful, we have it in our Offering Circular that they can test it as long as we're part of that test."

In May, the company launched Clix Cover Girlz, cashing in on the fashion model fantasy. The party girl walks away with her picture on the cover of a Cover Girlz magazine and an optional DVD of the photo session, and her guests go home with a film strip of their images-and an option to purchase more.

The natural?
Asarnow is comfortable in his skin as a 38'year'old franchise CEO and president. After all, he's already been in business 33 years, and it seems to feel as natural as can be.

"I grew up in a very entrepreneurial family. I worked in business my whole life," he says. "When I worked for other companies, whether it was in sales or running a region, I ran it as if it were my own business. And running Clix right now is no different. I'm looking at it as if it's my business, and this is what we need to do: build it, support it, and grow it," he says.

"The former president of my last company used to say, when I was in my early to mid'20s, 'How do you know all this?' And I said, 'I really don't know. It just happened over the years, sitting in my grandfather's office,'" he says. "I sort of jokingly say that I can't thank my grandfather enough for the education that I didn't realize I was getting at the time. I was very lucky to be involved."

Today, he says, "One of the most exciting things we do is get to share in on peoples' dreams and help them bring their dreams to reality. That's a cool thing, that's a cool job."

Years in current position: 3

Years in franchising: 3

Key accomplishments: Raising two wonderful children, Joshua, 6, and Madison (Maddie), 9. Successful re-branding and launch of Clix franchise concept and growth to 20 units open and under development in less than 21 months. Starting a division for my previous company and growing it to $45 million in 5 years.

Books of note: Built to Last, the book that inspired me toward an entrepreneurial journey; The 11th Element, a wonderful book and a different view on goal setting; Zen and the Art of Motorcycle Maintenance, encouraging you to stop and smell the roses.

Favorite web site: www.GetYourClix.com, www.google.com, www.gatorcountry.com

Where you find your business news: Internet. Thank you, Al Gore!

Biggest mistake: Jumping out of a perfectly good airplane at 15,000 feet.

Smartest mistake: Changing my company's direction without approval from the executive team. I stated my BHAG (big hairy audacious goal) to the entire corporate headquarters at my last company… and achieved it in half the time (more details above).

How you spend a day, typically? I wake up at 6:20â€"6:30, hang with the kids for a few minutes before they are off to school. Get to work about 7:30â€"7:45, clean up emails, and check in with the Clix Rochester Training Team. From here, there really is not a typical day. When I am in Atlanta, I am home for dinner with my family by 6â€"6:30. The next couple of hours are family time until the kids go to bed around 8:30. After the kids are asleep, I usually work in my home office for a couple hours. It is amazing how much you can accomplish when the telephone is not ringing.

How long is your work week? I really never counted. If you love what you do, it doesn't feel like work. With my Treo in hand, my wife feels that it never ends.

Favorite activity: Currently, coaching my son Josh's soccer team.

Exercise: Yes, sometimes, maybe. It really depends on if I am in Atlanta or on the road. It is more difficult to keep up with exercise on the road as I tend to work more when I am out of town.

What do you do for fun? Spend time with kids, friends, and family; hiking in the mountains/outdoors; listening to and watching the waves crash on the beach; snow ski. I plan on joining an adult soccer league in the fall.

Best advice anyone ever gave you: You can achieve anything you set your mind to and never take no for an answer. There's almost always a way to turn it into a yes. (From my grandfather, as a child.)

Best advice you ever gave: Your attitude is your altitude.

Growth meter (how do you measure you your growth)? 1) Business goals: by paying attention to and taking consistent action toward my goals; always learning and doing more. 2) Personal goals: I look forward to making a difference and creating a positive effect in other people's lives.
Published: May 29th, 2007
Share this Feature
Recommended Reading:
Comments:
comments powered by

Disqus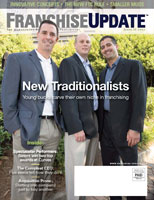 Franchise Update Magazine: Issue 2, 2007
More than 15 years of passion and fascination with the franchise system. Thanks to having met many Franchisees, today I can help new ones and those...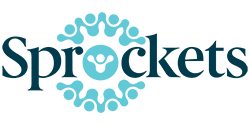 Sprockets is an AI-powered platform that helps franchisees maintain healthy staffing levels and improve employee retention. Our sophisticated...