Del Taco Man: Franchisee, Franchisor, Family Man, Innovator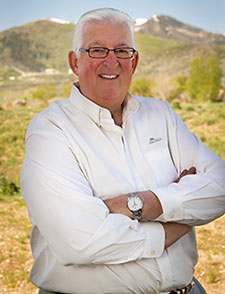 If Del Taco were a sports team, Paul Hitzelberger would not only be its MVP, he'd also be the GM and coach. For the past three decades, he's been on both sides of the business, as franchisor and franchisee, playing a leading role in helping the brand grow to more than 540 restaurants in 17 states.
After serving 15 years as chief marketing officer for Del Taco, he retired, but it didn't stick. In 2001, the Chicago-born entrepreneur started a new career as a franchisee, buying eight Del Taco locations in Utah. "The only partner I have now is my wife," he says, adding that he has an "outstanding" relationship with Del Taco and loves the product.
A former senior officer with General Mills and franchisor at Coast to Coast stores, Hitzelberger has earned franchisee accolades over the years, regularly posting the highest average volume within the Del Taco system. "Our volumes are impressive, but we can always do better," he says.
Hitzelberger says he has no doubt that treating employees like team members accounts for much of his company's success. "I'm told I have strong interpersonal skills. I listen to our team and our customers and I respond. Taking action is part of success. I know how to produce top- and bottom-line results. By inverting the triangle and putting myself at the bottom, I'm helping our team do well for our customers."
As he approaches 70, this family man is far from ready to retire again. "I love what I'm doing. For me, it's fun," he says. "Our goal to be the best alternative in each neighborhood throughout Utah, and we'll be building restaurants where they're convenient for our customers."
Name: Paul Hitzelberger
Title: President, CEO of Utah Del, Salt Lake City
No. of units: 26 Del Tacos
Age: 69 years young
Family: Wife and partner Jane, son Eric, who works in our business, daughter Darlene, and 4 grandchildren
Years in franchising: 32; 13 as a Del Taco franchisee, 15 with franchisor Del Taco, 4 with Coast to Coast stores as franchisor
Years in current position: 13
Personal
Formative influences/events:
Growing up in a family with integrity and a strong work ethic and growing up in Chicago, where I worked in retail since age 13, went to a challenging high school (Loyola Academy), and completed my MBA from Loyola University.
Key accomplishments:
Turning Osco Drug Stores, part of Jewel Companies, Central Illinois region, from worst of 13 to best in one-and-a-half years, and being installed into their Hall of Fame; and engineering 15 years of consecutive same-store sales increases at Del Taco.
Work week:
This is a hobby for me and so I'm 24/7. Sundays are for church and getting away.
What are you reading?
I enjoy business and restaurant magazines.
Best advice you ever got:
Cash is king,m with minimal debt.
What's your passion in business?
Being the best alternative in each neighborhood and seeing our team do extremely well financially and having fun doing it.
Management
Business philosophy:
My style is to invert the triangle. I'm at the bottom and the guest is at the top. We assist our team to do well for the guest. We say "Yes" to the guest before they ask the question.
Management method or style:
We provide an atmosphere where each manager feels they are running their own business as a part of a team. Our atmosphere is "we," not "I." We are a team and we help each other succeed. We start with sales, not EBITDA. We want our people to have the best deal in their neighborhood working at Del Taco. I want their neighbors asking them how they got to be part of such a great company.
Greatest challenge:
Governmental regulations that are not business- or growth-oriented and increasing ingredient costs.
How do others describe you?
As a listener who's fair and acts with integrity, someone who's positive and passionate.
How do you hire and fire, train and retain?
We hire carefully those with a passion to do well. We have minimum turnover and are continuously sharing best practices.
Bottom Line
Annual revenue:
Prefer not to disclose.
2014 goals:
Double-digit sales increase and record-breaking bonuses for our team.
Growth meter: How do you measure your growth?
Comparable restaurant sales and traffic growth every year.
Vision meter: Where do you want to be in 5 years? In 10 years?
We want to be the best alternative in each neighborhood throughout Utah. We also will be adding restaurants to be convenient to the guest.
What are you doing to take care of your employees?
We offer every benefit available to our management. We try to pay above the market and expect productive team members, minimizing the need for turnover.
What kind of exit strategy do you have in place?
I've tried to retire twice and it didn't work. This is the best annuity and fun for the future.
2014 MVP Spirit of Franchising Award
For Extraordinary And Enduring Performance, Growth, And Community Giving
Why do you think you were recognized with this award?
The strong results of our team and the fact that I have been on both the franchisor and franchisee sides.
How have you raised the bar in your own company?
Philosophically, our style is to always do better than the previous year. We are not limited by budgets--we have none. Our focus is to do better each year. We focus on sharing best practices and providing a Wow experience for the guest.
What innovations have you created and used to build your company?
We created a "Freshness Cooler" up at the front of the restaurant to showcase many of our fresh ingredients. Del Taco corporate has incorporated this presentation into their prototype. We also focus on the neighborhood and doing those things that help fulfill needs. We remodeled 18 locations in 8 months to have the latest brand attributes along with our other new locations.
What core values do you think helped you win this award?
Positive interpersonal skills executed with integrity and a "we" atmosphere--we are about every member of our team doing well.
How important is community involvement to you and your company?
Doing the right thing in each neighborhood is part of our core. We will enjoy the community support we deserve. Our donations over the last few years will exceed $400,000 to organizations with great purposes and impacts.
What leadership qualities are important to you and your team?
Having the passion to be the best and being a positive, supportive, contributing restaurateur; acting with integrity in everything we do; respecting each member of our team and respecting every guest's need for fresh-tasting food, served quickly and at a great value.
Published: August 25th, 2014
Share this Feature
Recommended Reading:
Comments:
comments powered by

Disqus

Multi-Unit Franchisee Magazine: Issue 3, 2014
The hottest new franchise is here (literally 150°). Perspire has developed, formulated and tested the most superior infrared sauna studio model...
With more than 230 locations operating and 350 more sold and in development, Dogtopia is the largest and fastest-growing dog daycare provider in the...
Cash Required:
$300,000