Diversifier Supreme: Ray Harrigill Keeps Growing With New Brands
Ray Harrigill believes in diversification. His Sunray Companies has restaurants (Bumpers Drive-In), tanning salons (Palm Beach Tan), fitness centers (Koko FitClub), and hotel properties (Hampton Inn), to name a few. That's because of lessons he's learned along the way.
Harrigill got his start in the restaurant business working in a multi-unit, multi-concept company. When he set out on his own, restaurants were his first choice but he couldn't open new units quickly enough to satisfy his goals. He began opening Blockbuster Video stores in 1999, quickly ramping up to four. But even then it was clear to Harrigill that the Blockbuster model wasn't "a long-term business play." So he began diversifying further.
"I invested some money in comprehensive rehab facilities, which I lost a fortune in, and almost simultaneously got into the tanning business. We did really well with that," says Harrigill, who now has five Palm Beach Tan salons.
That experience led him to another business epiphany: membership-based businesses offer a more predictable, more certain level of cash flow than retail or restaurants can. So he's added Massage Envy and Koko FitClub into his mix.
"We think of it as investing in an annuity of sorts," says Harrigill. "Once you build up a membership base, it continues to pay every month. Most of the time in business you don't get that opportunity."
He knows this firsthand, of course, given his experience in the food business. "In restaurants, you fight for every dime and nickel through the entire month," he says. "With membership-based businesses, you have a set amount of revenue you can count on."
So, these days Harrigill is looking toward growing further through diversification and by expanding his holdings in membership-based businesses. As ambitious as he is, he doesn't intend to grow too far from home. "We want to develop in our core area," he says. "I'm not interested in developing around the country. I used to travel a four-state area, and it's not very conducive to family life."
While the slow economy has tempered Harrigill's expectations for growth, Sunray has managed to build both revenue and profitability. His near-term goal is to continue that trend of profitable growth, within what he calls a "fairly reasonable" footprint. "I don't mind working hard," he says. "But I do like to go home at night."
Name: Ray Harrigill
Title: Managing member
Company: Sunray Companies
No. of units: 2 Bumpers Drive-In, 1 Blockbuster Video, 5 Palm Beach Tan, 2 Massage Envy, 1 Koko FitClub, 3 Hampton Inn
Personal
Age: 42
Family: Beautiful wife and 13-year-old twins
Years in franchising: 19
Years in current position: 15
Key accomplishments: Development of a dedicated and loyal team.
Biggest mistake:
Buying the licensing rights for and opening two Comprehensive Outpatient Rehabilitation Facility (CORF) units. I lost a fortune and closed both.
Smartest mistake:
Opening my first Palm Beach Tan in a relatively small market so I could learn the business. The fact that we were able to be a big fish in a small pond led to high volume with lower overhead.
How do you spend a typical day?
I am at work by 8 a.m. after I drop my kids off at school. I generally still work a 12-hour day. I spend a great deal of time reviewing performance numbers and costs, as well as directing and motivating the team. I also perform the second interview for all key holders. Any other moment of the day, I am on the phone. Oh, and bankers. I talk to bankers whenever possible.
Work week:
Usually 5 days. I try to take off Saturday and Sunday unless we are opening a unit.
Favorite fun activities:
Spending time with my family.
Exercise/workout:
Koko FitClub, of course. It is the perfect 30-minute workout.
Favorite tech toys:
My BlackBerry and the ability to tap into my office remotely.
What are you reading?
Trade magazines, Fortune, and Money. I also use a number of RSS feeds to provide up-to-date information on the world. I also enjoy fiction but rarely make time to read for pleasure.
Do you have a favorite quote/advice?
If you want different results, you have to change what you are doing.
Best advice you ever got:
To get a professional degree.
Formative influences/events:
I grew up in a family of entrepreneurs and was fortunate to go to work for a very successful multi-unit, multi-concept restaurateur in my first professional job. There was never any question in my mind that I would own my own business one day. I was fortunate that I was exposed to the idea early and given the opportunity to run someone else's business at a young age.
How do you balance life and work?
I love to work and do so for the benefit of my family. I work hard because you never know when you will not be able to. This philosophy has always allowed me to be there for the important moments.
Management
Management method or style:
Persistent. I also strive to find self-motivated people who take pride in their work and in our company.
Greatest challenge:
Balancing opportunity, capital, and risk.
How close are you to operations?
I know a lot about the respective industries we are in. I try to understand the key metrics of each as well as the challenges our managers face. My job is to help them grow and be successful managing their own business.
Have you changed your marketing strategy in response to the economy? How?
We are constantly reevaluating our marketing spend and try to place dollars that generate profitable revenue.
How is social media affecting your business operations?
The evolution of social media in the past few years is nothing short of phenomenal. We are incorporating it wherever possible.
Are you in the franchising, real estate, or customer service business? Why?
Some of all, but customer service is the foundation of our company. We cannot grow without providing real value for our customers.
As an operator, what are the two most important things you rely on from your franchisor?
A great system/product and resources we don't have.
What gets you out of bed in the morning?
The opportunity to move forward.
What's your passion in business?
Seeing people grow.
How do others describe you?
Precise, focused, and driven.
How do you hire and fire?
I always interview key holders or managers once they have been recommended by managers or supervisors. I generally only discipline or fire supervisors or office staff.
How do you train and retain?
We are always looking for ways to train and engage our staff. Franchisors generally provide great material for this. We also use third-party seminars and bring in people to teach classes for our staff.
How do you deal with problem employees?
Directly. Honesty either moves them in the right direction or moves them out.
Bottom Line
Annual revenue:
Undisclosed
2012 goals:
We are planning to open a few Koko Fitclubs this year. We are also evaluating additional Palm Beach Tan and Massage Envys.
Growth meter: How do you measure your growth?
Bottom line cash flow before and after debt service.
Vision meter: Where do you want to be in 5 years? 10 years?
We are always seeking profitable growth. I am not fixated on a particular number of units or certain annual growth limits. That said, I believe we will double our size in the next 5 years. In 10 years I believe we will be growing out of active cash flow and de-leveraging. We really like membership-based businesses and see that as a growth vehicle for the coming years.
How has the most recent economic cycle affected you, your employees, your customers?
As a company, we have been remarkably fortunate to build profitable revenue when the general economy has been poor. This has also allowed our employees to continue to grow. Without question, our customers have less to spend. This has forced us to provide more value for their limited dollars.
Are you experiencing economic growth/recovery in your market?
Growth.
What did you change or do differently in this economy that you plan to continue?
Diversify, diversify, diversify.
How do you forecast for your business in this economy?
We have tempered our expectation for growth and realized that you can't project the same growth for all the market segments we operate in. We feel like if we are beating the industry average, we are being successful.
Where do you find capital for expansion?
Cash flow and debt.
Is capital getting easier to access? Why/why not?
Hospitality has been unbelievably difficult in the past few years. It seems like it has started to get better, but the rules have permanently changed: different loan-to-value ratios, different cash flow expectations from lenders, different amortizations, etc. Loans for our retail businesses (without real estate) have been nonexistent. If you have real estate, strong cash flow, and don't really need the money, the banks are delighted to lend to you.
Have you used private equity, local/national banks, other institutions? Why/why not?
I have never used private equity. We use local and national banks. We have only done one equipment leasing deal since I have been in business and regretted it.
What kind of exit strategy do you have in place?
We try to balance our cash-producing businesses and their associated short-term debt against our real estate and its associated long-term debt. As we reduce our short-term debt, it allows us many options to sell our cash flow in the future. The residual value in real estate is the long-term retirement plan.
What are you doing to take care of your employees?
We maintain a performance-based environment and try to reward our team based on their production. We are always trying to add value to their compensation.
How are you handling rising employee costs (payroll, healthcare, etc.)?
We try to stay ahead of inflation with revenue and by increasing cash flow through managing variable cost control.
How do you reward/recognize top-performing employees?
We are a sales-focused company. We try to celebrate success and help our management grow professionally and financially.
Published: January 4th, 2012
Share this Feature
Recommended Reading:
Comments:
comments powered by

Disqus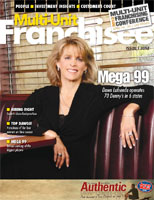 Multi-Unit Franchisee Magazine: Issue 1, 2012
Blend opportunity with success and join the nation's #1 health and fitness smoothie brand today!
Cash Required:
$100,000
Minuteman Press is the world's largest & number 1 rated printing & marketing franchise. Our business model features multiple revenue streams,...
Cash Required:
$30,000