Doing What It Takes: Moving the Dream From Concept to Reality
In my previous guest column, I discussed how I came up with the idea for a restaurant concept that fused the speed and inherent benefits of fast casual with the flavors, ingredient quality, and service level of fine dining. I learned from the best and prepared to enter franchising. But there were two more important pieces I knew had to be in place.

1) Stay true to your vision

I was convinced of two things when I started conceptualizing Fresh To Order. First, I truly believed there was a way to take the fine dining flavor profile and service level and bring it to guests in 10 minutes or less for under $10. Second, I knew accomplishing this would require patience.
Over time, both of these ideas bore fruit. We have delivered on our initial brand promise, with guests who dine at Fresh To Order two and three times a week--sometimes even twice a day--and appreciate the concept. We currently have eight locations, are set to open three or four additional units in 2013, and are on track to grow to about 40 to 50 units in the next 3 years. Franchisees have truly embraced Fresh To Order, and our franchise-to-corporate unit mix is 50/50.
It did take some time to get here, however. We opened our first restaurant in Atlanta's midtown neighborhood in 2006, followed by six more by 2008. And then the recession hit. While our loyal diners continued to join us for lunch and dinner, franchisees were either hesitant to invest in a new concept that stood alone in its category or fearful to take a risk on our revolutionary dining concept--understandably so, as financing had all but dried up.
As a result, we took a hard look within. There's an old song from an animated children's show that sums up our process. The show features two little toys planning a big move. They sing, together, "You hope, and I'll hurry."
"Hope" and "hurry" are what our team did through the recession--and that is my recommendation for anyone trying to launch a concept, particularly one that creates a unique niche in its industry.
I could have changed the concept. At that point, Americans were embracing fast casual dining. Brands such as Chipotle and Panera Bread were yielding remarkable profits for investors and stockholders and adding hundreds of restaurants per year. But my vision was not just to increase the quality of fast food, it was to deliver the fine dining experience quickly at an affordable price.
I stayed true to that vision with a passion and commitment, which allowed me to focus on the hard work that needed to be done: attracting loyal investors, employees, and franchisees to take the journey with me.
2) Do what it takes to get it right
We also did a whole lot of hurrying. In 2006, together with my business partners and a group of loyal employees, we looked at everything our brand was offering both guests and franchisees.
The menu worked: we had guests lining up for lunch and dinner even during the long years of the recession.
What needed reengineering was our unit economics. Given the tight reins held by banks for franchise loans, we had to make our business above reproach. Further, we wanted to deliver a big reward to our franchisees for taking a larger risk with our concept.
The restaurant business is very simple, but it is simple like rocket science, in that thousands of details must be reviewed, modified, and improved. So we looked at every number on our spreadsheet, every line item, and every possible place to improve ROI, with the goal of creating incredible units with incredible volume.
As a result, our chain now boasts one of the best sales-to-investment ratios in the business. With an average build-out cost of $550,000 (after landlord/tenant improvement) and with average unit sales of $1.7 million, we offer franchisees a 3:1 sales-to-investment ratio. When compared with most restaurant franchises, which usually offer a 2:1 ratio at best, we think Fresh To Order is a strong and differentiated investment opportunity.
Today, as we continue expansion, we keep the span of control very tight through a robust franchise infrastructure. Unlike other restaurant brands that keep their franchisee support team small, with one person often overseeing 30 or 40 units and multiple franchisees, Fresh To Order has created a team that allows for one franchisee support person for every 10 restaurants. We call it "concierge support," and it does mean a bigger overhead. To our brand, however, this additional expenditure is critical to keeping our unit economics high and our brand promise consistent across all restaurants, markets, and franchisees.
We've also created a system that allows us to constantly analyze and compare profit-and-loss statements for both corporate and franchise units in a consistent manner, so we can quickly identify outliers if we have concerns about costs or opportunities for further improvement.
While we "hurried" to create incredible unit economics, we took a little more time readying our concept for growth. We realized early on that acceptance of our brand would take more time than our fast casual colleagues. Our average menu items are priced comparably, but slightly higher than some of the fast casual leaders. For example, our average ticket price is about $1 more than Panera Bread. The superior service, however, and the flavors, freshness, and quality of the food more than make up for that extra dollar--but it took time for diners to understand the value. I'd like to say that for $1 more the customer gets $3 to $4 more in perceived value.
We are pacing our rate of growth (6 to 8 units in various stages of development each year) because we want to make certain that we deliver on our brand promise at every new opening. More important, this rate of growth assures the success of our franchisees, who are never rushed to the point of failure. Our franchise agreement is pretty standard (most franchisees agree to build at least three restaurants in a market), but we are flexible with opening milestones and will "wait for great" so as not to place undue pressure on our franchisees to open new stores if all the necessary elements of success are not present.
Some brands do fall into the trap of signing agreements that never come to fruition. To avoid this trap, we've made the conscious decision to pace ourselves and "right-size" our growth projections for the concept and our franchisees. Since our growth goal is about a 50/50 mix of corporate and franchise locations, franchisees are our partners, not our customers. We want restaurants to be built solidly, and we want a long-term, positive relationship with our franchisees, to the benefit of all.
In the end, the route we took to build and grow Fresh To Order was inspired by something a trusted mentor once told me: "Get into what you really love and stay in it until you become the best at it. It's at the intersection of those two points when you'll make a lot of money."
Pierre Panos, a South African native of Greek decent, has founded three restaurant concepts in his nearly 30-year career in the industry, including a fast food mobile vending concept in South Africa at the age of 24, and Stoney River Legendary Steaks. Today he owns Brookwood Grill and is one of the largest Papa John's franchisees in the U.S. He founded Fresh To Order in 2006, positioned to grow to 50 corporate and franchised locations by 2015. He lives in Atlanta with his wife and three children.
Published: January 9th, 2014
Share this Feature
Recommended Reading:
Comments:
comments powered by

Disqus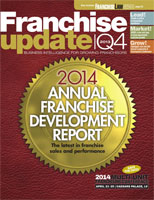 Franchise Update Magazine: Issue 4, 2013
Leasecake is location management made easy – from lease contracts and licensing agreements to ASC 842 compliance. Never miss a deadline, stay ahead...
Bring Order to Your Business. All-in-one management, print, and design solutions at your fingertips, on one platform