Dominant, Dedicated, Driven: These 7 Multi-Unit Operators Show How It's Done!
Dominators step forward!
Spread across the following pages of our annual Dominators issue are the rough-hewn tales of seven multi-unit franchisees who have worked smart and played hardball to create large, successful franchise organizations.
These operators are not afraid to take risks if the payoff means a bigger slice of the market pie. We interviewed these seven savvy operators and asked them to share their strategies, philosophies, and personal approaches to running their organizations.
Four of these high-powered individuals were honored in March at our Multi-Unit Franchising Conference in Las Vegas, and rewarded with Multi-Unit Franchisee magazine's first annual Most Valuable Player (MVP) Award. The MVP Awards recognized them not only for their success in building their own companies, but also for their innovations and contributions to their franchise brands and systems.
All have grown their systems and brands through boldness and innovations in marketing, sales, supply management, and more. They are top performers with exceptional growth stories. Each has a unique story to tell.
Closing in on 200 locations surely qualifies MVP Award Winner Anil Yadav as a Dominator. From his beginnings as a fry cook at a Jack in the Box, today he oversees 181 restaurants across a sprawling region. And he still likes to roll up his sleeves and get behind the grill at his 155 Jack in the Box and 26 Denny's locations. And he's not sitting still: two more Denny's and a Jack in the Box are under construction.
Successful and charismatic are two words that emphatically describe Elena Donahue. This forward-thinking multi-unit operator oversees 22 Burger Kings in Colorado, sharing responsibilities with her husband, Ken, which allows her to stay actively involved in numerous philanthropic endeavors. On the heels of Hurricane Katrina, she deployed to Mississippi where she managed emergency response vehicle crews and supervised a kitchen that served 18,000 meals a day.
MVP Award Winner Gary Hughes chucked his corporate executive life and Seattle's congestion and moved to Clarkston, Wash. (pop. 50,000). "I found out that hunting and fishing was as much work as running a business," he says—and it paid a lot less. He was soon back in business, this time on his terms, building a 33-store chain of ColorTyme franchises in 7 states, where he made important innovations that were adopted by the franchisor. Today, at 71, he's scaled back to 12 stores—but he's not done yet.
MVP Award Winner Bill Ramsey built an international manufacturing company, then discovered no one in his family wanted to follow him into the business. In a family meeting, he found out that his kids were interested in operating restaurants. Soon after, he signed with Schlotzsky's and opened his first deli in 1995—the brand's first million-dollar store. He applied his manufacturing expertise to sandwich production, making innovations that were adopted across the system. In 2009, the family's 7 Schlotzsky's racked up sales of more than $8 million.
Gina Puente grew up acting in commercials, competing in pageants, and working in her father's office equipment business. When her father opened a newsstand in an airport, that opened the door for her to start her own business: the first winery inside an airport. Today she runs the company, which includes more than half a dozen concepts in airports. Recently, she opened a UFood Grill and Urban Taco in a Dallas's Parkland Hospital.
Not even Hurricane Katrina—nor any of the other 15 hurricanes he's been through—have stopped MVP Award Winner Glenn Mueller. Sixteen of his Domino's stores were completely wiped out or flooded following that massive storm in 2005. Even that catastrophe didn't deter this multi-unit operator. As the 55-year-old franchise veteran, who operates 136 Domino's Pizza units, prepares to celebrate his 30th anniversary in the Domino's chain, he knows that anything that doesn't kill a franchise operation makes it stronger.
John Betz was content with his corporate life at MCI Telecommunications—until a brush with Auntie Anne's Pretzels changed his career treajectory. He opened his first Auntie Anne's in 1991 and expanded to 11 units in the following decade. Today his diverse portfolio today includes four brands, and he is a partner in Tony Luke's Philly Cheese Steaks, a new concept opening in September.
This year we've also included a list of Dominant Cities: DMAs with the most franchised units, broken out by region. FRANdata provided the information. See if you can use it to help plan your next move!
Published: October 12th, 2010
Share this Feature
Recommended Reading:
Comments:
comments powered by

Disqus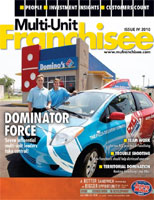 Multi-Unit Franchisee Magazine: Issue 4, 2010
At Radiant Waxing, we make it our mission to help people achieve smooth skin and beautiful brows in mere minutes.
Cash Required:
$100,000
With a passion for creating happy 'Human Beans', the company's drive-thrus have established a reputation for friendly baristas, high-quality coffee,...
Cash Required:
$200,000