Dynamic Duet: Work Hard, Do Your Best, Be Accountable, Dream Big
joye and dave griffin have always had a singularly focused mindset to succeed in the automotive world, dating back to their college days when they ran a car detailing business out of the back of Dave's pickup truck.
"Our intention was to be the best at whatever opportunities were before us," says Dave. Their family-owned business operates 55 Jiffy Lube stores in three states, and continually leads the franchise system in sales, customer count, and other key indicators.
The Griffins, recipients of the 2018 Single Brand Leadership MVP Award, are set to take Griffin Fast Lube to new heights as a board-governed company in a move aimed at helping them be more collaborative and keep ahead of the competition.
The Ogden, Utah-based company is truly a family affair. Sons D.J., Jeff, and John, who grew up in the business, now are senior executives. Joye credits this next generation of leadership for being instrumental in expanding their footprint in many areas, using technology to improve processes and the customer experience, and keeping the company relevant in a changing work and consumer environment.
"Being a family business brings a more balanced, caring relationship with our employees," says Dave. "We want to see them succeed in their careers, which benefits them personally and their families collectively. We see our employees as our customers, and if we are treating them well they will treat their customers well. "
Years of experience and hard work have helped the Griffins mesh their talents, set boundaries, and communicate in a way that brings out the best in both of them.
"We worked with an amazing third party who has helped us focus on strength-based leadership, which allows each of us to work in the areas of our strengths," Joye explains. "When we focus on strengths instead of weaknesses we are more productive. We believe few couples learn how to be full business partners together, and even fewer can have all of their children work with them. We've been fortunate that we've all set aside our personal issues and worked hard to build each other up."
The Griffins project continued growth in businesses, which, in addition to Jiffy Lube, include car washes, collision repair, detailing, and digital inspection facilities.
As the children of two entrepreneurial families, the Griffins took the best from both worlds and brought them together to build long-term success. They are now transitioning the next generation into leadership and building a future for their families and their dedicated employees.
Name: Joye and Dave Griffin
Company: Griffin Fast Lube
Title: Dave, board chair and co-founder; Joye, board member and co-founder
No. of units: 55 Jiffy Lubes
Age: Dave 60, Joye 58
Family: Three sons, D.J., Jeff, and John
Years in franchising: 19
Years in current position: 39 as co-founders, 1.5 as board members
Personal
Formative influences/events:
When we were in college, we detailed cars at night to help pay for our tuition. During these longs nights working together, we learned we could count on each other and we found we loved working together. This led to many opportunities for us throughout the years.
Key accomplishments:
We have a wonderful family of three sons and daughters-in-law and 10 fantastic grandchildren--6 boys and 4 girls. They are the most important accomplishment we have.
Work week:
We are in the office most days, but our great leadership team makes it possible for us to have more personal time away from the demands of the day-to-day operations.
What are you reading?
Joye: Getting to Yes: Negotiating Agreement Without Giving In.
Dave: Entitlement Abolition.
Best advice you ever got: That which you persist in doing becomes easier, not that the matter of the thing itself has changed, but your ability to do has increased. We both were raised by entrepreneurial dads who taught us how to work and solve problems.
What's your passion in business?
To build a legacy business that provides for our family and many of our great employees. We love to provide a place for people to work at something meaningful and provide for their families.
Management
Business philosophy:
We love trying new things and want to keep ahead of the competition and market trends in our industry. We like to solve complex problems, and while it is difficult at times, the end result is very rewarding.
Management method or style:
We like to promote from within whenever possible. We like to see our employees develop, grow, and get promoted within the organization, both in skills and leadership opportunities.
Greatest challenge:
Doubling in size in 2008 and doubling in size again in 2009.
How do others describe you?
This question is hard for us to answer ourselves, so we sought input from four employees who have been with us a variety of years.
Joye: Caring, sincere, confident, with a tremendous ability to lead and inspire. A great role model for young women. Dedicated and does everything with love and compassion. "She makes people know how valuable they are. When she talks it is always with quiet dignity. Her knowledge always impresses us."
Dave: Honest, hard-working, inspirational, personable, energetic, confident, kind, and passionate with his work and family. Inspirational and always has a clear vision of what he wants to help others grow and where he wants the company to go. A hands-on leader who doesn't just ask others to do things that he is not willing to jump in and do with them. "Dave is the dad you wish you had."
How do you hire and fire, train and retain?
We use a third-party company to assist in the application and screening process. We have an excellent training program they must certify in before they can begin work. We try to evaluate candidates in the screening process so once they are hired we have a higher chance of retention. However, turnover continues to be a challenge.
Bottom Line
Annual revenue:
$40 million.
2018 goals:
Transitioning to a board-governed company.
Growth meter: How do you measure your growth?
We are growing internally, adding approximately two stores per year. We also have other businesses we are growing as well.
Vision meter: Where do you want to be in 5 years? 10 years?
We will most likely continue our growth pattern and add 10 new stores. We are also looking at expanding our portfolio with other business opportunities. We will begin to transition the company to our sons.
What are you doing to take care of your employees?
We have annual family picnics where all employees bring their families and spend the day doing outdoor activities. We also visit each employee at Christmas time and deliver a gift from us. We also provide opportunities for them to participate in charitable giving at their community level and we are looking at other ways to assist and educate our employees.
What kind of exit strategy do you have in place?
We are working on transitioning now. We have several trusted advisors who are helping us get our assets and portfolio in place regarding tax laws, estate planning, and retirement financial security.
MVP Questions
Why do you think you were recognized with this award?
We believe we received the award for the exceptional team we have assembled, our financial growth, and the excellent brand we represent.
How have you raised the bar in your own company?
All levels of the company have clear reporting metrics, continued training opportunities, and we lead by example. Our industry is very competitive, and we want to be the best by providing excellent customer service and products.
What innovations have you created and used to build your company?
We have leveraged technology in the automotive space to provide our service centers with leading-edge analytics and products to empower our teams with expanded knowledge of customer needs. We also use technology to assist in documenting sales and growth opportunities.
What core values do you think helped you win this award?
Our core values have always been to work hard every day, do your best, take accountability for your actions, and dream big.
How important is community involvement to you and your company?
We have supported raising funds for a variety of charities. We take pride in giving back to our community whether through a national nonprofit or supporting a local school or individual student. We try to invest in child-based fundraising to assist the rising generation.
What leadership qualities are most important to you and your team?
We believe in having honesty and integrity throughout our organization, as well as communication strengths. We host biannual retreats for our upper management on a variety of issues and assign them specific topics to address with the group. We also send our top executives to strategic leadership conferences to share best practices with peers in other industries.
Published: September 14th, 2018
Share this Feature
Recommended Reading:
Comments:
comments powered by

Disqus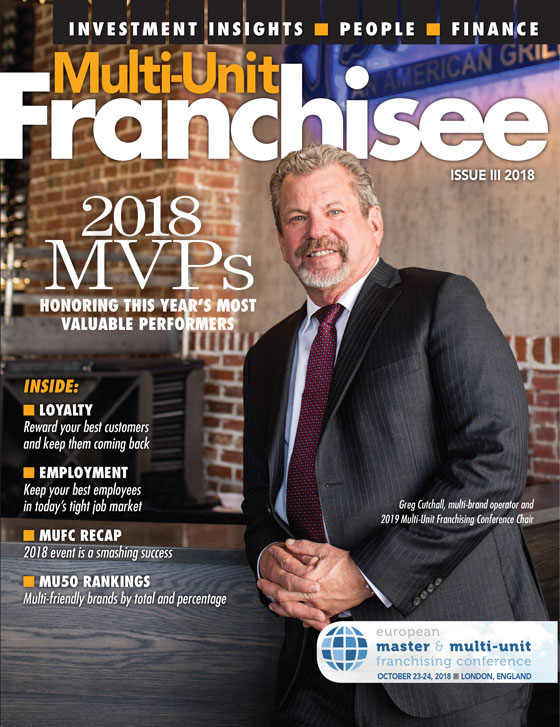 Multi-Unit Franchisee Magazine: Issue 3, 2018
The Shipley Do-Nuts concept, like many successful foodservice operations, relies on well trained and qualified staff to support its daily goal of...
Cash Required:
$200,000
There's nothing quite like the perfect cup of coffee. It wakes you up and gets you on the right path. Now, you've got the chance to build a lifestyle...
Cash Required:
$100,000