Economic Stimulators: Sheer Will And Smarts Help These Multi-Unit Franchisees Move Ahead In Challenging Times
It was like a gut punch for Charlie Marshall. In less than a year's time, the Spring-Green Lawn Care multi-unit franchisee went from paying $12 per bag for lawn fertilizer to more than $25 per bag.

"That will make you look for ways to streamline and cut costs," says Marshall. To add insult to injury, gasoline prices were skyrocketing, making it even more expensive to fire up his seven trucks and dispatch crews to care for his customers' lawns each day.

Like many quick-thinking multi-unit operators, Marshall hasn't thrown up his hands in despair, he's looked for solutions. He's turned to his franchisor, attended their meetings, and regularly reads posts from his colleagues at the Spring-Green intranet site.

"One of the first things we discovered from some other operators was the availability of special calibrators that fit the spreaders and more efficiently distribute the fertilizer," he says. "We also learned that there were more economical micronutrient products available that could be substituted and serve the same purpose as the more expensive fertilizer." Marshall says he had to begin "rethinking the agronomics" of his lawn care operation. "We've also tightened up our routes, sometimes beginning earlier in the day and staying out longer in the evening."

Although he did have to increase his pricing a bit to his customers, he's experienced very little drop-off in business. He says his market, four counties in northern Virginia, has remained relatively strong because of the large number of government and military personnel living there.

Still, Marshall was forced to scale back employee raises and bonuses in 2008 and was cautiously optimistic about the upcoming spring. "One thing I've learned is that it's no longer business as usual out there. You have to think differently and be willing to try new things if you plan to thrive in this market."

Close cut
The heavy home foreclosure rates in California have caused a ripple effect for Jim Stegall, whose14 Fantastic Sams units span a 200-mile stretch in the state's Santa Barbara/Central Coast region.

"The effects of the economy have been different depending on which areas my locations are in," he says. "Santa Maria has been hit hard and we've felt it. Probably a third of all the homes in this area have been under foreclosure."

Another of his salons is in the San Luis Obispo area, where business ebbs and flows based on the transitional college community. He says most of his other locations are feeling the economic strain but holding steady.

"We've seen a slight decrease overall in business, people going from maybe five to six haircuts a year down to three or four," says Stegall, adding that the challenge just gives him more incentive to streamline and tighten his operation. He keeps tabs on his locations from a centralized office where he oversees and manages everything by reviewing automatically generated financial reports daily.

One inescapable problem is the cost of hair care products. "My supplies costs have gone out of control. We've looked at competing products and supplies and made a few switches," he says. "Supplies increases are coming right off my bottom line, but I can't pass these increases along to my customers."

What he can do for customers is offer incentives. Stegall says he spends $100,000 each year in marketing and advertising, some of it on his Fantastic Rewards program. When customers spend $150 in his shops they get a $10 gift certificate. He also sends out what he calls "lost coupons" to customers who haven't been in for some time. "We want to keep good customers, not have to find new ones." He says 75 to 80 percent of his customers are repeat.

In California, labor costs are a killer for someone like Stegall. "I have to pay more than $8 an hour just to attract employees," he says. "And that doesn't include commission." The increase in unemployment has given him a larger pool of prospects to pick from. "I couldn't find employees a year ago, now there are lots of applications."

The other upside of a down economic climate is real estate agents and landlords struggling to find good tenants. That's a perfect scenario for Stegall's expansion plans. He was already scheduled to open his 15th location by year-end 2008 and his 16th in the first part of this year. He says there are still some good markets in his region that don't yet have a Fantastic Sams.

"I have a landlord who was desperate to fill some space and he's doing a turnkey deal for me. He knows we can partner up again in the future," says Stegall. "I got a much better deal today than I would have 18 months ago."

Fresh squeeze
"We're getting hammered," says Joe Lewis, who has eight Popeyes and three Baker Bros locations in the West Texas cities of Lubbock and Amarillo. "Sales have slowed, higher costs have squeezed our margins, and minimum wage keeps increasing." Like the other competitive multi-unit operators we spoke with, Lewis says trying times just make him operate more efficiently.

Lewis, who's been in franchising for more than three decades, says he's learned a few things through several up and down economic cycles. "We look for ways to control and streamline costs." For his Baker Bros stores, the franchisor renegotiated the prices for ingredients (meats, cheeses, etc.) in early 2008. The franchisor also adjusted the menus, introduced a half-price sandwich, reduced portion sizes, and helped lower costs.

For his part, Lewis says he is constantly evaluating labor costs in a conundrum he refers to as "distinguishing between the fat and the muscle." He eliminates positions when necessary and cuts hours to help streamline operations in all his restaurants. And since the sandwich business is slower in the evenings, Lewis now has his employees doing more prep work during this time for the coming day.

For his Popeyes units, Lewis says a purchasing coop negotiates the best deals and locks in prices for the franchisees--everything from food to cash register systems, equipment, and signs. "There's no question these moves have increased my margins."

Corporate marketing efforts, fueled by coop dollars, have helped him build brand awareness and market share, he says. "Popeyes also has great committees and subcommittees where lots of best practices come out."

With about 2 years under his belt, Lewis is relatively new to the Baker Bros chain. One of the reasons he liked it was its relatively low cost of entry. "I discovered I could get two Baker Bros units for about the same cost as one regular fast-food restaurant," he says. "There's less equipment required and less square footage necessary."

Marketing is more of a struggle, though. The new brand relies heavily on word-of- mouth advertising, and Lewis doesn't believe in coupons, so he's been spending his time making office visits and handing out free samples. "If we can get them to try it, we increase our chances of getting them in the store."

Lewis, a big reader, loves to study the cultures of other successful businesses. "We look at companies like Disney, Nordstrom, and Ritz-Carlton and try to find things we can adapt into our culture," he says. "These are the kinds of things that could just make the difference in a down economic cycle."

Come together
Leo Brennan and Sherri Taylor are partners--of sorts. They don't operate the same franchise, but pool many of their resources with four other Right at Home franchise operators in the greater Phoenix area to split costs, build the brand, and maximize economies of scale. It's a unique idea that has come in handy in this economic cycle.

"The first thing we did was create a marketing coop about three years ago," says Brennan, who operates two Right at Home franchises in the West Valley with his partner Sandra Muchaca. "We all saw the benefits of working together to grab market share, leverage marketing dollars, and do some things together that we couldn't have afforded to do alone."

Another efficiency they created was a central intake call service. "There's one phone number and a single person handles all incoming calls and knows, by territory, which of us to direct the customer toward," says Taylor, who operates the Right at Home franchise in the East Valley. "We all split the costs. It frees us up and gives each of us more time out in the field to market."

Taylor is quick to point out that the six operators "are a coop, but not business partners. We all still have our own separate locations and retain individual rights to certain functions." Still, it's a progressive approach that seems to be working.

Purchasing is another significant piece of the coop. "We've negotiated with vendors for marketing, printing, office supplies, and we've even teamed up with a third-party payroll provider who handles all of our needs," says Taylor.

"We can go to certain trade shows that would be cost-prohibitive for any of us individually," says Brennan. "Now we can all go and split the costs."

Brennan says he used to spend $1,000 a month on his Internet presence. Now all six chip in, spend $2,000 total each month, and get greater presence for less money.
"Something else we've done," says Taylor, "is share caregivers. To retain top people, we need to be able to keep them busy. The six of us working together, sharing, can provide more steady hours to these workers."

"We really haven't had to eliminate costs," says Brennan "We just team up to leverage what we're spending."

Says Taylor, "We can reach out six times as wide in our area because we work as a team."

The Shirt Off Your Back
Tim Tressler does a lot of driving these days, but he doesn't mind. The 55-year-old multi-unit franchisee of Plato's Closet has four stores spread across Indiana and Illinois. Maybe he doesn't mind the time behind the wheel because his business is thriving right now, despite the wheezing economy. And each week he's on the road visiting his stores in what he calls a "hands-on" capacity.

Plato's Closet stores buy and sell "gently used" clothing and accessories for teens and twenty-somethings. Part of Winmark Corp., the concept has been around for about a decade. Tressler says his stores have been thriving and especially busy over the past year.

"Kids love the fact that they can come in the store and buy the latest fashions at a fraction of the price they'd pay at the regular retail store," he says. Likewise he says, kids can come and sell their clothes for some quick cash. "I always have great inventory and it's always paid for at the end of each day." The concept is the proverbial win-win-win situation--clothes buyers, clothes sellers, and franchisees.

The business is going so well for Tressler, in fact, he's considering expanding and opening additional locations. "I have my eyes open for another site that would be in or near my existing market area," he says. He's run his businesses so successfully, in fact, that his banks will lend him any capital he might need for expansion. And he says it's a great time to look at expanding because the soft real estate market is wide open to negotiating sites and leases.

"This concept is really a perfect company during tough economic times," he says. "Kids love great fashion and they love great prices."

Buy One, Get One Free
Retailers have never been shy about enticing customers to buy through all kinds of incentives. Now a franchisor has followed suit. During the last quarter of 2008, Seattle-based Emerald City Smoothie was offering a "buy one, get one free" franchise promotion. Seriously.

While many franchise concepts struggled to recruit during recent months, the marketing minds at Emerald City were thinking innovatively.

"The promotion was available to any new or existing franchisee who purchased a new franchise territory," says Julie Vance, vice president of operations at Emerald City Smoothie. "With each new territory sold, we would add an additional kiosk model unit to the deal for free." The promotion made some franchise buyers instant multi-unit owners.

She says interested franchisees simply paid the regular $30,000 franchise fee and got what amounted to a $50,000 total value. For perspective, a regular Emerald City Smoothie location occupies between 800 and 1,000 sq. ft. The kiosk model is only around 400 to 600 square feet and typically ideal for high-traffic locations such as malls, airports, fitness centers, or inside other businesses.

Vance says their team developed the idea as an innovative way to generate interest and attract new franchisees, despite the economy.

Several Offers You Can't Refuse
Late last year, Budget Blinds made prospective franchisees the proverbial offer they couldn't refuse: do $750,000 in annual gross sales within the first three full years in business, or they'll refund the $14,950 franchise fee through a 10-month royalty holiday. Of course, there are conditions, but the program is a bold initiative, and indicative of the thinking going on at Budget Blinds these days, according to CEO Chad Hallock.

The company also has enhanced its VetFran program for veterans of the U.S. armed forces. And during 2008, the Orange, Calif.-based franchise was recruiting former employees of struggling competitor 3 Day Blinds, which was closing locations and filed Chapter 11 in October. Hallock says the closings freed some quality people who had the skills to be excellent franchisees. And those who signed with Budget Blinds by year-end had access to preferred financing.

We asked Hallock to provide more details about the company's multi-tiered recruiting initiative.

MUF: What are some of the conditions for the royalty holiday program?
Hallock: The franchisee has to prove they've followed our system, including canvassing and local area marketing at levels we prescribe. We've proven our system works repeatedly, so we want new franchisees to embrace it and make it work for them. Franchises don't perform as well when they deviate from the system, for example, letting local area marketing investments slip or stopping canvassing activity.

MUF: Explain the special incentive for veterans?
Hallock: Our VetFran incentive is twofold. First, we've increased the discount for those honorably discharged veterans who pay cash to $14,950. For those honorably discharged veterans who choose to finance their franchise through Budget Blinds, we'll discount their investment by $7,500. Second, we're extending this VetFran incentive to active duty service members and their spouses.

MUF: How did the preferred financing program work?
Hallock: We extended the time on our financing program from 2 to 10 years for former 3 Day Blinds employees who invested in a Budget Blinds franchise by last December 31. They could finance up to $60,000 with us. We thought it would enable good people with the desired skill set to take control of their own destiny. Additionally, our regular financing program has been enhanced to allow prospects to finance $35,000 over 5 years (up from 2 years) at 10 percent.

MUF: How long do you expect to continue to make the offers available?
Hallock: The royalty holiday program is good for all prospective new franchisees who sign with Budget Blinds by December 31, 2009. The VetFran incentive has no expiration date, but we may choose to modify it some time in the future.

Applied Efficiency
Pizza franchising is known for being efficient--the ultra-competitive marketplace demands it. Take the order, cook the pie quickly, and get it in the customer's hands ASAP. Marco's Pizza is now applying efficiency to its franchisees' operations.

Don Vlcek, vice president of purchasing for Marco's Pizza, says the company has been experimenting with ways to manage costs and promote supply chain efficiencies from top to bottom. "Rising food and transportation costs have operators and franchisees looking to cut costs and streamline operations," he says.

Transportation is the first key area. Marco's has saved money by securing truckload delivery prices with vendors looking to establish a relationship with the fast-growing company. Vlcek says the company is reducing transportation costs with a combination of logistics solutions: purchasing in greater volumes to reduce freight cost per pound; getting nationally delivered pricing direct-to-dock; and seeking out equal-quality vendors closer to distribution centers in new territories. For example, by switching to once-a-week deliveries, a Marco's franchisee with five stores saves more than $3,500 per year ($750 per store).

Contracting is the second key to cost reduction. Marco's now saves money by contracting certain purchases in advance. Vlcek says significant savings have been achieved by locking in prices for key ingredients like flour, cheese, and pepperoni before food costs skyrocketed. "Flour savings will be more than $150,000 in a one-year period, and cheese and pepperoni contracts will yield savings of more than $20,000 each," he says.

As food costs climbed, Marco's franchisees have begun to weigh and count their deliveries more carefully to make sure vendor shipments are exact. One franchisee recently noticed a short count, prompting the vendor to cancel a 10 percent chain-wide price hike.

Pricing tiers show about a 2 to 4 percent decrease in cost when order volume doubles. The brand's growth has helped reduce its order costs and will continue to do so: the chain is set to more than triple its current number of stores by 2010.

Finding Funding
It may seem counterintuitive, but business expansion during tough economic times can make good business sense. In fact, some franchisors are specifically looking to recruit new operators in today's volatile marketplace.

Great Clips, the Minneapolis-based franchise, awarded 30 percent more franchises in 2008 than in 2007. And in late 2008, the company announced further expansion plans for 2009 and introduced a new financing partnership making millions of dollars available to growing franchisees.

"Our aggressive growth plans are part of Great Clips' North American development strategy, which includes expanding in existing markets while entering new cities," says Ray Barton, CEO and chair of Great Clips.

The company has teamed up with InSource Business Finance to create a $14 million fund devoted exclusively to financing Great Clips franchisees. The fund will be used for financing build-outs for new or existing franchisees, salon acquisitions, business debt consolidation, and refinancing.

"Having worked with Great Clips franchisees for many years, we are incredibly excited about the availability of this fund," says Brian Link, president and founder of InSource. "In today's credit market, many franchisees have called us expressing concern over what they read in the papers. This fund represents our commitment to the Great Clips brand and to its continuing success."
Published: February 4th, 2009
Share this Feature
Recommended Reading:
Comments:
comments powered by

Disqus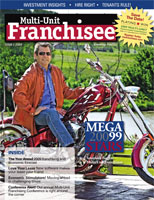 Multi-Unit Franchisee Magazine: Issue 1, 2009
The hottest new franchise is here (literally 150°). Perspire has developed, formulated and tested the most superior infrared sauna studio model...
The Drybar® brand, the category creator and a leading blow dry bar salon franchise, is seeking qualified owners.