Expansion Planning: How to make $5 Million in Franchising
The start of a new year and new decade is an excellent time to reflect on what you have accomplished--and what you hope to achieve this year and beyond, by setting long-term goals for growing the value of your business. Franchisees should consider whether multi-unit expansion is part of their plan. This represents one more time when "Start with the end in mind" is an important first step. Start by setting a long-term goal for what you'd like your business to be worth (by when), and then determine the expansion schedule that would yield the growth and value you desire and deserve.
This expansion planning worksheet outlines an initial thought process that provides a foundation for your long-term expansion plan.
Expansion Planning Worksheet

Example

1

How many years does this expansion plan cover?

5 years

2

How much do you want your franchise investment to be worth then?

$5,000,000

3

What EBITDA multiplier is realistic for your industry?

3.5x

4

EBITDA target for your franchise investment (line 2 divided by line 3)

$1,428,600

5

What's the average EBITDA for a franchise unit in your system?

15%

6

Sales required to generate target value (line 4 divided by line 5)

$9,524,000

7

What is a reasonable expectation for average location sales?

$2,000,000

8

How many franchise units/territories will you need?
(line 6 divided by line 7, rounded up)

5 units
This is set up to be a 5-year plan. You should choose a timeline that aligns with your personal goals.
This is the bottom line for you as the franchise owner. What do you want your business to be worth at the time you established in Item 1?
EBITDA multiples are available for many franchise models. These multiples provide a reasonable rule of thumb for what your company might be worth when sold. Your franchise development executives should be able to provide this information.
The EBITDA target for your company is critically important, as it is the number to which the multiple will be applied. It is calculated by dividing your desired business value by the current market EBITDA multiple. In this example $5,000,000 divided by 3.5 equals a target EBITDA of $1,428,600. This represents the amount of annual EBITDA your franchise locations must earn to justify the valuation you seek.
Next, you need to know the average "EBITDA %" (EBITDA as a percentage of sales) for a franchise unit in your system. In this example we have used 15%. Look to financial benchmarks produced from system-wide results for a figure appropriate for you.
To calculate the sales required to generate your target value, divide your target EBITDA dollars by the expected EBITDA %. In our example, $1,428,600 divided by .15 indicates you would need to generate annual sales of $9,524,000 to justify a business value of $5,000,000.
What is the average sales produced by a franchise unit in your system? In this example a reasonable expectation for average sales per unit is $2,000,000.
Total sales required divided by average sales per location equals the number of franchise units needed to produce the value ($9,524,000 divided by $2,000,000, or 5 locations).
Summing up
The worksheet indicates that to grow your investment value to $5,000,000 in 5 years, you will need 5 locations producing average sales and profits for your system. Clearly you could yield a higher value by being a top performer instead of an average performer. Refine your targets as needed to reflect a level of performance you can reasonably expect to achieve in the markets you'll invest in.
Clearly this is just the visioning part of your expansion plan. You'll still need to understand your cost structure to establish the sales plan and monthly expense budgets for each franchise unit. You'll also need a cash flow plan and a long-term financing plan.
Successful investors must also master the 3 C's of successful multi-unit expansion: Competencies, Capacity, and Capital. We'll explore these further in my next column.
(The worksheet and concepts explored in this column are excerpts from the course "Profitable Growth Through Multi-Unit Expansion.")
Rod Bristol is director of business development and a presenter at Profit Soup, a financial education organization specializing in franchised companies. He can be reached at rod.bristol@profitsoup.com or at 206-427-5333.
Published: March 31st, 2020
Share this Feature
Recommended Reading:
Comments:
comments powered by

Disqus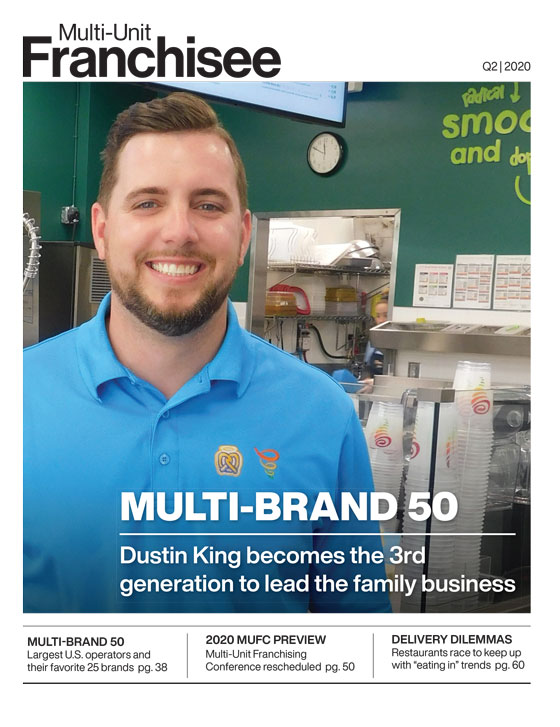 Multi-Unit Franchisee Magazine: Issue 2, 2020
Brain Balance has 80 centers nationwide and continues to grow with global expansion on the horizon. Brain Balance offers a drug-free program designed...
Cash Required:
$125,000
PetWellClinic is a walk-in veterinary clinic offering basic health and wellness services to dogs and cats. PetWellClinic is the first vet clinic...
Cash Required:
$250,000