On-Demand Hiring: Is a Better Way for Hourly Hiring Coming?
Historically, job seeking and hiring for hourly work has been a cumbersome and inefficient process. For workers, it can feel like a black hole where they send dozens of applications and get no response, while employers often interview and hire applicants only to learn they don't have the necessary skills or personality to fit the position. This represents a tremendous time and financial investment for both parties: workers must spend their hard-earned money to travel to interviews and those critical first shifts, while managers must dedicate time that could otherwise be spent on customer service and operations.
Despite the clear incentive to overhaul these processes, the inefficiencies in the application process continue to persist, even as technology advances by leaps and bounds. Before the Internet, workers were forced to seek employment through classified ads, employment agencies, and their personal networks. And while the "discoverability" of jobs is now much greater, the actual connection between employers and employees remains stagnant. Fifty years ago, McDonald's used paper and pen applications to screen and hire. For the most part, this process has remained the same, although now it's online and available at the push of a button.
However, digitizing hourly applications is not enough. We need to contextualize and upgrade our methods, using advances in technology to find the best fit between worker and employer. When a worker shows up for a shift, both sides must be confident they will have the requisite skills and knowledge to complete their tasks, as well as understand the nature of the role and its requirements.
This is no longer a "nice to have," but an imperative for businesses looking to gain a competitive edge and staff more efficiently to optimize costs and increase profits. A survey from Statista showed that approximately 8.17 million franchise workers were employed in the U.S. in 2018. This underscores the need for franchise leaders to not only recruit better and be more targeted, but also to shorten the pipeline between applicants and their first shift--helping to reduce turnover, missed shifts, and other events that affect the bottom line.
Simply put, the common hiring method for hourly workers (based on reviewing resumes and applications) fails to provide the critical information needed to evaluate and hire job candidates, especially in fast-paced industries that rely on shift-based employment. While the digitization of recruiting and hiring means prospective employees can fill out and send applications with great ease, the final result is usually a mess of paperwork (digital or physical) that lacks vital context, insight, and actionability.
A restaurant seeking a dishwasher shouldn't have to review dozens of applicants to find someone qualified to run their particular equipment; and the same dishwasher shouldn't have to send out 20 applications to land a job, much less a shift.
A better way
There's a better way forward. Smart tools, leveraging digital worker profiles, and artificial intelligence (AI) represent an opportunity to help all sides benefit. Much as LinkedIn enabled salaried employees to craft their digital reputation, so too is there an opportunity to create a profile for shift-based workers that best extols their skill sets and positive traits.
This digital identity not only helps build an hourly worker's digital reputation, it also makes it easier for employers to assess whether a given individual is the best fit for a particular role, augmented by AI where possible. While AI has been hailed at times as a "savior technology," its real benefit is as a tool to provide actionable insights that can be leveraged by humans to make improved choices.
For hourly work, this means using AI to help assess attitudinal characteristics that are important for that role or company (e.g., a customer service orientation). As this happens, we'll also start to integrate solutions such as chatbots to further streamline the process in user-friendly ways.
We envision a future where workers in the next few years identify an opportunity on their smartphone, complete a quick screening with an AI-based interviewer, and schedule an interview or pick up a shift within a matter of minutes. This would both reduce the cost to hire and provide workers greater freedom and flexibility.
Less is more
As these tools become more prevalent, increasing numbers of businesses will begin to leverage platforms that provide tailored employee recommendations based on their needs, significantly reducing the need for store managers to review candidates and manage the process. Paired with AI-powered tools, you can expect to see the way we screen, hire, and train hourly workers to improve--a development that will advance our ability to fill the millions of shift-based jobs available each year.
The goal should not be to create 300 job leads for employers to sift through, but rather to provide 3 strong, data-validated candidates who are the best fit to evaluate and pursue. In an industry characterized by flexibility and rapidity, it's important that the tools we use reflect these same characteristics.
Looking ahead, we can imagine the advanced capabilities enabled by algorithms and AI. One day we may even be able to retire applications and interviews permanently, and "insta-hire" candidates within seconds. While this won't happen tomorrow, we will launch several new features in 2020 that get us closer to "on-demand" hiring.
Mathieu Stevenson is CEO of Snagajob. For more information, visit snagajob.com.
Published: March 31st, 2020
Share this Feature
Recommended Reading:
Comments:
comments powered by

Disqus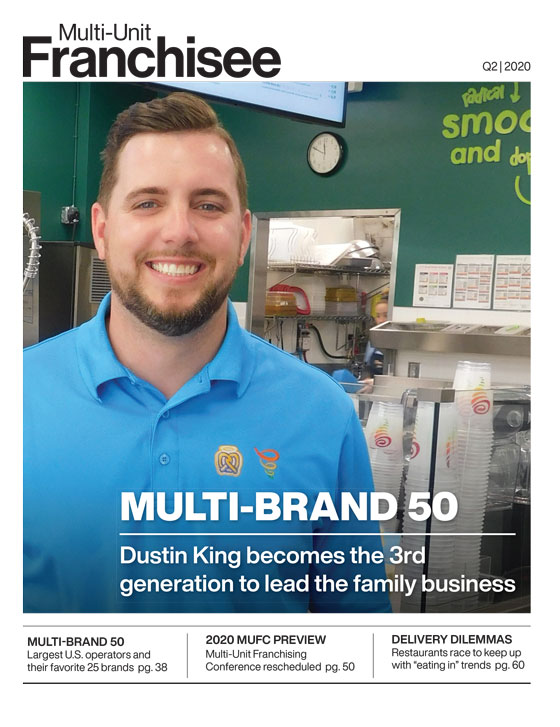 Multi-Unit Franchisee Magazine: Issue 2, 2020
Phenix Salon Suites is awarding our scalable, semi-absentee opportunity to motivated entrepreneurs. With no salon experience required, franchisees...
Cash Required:
$300,000
Daddy's Chicken Shack believes in simple, high-quality ingredients with a lot of love.