Expansion-Minded!: Multi-brand Franchising Continues to Gain
Multi-unit franchising is one thing. Multi-concept franchising is something else entirely. Nevertheless, it's a place--and a choice--that many franchisees love, and where they excel. These determined operators look for growth opportunities and potential across several concepts, sometimes in wildly different sectors. The multi-concept franchising model offers power in numbers (units, brands, territory, and income potential), as well as the security of spreading their risk across different concepts in a diversified portfolio.
Success in this realm requires an experienced operator with a sophisticated approach to make all the pieces work together smoothly. It demands skilled, knowledgeable professionals and team members who can operate under varying system requirements, market conditions, and consumer demands. It's not for everyone, but those who do it, and do it well, say the benefits far outweigh the risks.
This year we've updated our fourth annual "Multi-Brand 50" list with thanks to FRANdata for their latest numbers on multi-brand franchising. We've also created a list of the MU50's 25 favorite brands. Restaurant brands, of course, continue to dominate at this level. Some of the most popular this year are Pizza Hut, KFC, Taco Bell, Burger King, and Hardee's. The list begins on page 48.
Six faces of success
Big numbers are important as a sign of success, but more interesting are the human beings behind those numbers. Each year we go in search of fresh faces to share their personal experiences and struggles on the road to their present success.
This year we tell the stories of six multi-concept operators in fields from food to technology to hotels. Their stories are unique--two are immigrants who built new lives in the U.S.--and we hope you enjoy reading each one. Here's a sample of what you'll find in the pages ahead:
Andy Lanz went straight from the University of Wisconsin into the world of franchising. He's combined concepts to cater to varied tastes--sub sandwiches, pizza, bagels, and ice cream. His stores are grouped together near where he lives in Wisconsin and marketed as co-branded units, which helps keep a handle on fixed costs.
Glenn Miller came across the pond from the U.K. in 1996 as a consultant to a small group of distressed Arby's unit in Illinois, applying his skills as a British Chartered Accountant to turn the units around. The States suited him and he relocated with his family. Today he operates 18 Arby's and 4 McAlister's delis with another about to open.
Jeff Orlando knows sandwiches and wings. He has a Schlotzsky's in a shopping center near his home in Central Texas, and a Wingstop just three doors down. This year he'll open another Schlotzsky's, co-branded with a Cinnabon, and continue to serve the troops going in and out of nearby Fort Hood.
Pierre Panos, a South African immigrant who moved to Atlanta with his family to escape the escalating violence in his home country, has made his way in the U.S. thanks to his skills in real estate and as a restaurateur. In addition to franchising (41 Papa John's), he has developed his own "fast fine" dining concept, Fresh To Order, which he's now franchising.
Randy Merrill is an Army veteran and athlete who found his way into a fitness-related professional career that's taken him all the way from Atlanta to Los Angeles and back again. Today he operates franchises for Massage Heights, Cartridge World, and 14 units of a non-franchised tanning salon concept, Solar Dimensions.
Rick Huffman has been developing shopping centers, hotels, apartment complexes, and affordable housing for two decades. Now add four Value Place extended-stay locations, 2 Hampton Inns, and a Hilton Convention Center, Hilton Promenade and a Hilton Garden Inn. Oh yes, he and his partners also developed the hugely successful $400 million Branson Landing mixed-use project.
Now how's that for a mix of multi-concept franchisees?
Published: April 1st, 2011
Share this Feature
Recommended Reading:
Comments:
comments powered by

Disqus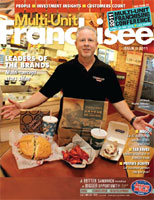 Multi-Unit Franchisee Magazine: Issue 2, 2011
Get A Piece Of The Booming Cannabis Market Without Headaches.
Cash Required:
$1,000,000
Altitude Trampoline Park is the premier indoor trampoline park destination, bringing active family fun through its JumpLife(SM) mantra to the global...
Cash Required:
$600,000