Failed Forward
From hard knocks to Golden Corral's biggest success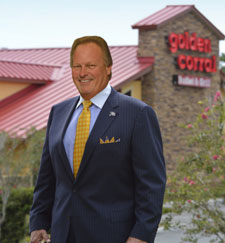 By most anyone's definition, Eric Holm is a business success story. The Winter Park, Fla., resident owns 30 Golden Corral restaurants that bring in $155 million in annual sales and provide jobs for more than 3,000 employees in Georgia and Florida.
But when you ask him about his life and career, Holm is just as likely to tell you about his two bankruptcies, or the time his independent restaurant fell into a sinkhole, as he is to tell you that he is the most awarded franchisee in Golden Corral history.
"I've been broke two times in my life and I didn't enjoy either one of them," he says. "But I didn't hang out and have a pity party. I got out and went to work and tried different things to be successful. I guess you could say I actually 'failed forward.'"
So, Holm, who has been Golden Corral's Franchisee of the Year eight times and the highest-volume operator in the system for the past 15 years, urges restaurateurs and would-be franchisees to understand that failure is a learning tool. "Soak it up. Live and breathe it. Learn from it and own it," he says. "Then move on."
Holm came from humble beginnings and always worked hard. His first restaurant job was in high school, as a busboy in the restaurant where his mother was a waitress. He bought his first businesses--four Dairy Queens--when he was 21.
Later, after struggling as an independent restaurant owner for years, Holm filed bankruptcy twice before listening to his friend and former business partner, Golden Corral founder James Maynard. "He told me I should get into franchising with Golden Corral, so I did," says Holm.
He opened his first Golden Corral in 1996, and within a year turned around four under-performing stores and won his first Franchisee of the Year award. Customers and employees alike were confounded when the new owner posted his personal home phone number in the restaurant, asking people to call him with "the good, the bad, and the ugly."
Seventeen years later, Holm, who describes himself as a "risk-taker, but not a gambler," continues to lead by example. On Christmas, he can be found working alongside his employees at a local Golden Corral, and on Thanksgiving he and 1,200 volunteers serve up to 25,000 free meals at the Salvation Army.
In addition to embracing failure along with success, Holm advises franchisees to "be engaged" in their businesses. "This is not an investor-based opportunity," he says. "It's an operator's opportunity."
Name: Eric Holm
Title: Owner and CEO
Company: Metro Corral
No. of units: 30 Golden Corral, 1 Daytona Pig Stand (original concept)
Age: 57
Family: Wife Diane and three daughters, Danielle, Erin, and Erica
Years in franchising: 17
Years in current position: 17
Personal
First job:
I was a busboy at Sonny's Barbecue in Gainesville, Florida. My mom was a waitress there.

Formative influences/events:
My marriage and the birth of our daughters.

Key accomplishments:
That I have a great family and a good midsized business that's profitable, and that I do substantial charity work. I'm on the National Advisory Board for the Salvation Army.

Biggest mistake:
My biggest mistake was not getting into franchising sooner. I didn't get into until I was 40.

Smartest mistake:
I'm not sure I ever made a dumb decision and got lucky.

Decision I wish I could do over:
I was an independent restaurant operator for so long--22 years--before getting into franchising. I was successful, but I've been way more successful in franchising.

Work week:
I work as long as needed. I'm always a little on duty.

How do you spend a typical day?
I get up and check email from home, stop by the office, and ride the stores in the Orlando area. Sometimes I get into my airplane and fly to Atlanta and ride my stores there.

Favorite fun activities:
Going to our beach house at New Smyrna Beach, Florida; riding my motorcycles.

Exercise/workout:
Not enough.

Favorite tech toys:
iPad and iPhone.

What are you reading?
Besides my store reports and Golden Corral reports, I read every restaurant magazine out there.

Do you have a favorite quote?
Every day is a holiday.

Best advice you ever got:
James Maynard, founder of Golden Corral and a business partner of mine when I was an independent restaurant owner, told me I should get into Golden Corral. So I did. He was right.

What gets you out of bed in the morning?
The necessity to get to work.

What's your passion in business?
Creating opportunities for others.

How do you balance life and work?
I'm not sure I do. Just when you think you're getting that balance, some other crisis pops up.

Last vacation:
Two weeks ago, I chartered a 142-foot yacht and took my wife on a birthday vacation. We started in Newport, Rhode Island and went down to Martha's Vineyard. We were going to the Hamptons, but we ran into some bad weather. We'll have to do that later.

Person I'd most like to have lunch with:
George W. Bush
Management
Business philosophy:
You get out of it what you put into it.
Management method or style:
We're steady managers. We manage the ups and downs pretty well and try not to get too excited.
Greatest challenge:
Food costs and increasing sales.
How do others describe you?
They'd say I'm aggressive on positioning. We run a problem, instead of running from it.
One thing I'm looking to do better:
Take more personal time off.
How I give my team room to innovate and experiment:
By letting them be part of the decision-making process. We have a very inclusive process in making decisions in our company.
How close are you to operations?
Very close.
What are the two most important things you rely on from your franchisor?
Leadership and innovations.
What I need from vendors:
Honesty.
Have you changed your marketing strategy in response to the economy? How?
The economy has been soft for a long time, but most recently we've offered the $2.99 kids-eat-free after 4 p.m. Monday through Thursday, and introduced a new breakfast ($7.99 with beverage for all you can eat) on Saturdays and Sundays. We've experienced a nice traffic boost with those.
How is social media affecting your business?
I'm not sure. We're just starting to understand it a little more with the corporate Facebook, Twitter, and Yelp. I know that it's going to be more and more important in the future and we're looking at it carefully.
How do you hire and fire?
Very carefully. For hiring, we use a pre-screening service called Connexus, and E-Verify. We use best HR practices for both hiring and firing.
How do you train and retain?
We have a lot of good tools for training including computer-based training for all positions, food safety, and orientation. We're pretty good at retaining our people because we like to reward them with fair pay and some benefits, like time off. Seventy-five percent of our people are steady, long-term employees, and 25 percent turn over often. That's not bad for a company with 3,000 employees.
How do you deal with problem employees?
We deal with them on a case-by-case basis. All employees have different issues. Fastest way into my doghouse: Not taking care of co-workers and guests.
Bottom Line
Annual revenue:
$155 million.
2013 goals:
To continue the pace of running great restaurants. We have the highest volume average in the Golden Corral system.
Growth meter: How do you measure your growth?
Unit sales year-to-year and by adding new units.
Vision meter: Where do you want to be in 5 years? 10 years?
I want to be chairman instead of CEO in the next 5 or 10 years, but I've still got some gas in my tank.
How is the economy affecting you, your employees, your customers?
It's been a real tough road for the last four or five years. You can predict direct impact on sales by gas prices, which is the single biggest contributor to less expendable income. When gas hits $4 a gallon, sales go soft.
Are you experiencing economic growth or recovery in your market?
It's slight. In Orlando, tourism is picking up. In Atlanta, when they enacted Arizona-type immigration laws, there was a big downturn in the market. Now that's flattened out and started going north again.
What did you change or do differently in this economy that you plan to continue?
We increased our offerings on the buffet, giving people more than they expect for dollars spent. A lot of other companies have cut back on their offerings, but we've been adding on for the last four years and been pretty successful.
How do you forecast for your business in this economy?
More prayer! We've been forecasting smaller increases in sales, and unfortunately, we're getting them. I'd like it to be better. When you have more than $5.1 million average sales per unit, forecasting percentage sales doesn't seem like a lot, but it's a whole lot of dollars.
Is capital getting easier to access? Why/why not?
Capital is no problem for us because of our size, profitability, and longevity. I can remember earlier in my career when it wasn't so easy, but now we have great banking relationships.
Where do you find capital for expansion?
We have a four-bank package deal with Regions Bank, GE, Wells Fargo, and Fifth Third.
Have you used private equity, local banks, national banks, other institutions? Why/why not?
No private equity except my own, some local banks in the past, and now national banks.
What are you doing to take care of your employees?
We provide a safe, secure work environment and give them a career path instead of just a job.
How are you handling rising employee costs (payroll, healthcare, etc.)?
Like the rest of the world, we have to take the price increases.
How do you reward/recognize top-performing employees?
We do many different things. We've had several employees save people from choking to death. We've given them major gift certificates to other restaurants or accommodations. We do things for top-performing employees on an individual basis.
What kind of exit strategy do you have in place?
We have a great team of people who can take over. We've built a team so strong that if I have to step out for one reason or another, the business will survive on its own. The business is not dependent on me showing up, though I like to think it is.
Published: November 18th, 2013
Share this Feature
Recommended Reading:
Comments:
comments powered by

Disqus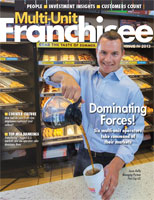 Multi-Unit Franchisee Magazine: Issue 4, 2013
Be in business for yourself as an owner of Sweet & Sassy
Cash Required:
$75,000
THE FASTEST GROWING BREWERY IN AMERICA IS building more brew pubs and franchising throughout the US. BrewDog is a great investment that offers...