Family Business: Passing it on to the next generation
Nobody has your back or matters more than family. As a successful multi-unit franchise owner you may be thinking of making your business a family business by bringing your children on board. For this to happen—and succeed—you'll have to develop and implement a viable succession plan and empower the next generation to take the reins of the business you've worked so hard to build.
In an ideal world, you'd begin your succession planning 5 to 10 years before turning over your business to family members. If you haven't begun the process, there is no better time than now. Keep in mind that when it comes to succession planning there is no one-size-fits-all solution. There are many ways to pass on the leadership torch or share it with your children. In addition, every franchisor has its own succession provisions, which you must carefully review with a reputable franchise lawyer and accountant to see if your succession plan can work (see sidebar).
Have your kids own and operate their own locations. Samantha Schoenhofer, an area coach at Schoenhofer Enterprises and third-generation KFC franchisee, joined her father's multi-unit KFC business in October 2015 after graduating college the previous May. Schoenhofer Enterprises has 36 KFC locations in Kansas, Oklahoma, Texas, Colorado, and New Mexico.
"I always knew I wanted to do something in business, so when I graduated college I began pursuing different job opportunities. It was at this time that my dad said he had a position for me that would be a great fit," she says. "I started at his company as a training consultant. I was constantly on the road meeting with managers and employees. Eventually, I became an area coach, which is like a regional manager."
Over the past few years, Schoenhofer and her father discussed her becoming a KFC franchisee. She completed her franchisee paperwork and took over two KFC locations in Kansas. Her father and brother still retain partial ownership.
"The pressure of being fully responsible for my franchise locations is different. I enjoy the autonomy and freedom to make business choices, knowing that my family is backing me," she says.
In her roles as a franchisee and area coach, Schoenhofer continues to help strengthen the family business in many ways, including coming up with new concepts that have proven a big hit and by overseeing other locations.
Have your kids expand the franchise portfolio. Another strategic way to grow your multi-unit franchise business is to work with your children to expand your portfolio, whether by adding more units of your current brand, expanding into a new market, or adding a new brand.
"When I was in college, and even when I graduated, I was working physically in the restaurants, whether it was a Popeyes acquisition, a new Dunkin' we had built, or a Checkers that was short-staffed," says Shehzaan Chunara, vice president at the Chunara Group of Companies, an Atlanta-based company with three distinct branches.
The first branch of the Chunara Group operates restaurants. Chunara and his father, Ali Chunara, have majority ownership in more 130 units across 8 different franchise brands: Checkers, Church's Chicken, Dunkin', Popeyes, TGI Fridays, Take 5, Kale Me Crazy, and My Eyelab. The last three brands make up the younger Chunara's portfolio.
The franchise side of the business has an atypical structure. "My father and I have 21 operating partners who each have an ownership interest in these franchised units alongside us. Some partners operate two restaurants with us, while others operate 15 to 20," says Chunara.
"While we predominantly deal with the franchisor, legal, and lending parts of our business, we also provide the structure in which every partner feels comfortable to work with us," he says. "We have a clean operating agreement with each of them in which each partner has the same succession rights to the business as my father and I would have. We are truly one family, which is what makes this operating model successful despite the various differences in opinion."
Eventually, he says, "My father felt that for the succession of wealth and planning I should have my own ownership holding company for any future stores we build or acquire," says Chunara. "Many of our newest acquisitions and developments have happened under my holding company instead of my father's, but ultimately we still operate as a family business."
The second branch of the Chunara Group is a real estate portfolio, which owns dozens of single-tenant properties. The third branch is involved in several private equity investments. Recently, much of Chunara's time has been devoted to bolstering and strengthening the quality of the real estate portfolio, and to increasing the number of investments in private equity funds, from the purchase of franchisors to lead investments in fintech companies.
Future dreams
RRG Inc. is a Popeyes franchisee with 16 locations in Augusta, Georgia, and Charleston, South Carolina. The majority of RRG's ownership currently belongs to Mark and Jane Rinna, who are looking to transition the company to their daughter, Alex.
"After graduating college in 2015 with a degree in geological engineering and interviewing for multiple jobs for which I had no passion, I told my parents I wanted to work in the business. I had dreams of being the future owner of RRG," she says.
"My parents had me start training in one week. I began as a team member and worked my way up to director of marketing for our locations. Currently, I am transitioning into more of a VP role, which has me involved in every pillar of the company. In 2017, I earned my MBA to expand my knowledge of the financial side of the business."
When she joined her parents' business in 2015, they had 12 Popeyes franchise locations. "At the time, the franchisor wanted us to open more locations and said that if we did not wish to do so, they would offer the opportunity to another franchisee. I wanted us to expand, and my parents were in agreement that this was the best route for our company."
Today Rinna, director of marketing for RRG, is listed as a franchisee of her family's company and owns a small percentage. She anticipates that as she continues to proves herself, her role, responsibilities, and ownership in the business will expand.
Clearing the path to success(ion)
Tony Mattiacio is president and CEO of the Mattiacio Group, which operates eight Ziebart locations in Western New York. The family has been working for some time on how to transition the business to the next generation: Zach, Ryan, Mark, and Meghan. The four siblings currently are junior partners and work full-time in different departments of the company.
"We have been planning the transition for nearly 10 years," says Zach Mattiacio, senior vice president of administration at the Mattiacio Group. "A team of advisors including a CPA, attorneys, financial advisors, and Ziebart have been working closely with us on planning every aspect of the succession. Everything is in writing so there will be no surprises when the time comes to execute the succession plan."
Start early
If you are thinking of passing your multi-unit business to the next generation, start early. Long before you get to the point of bringing them on board, expose your children to the business to instill an interest in it (or to see that they have none). When they're younger, for example, have them help out by doing age-appropriate tasks.
"I grew up in KFC franchising. My grandfather was one of the founding franchisees and eventually my dad became one," says Schoenhofer. "My dad would pick me up from school when I was little and take me around to different stores. While he was doing business, I would help make biscuits, wash dishes, or check people out under the close supervision of a store employee. I loved it."
As young teens or college students, your children can work at one of your franchise locations after school, during the summer, or even take some time off from college to learn more about the business and their potential fit in it.
Talking about your business in front of your children is another way to pique their interest in it, as long as you do so in a manner that maintains their attention. Remember, your attitude toward your business will influence how your children feel about it.
"I make an effort to highlight the good things about our business at the family dinner table, not just the challenges," says Robins. "My children have always been inquisitive about the business, and I always encourage their interest."
3 important questions
Once your children are of an age to potentially join your franchise, it's time for some discovery discussions with them. Topics to discuss before inviting them to join your business include the following.
1) What will your child will bring to the business? For a successful transfer to the next generation, there must be a fit between the needs of the business and the interests, skills, and capabilities of the children.
"I would never put my company in the hands of someone who wouldn't be able to run it successfully," says Gary Robins, president of the G&C Robins Company, which owns 66 Supercuts locations in Pennsylvania, New Jersey, Maryland, and Delaware.
"My daughter Lauren, who is the first of my children to join my business, has proven she is a capable businesswoman while working at other companies. She also shares our values about people, work, and money. She understands we are responsible for looking after the well-being of our own family as well as the hundreds of families our business supports."
In her current role as district leader, she oversees a group of salons and participates in senior leadership conversations. "As Lauren's skills progress, and with experience, she will take on greater roles and responsibilities with the goal of her eventually assuming a senior leadership role within the company, while I move more into an advisory role," says Robins.
2) Is your child excited? GoDaddy's 2020 State of Entrepreneurship study found that 56% of Millennials view entrepreneurship as a long-term goal. However, it is crucial to determine if your children are saying they'd like to join your business just to please you. Some of your children may truly be interested in your business; others may have no interest at all. It's important not to pressure them into working for you.
"My advice to children of franchisees is to pursue the family business only if you are truly passionate about it. It's important that it can bring you joy and not be a major source of stress. Find a skill you can master and use that skill to contribute to your family business," says Mattiacio.
"Have them start from the bottom, learn every single position in the company, and not expect promotions just because of their last name," he says. "Succeeding generations that feel entitled to climbing the ladder because of their last name can experience severe turmoil and employee morale issues. It is important that your staff respect you as an individual because of your accomplishments."
3) Can you work together well? Do you have a role in your business that complements and supports the strengths and interests of your children? Will you be able to spend long work days and then family time together without it becoming too much together time? Will you be able to discuss tough business topics without things becoming personal and emotional?
"It's important to put your children in a role where they can excel and to share responsibility with them. There has to be some oxygen in the room so they can shine and not be in your shadow," says Robins. "It's also necessary to allow your children to make their own decisions and mistakes so they can learn from them. In addition, establish family-business boundaries. Lauren said, 'Dad, when we are at the dinner table I am your daughter.'"
Summing up
If all the boxes above are checked off to your satisfaction, the next step is to begin grooming your children to assume leadership of your franchise organization. When parent/child dynamics align, working together with the common goal of continuing to build your successful multi-unit franchise business can be a fantastic experience. It offers you, your children, and possibly future generations of your family the chance to enjoy financial security, as well as more schedule flexibility to spend quality time together. And then there's the <next> next generation to consider.
"One day, I hope my children will work and train in the QSR industry, as it is hard work, very humbling, and sets you up for success in the future," says Rinna. "If they choose, the family business will be here for them to take over."
Talk to Your Franchisor First
Understanding the importance of dotting all the i's and crossing all the t's well in advance will secure peace of mind and ensure that a successful transition will occur at the proper time.
One of the first steps to take is determining if your franchisor's succession provisions will work with your succession plan. As a multi-unit franchisee, you've earned your franchisor's respect and ear. If you are uncomfortable with the wording of your franchisor's succession provisions, approach them about it and highlight how you feel those provisions could be modified to suit your needs. Your franchisor may be open to your ideas.
"I think in the right circumstances franchisors want to keep the businesses in the hands of experienced families," says Robins. "We were able to work with our franchisor to make the language clearer regarding succession. It's important that the franchisor not have the right to first refusal and not unreasonably stand in the way of a family member assuming ownership."
(For more on what franchisors look for in transferring a business, see the "Exit Strategies" column in this issue.)
Published: June 3rd, 2022
Share this Feature
Recommended Reading:
Comments:
comments powered by

Disqus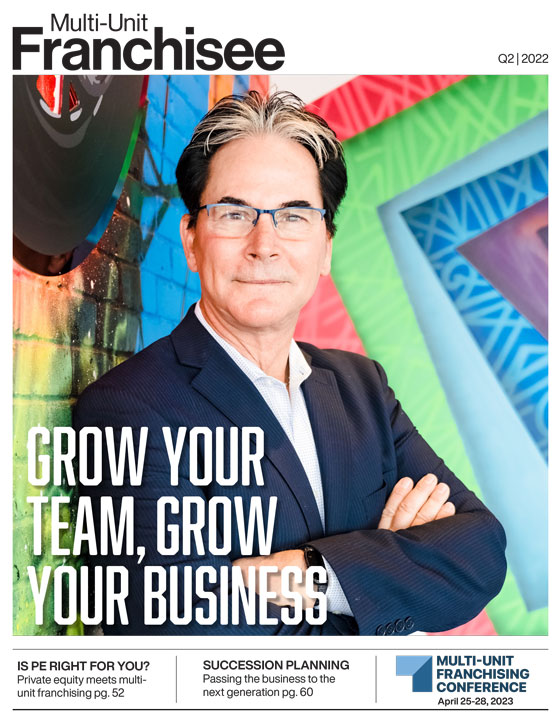 Multi-Unit Franchisee Magazine: Issue 2, 2022
Briggs Home Care® offers a one-of-a-kind franchise opportunity to build a successful and rewarding home care business. Invest in our home care...
Cash Required:
$50,000
Genghis Grill, the nation's premiere fresh bowl concept, offers guests broad appeal and caters to various flavor preferences and lifestyles by...
Cash Required:
$250,000