Father Knows Best: Taking The Time To Grow A Thriving Family And Business
On the cusp of turning 30, Bryan Selden was looking to grow his business.

"Twenty-five years ago I was in the convenience store business," says the Texan. "And back then, if you wanted to look for a business, you looked in the want ads. I saw a blind ad for specialty retail, so I called."

The ad was for a Great American Cookies franchise. In 1987 he bought one location and built a second. Three more followed in Dallas.

When Selden first got into franchising, he rolled up his sleeves and learned the business in the trenches. He went at it alone, opening and closing his first location and generally trying to shoulder as much of the daily work as he could. Adding more locations meant hiring more people, but the work remained all-consuming.

In 1993 he came to a fork in the road of life. With a new baby joining his young son and daughter, Selden felt he could do one of two things extremely well: grow his business or raise his kids. With characteristic zeal, he decided to devote much of the next 10 years to his family. He scaled down to his two original cookie locations and didn't look back. "I take the role of husband and father very seriously," he says.

For 10 years, Selden's primary goal in life was to be the best husband and father he could be. He went to all his children's games and made sure he was there when they needed him. While he certainly continued to work, he put the business world on the back burner.

When his eldest child graduated from high school, and with the younger two more grown-up, Selden decided that maybe it was time to start thinking about growing his franchising business once again. "I jumped back in during 2003," he says. "I talked to my wife and children, and they agreed. And it just took off. The key to this was operational."

He lined up with two key partners--Jeremy Roy and Chuck Schrick. Today he and his partners oversee 35 locations that include 7 franchise concepts. They have an ambitious development agreement in place with Jersey Mike's for Central and East Texas and have plans to grow the other brands as well.

Not everything has been a stellar success for him. The full-service hamburger concept he tried didn't live up to expectations. But he's had a lot more successes than failures along the way.

Today, Selden can look back and smile when he thinks of the time he opened and closed his own cookie franchise. Today he has about 500 employees on the payroll and a multimillion-dollar operation.

Being bigger hasn't changed any of Selden's original ideas about being the best at whatever he does. Five years down the road he and his partners plan to have their current development agreements wrapped and running. But in a world of franchising opportunities, Selden expects that new challenges will appear.

He plans to tackle them all head-on. And if any don't work out, it won't be for lack of him giving any less than 100 percent.

Name: Bryan Selden
Title: Partner/General Partner
Company: Lone Star Restaurants/Dough Rollers
No. of units: 10 Great American Cookie; 7 Smashburger; 7 Wingstop; 3 Pretzelmaker; 2 TCBY; 1 Coffee Beanery; 3 Jersey Mike's Subs open and 2 under construction with a development agreement for 28
Personal
Age: 54
Family: Married for 30 years, Three children and Two grandchildren
Years in current position: 24
Years in franchising: 24
Key accomplishments:
I've won multiple Franchisee of the Year awards, but my favorite accomplishment is watching people in our companies grow and achieve their dreams. If they achieve their dreams, then they help me achieve mine.
Biggest mistake:
A full-service hamburger concept. As my younger daughter would say, "epic fail."
Smartest mistake:
There were two events that could have been taken for a mistake at the time the decision was made. 1) Leaving a "secure" career with Exxon research and engineering and going into business for myself. 2) Selling down to just two stores for 10 years so I could concentrate on raising my children. I have zero regrets on either decision. I started growing again in 2003.
How do you spend a typical day?
Thank goodness there are no typical days, but it is usually a combination of office, meetings, or travel.
Work week:
I work three to seven days a week. It just depends on what is happening that week.
Favorite fun activities:
Until our youngest child graduated from high school in May it was coaching and/or watching our children play sports. I know my way around most towns by how far something is located from a baseball or softball complex.
Exercise/workout:
By the time this is published I hope to be more into a cross-fit routine. Right now I'm walking, biking, and lifting weights.
Favorite tech toys:
Pretty much anything Apple, especially the iPhone.
What are you reading?
I usually alternate between a business book and a biography or military history. I never read fiction. Right now I am reading It's Not Just Who You Know, by Tommy Spaulding, and Colonel Roosevelt by Edmund Morris.
Do you have a favorite quote or advice you give?
Plan your work, work your plan.
Formative influences/events:
The key influence would be my parents. They worked hard and could look anybody they met in the eye knowing that they had not wronged them in any way. I try to emulate that behavior. As to an event, it would be my marriage and the birth of my children. I take the role of husband and father very seriously.
How do you balance life and work?
Family comes first, period. But sometimes the best thing you can do for your family on a given day is actually business-related.
Management
Business philosophy:
Integrity and honesty are more important to me than money.
Would you say you are in the franchising, real estate, or customer service business? Why?
Customer service. It is competitive out there, and if you do not take care of the customer then the other things don't matter.
What gets you out of bed in the morning?
We have a lot of stores to build.
What's your passion in business?
Making sure that no customer ever leaves one of our stores unhappy.
Management method or style:
I am much more comfortable delegating now. I opened and closed my first store for a full year. I just didn't think anyone else could do it as well as I could.
Greatest challenge:
Trying to make sure that our company culture permeates all levels, not just the management teams.
How close are you to operations?
Closer in some brands than others, but it's always a priority.
Personality:
Calm and steady 99 percent of the time. Give me space on the other 1 percent of the day.
How do others describe you?
Probably the same as above.
How do you hire and fire?
I hire slow, fire fast. I heard that at a brand convention. I like it.
How do you train and retain?
We have thorough training programs, and we try to retain by offering opportunity for advancement, even if it means going to another brand.
Bottom Line
Annual revenue:
North of $25 million
2011 goals:
We added Jersey Mike's a few months ago. I am very excited about the concept and trying to learn all I can about that brand. As to our goals for expansion, we are adding units in Wingstop, Smashburger, Jersey Mike's, and TCBY self-serve.
Growth meter: How do you measure your growth?
They say volume is vanity, but a strong top line sure makes the rest easier.
Vision meter: Where do you want to be in 5 years? 10 years?
In five years we will have completed all our present development agreements, but I would be shocked if we had not added something new. In 10 years I would like to be somewhere cool in the summer and warm in the winter.
How has the most recent economic cycle affected you, your employees, your customers?
The downturn has presented us with many opportunities that we might not otherwise have had. We have been able to attract some great people from other brands and also some great real estate.
Are you experiencing economic growth or recovery in your market?
Texas has remained pretty stable though the downturn.
What did you change or do differently in today's economy that you plan to continue?
We are operating leaner and are very particular about locations.
How do you forecast for your business in this economy?
Once again, we have grown through the tough times. We are cognizant of the overall economy, but we are finding great opportunities.
Where do you find capital for expansion?
Internal cash flow, partners, and banks.
Is capital getting easier to access? Why/why not?
I see no change so far other than the bankers are having to adjust to tighter regulations.
Have you used private equity, local banks, national banks, other institutions? Why/why not?
As far as financing goes, we have always used local or small regional banks. We have long-term personal relationships with the bankers and they understand our needs.
What kind of exit strategy do you have in place?
I don't really want to exit.
What kinds of things are you doing to take care of your employees?
There is a lot of opportunity for advancement in our companies right now, and even possible equity in some situations.
How are you handling rising employee costs (payroll, healthcare, etc.)?
Taking price increases when we can, which is not often, and trying to eliminate waste wherever possible.
How do you reward/recognize top-performing employees?
Financial rewards, game tickets, and most of all opportunity.
Published: October 17th, 2011
Share this Feature
Recommended Reading:
Comments:
comments powered by

Disqus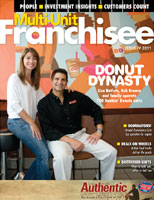 Multi-Unit Franchisee Magazine: Issue 4, 2011
Born from a desire to bring classic, home-style comfort food and unparalleled service back to American diners, today's...
Cash Required:
$500,000
Own a highly profitable business that impacts lives in your community by jumping into action as an Urban Air franchisee owner.
Cash Required:
$750,000