Father to Son
Passing the passion for Jersey Mike's to the next generation
When I opened my first Jersey Mike's Subs location in Raleigh, N.C., back in 1995, there were about 30 locations nationwide. I was focused on running my store and wasn't thinking about an exit strategy. It was a second career for me after decades in the software development industry, and I couldn't wait to get started.
Jersey Mike's gets into your blood. Everyone loves the product. Wherever I go, people will see the Jersey Mike's logo on my shirt or hat and tell me their favorite sub. What has been important to me from the beginning is Jersey Mike's philosophy of making a difference in someone's life. During these coronavirus times alone, franchise owners across the country, including us, have donated millions of sub sandwiches to health care workers, seniors, children, and others. Also, this spring the company donated more than $2 million to Feeding America.
It's this kind of passion that drives the brand, so you can see why finding the right person to take on this business is critical. Fortunately, my son Matt is that person.
Matt, now 42, started working at Jersey Mike's on his 16th birthday. I was in the process of opening my first location, so he worked with other local franchise owners and gained valuable experience. From the beginning, it was clear Matt wanted to be there and enjoyed seeing the lines out the door. He wanted to serve as many people as he could and make them happy.
Matt learned everything he could about the business working part-time through high school, college, and culinary school. He also gained experience at several fine dining restaurants including opening Boca Bay in Wilmington, N.C. In 2003, he joined the family business full-time, feeling it was a better lifestyle fit.
Making the plan
A few years back, in my 70s, I started to think about the "what ifs." What if something happens to me? What if things don't work out? It's hard to ask those questions because no one wants to think or talk about them. But we started planning. My wife Lizbeth and I also have two daughters who aren't involved in the business, so we wanted to come up with a plan that would work for everyone.
This is what we decided: Matt, Lizbeth, and I are partners in three locations in Raleigh. Matt runs the day-to-day operations now that Lizbeth and I retired about 5 years ago. If something happens to Lizbeth or me, the remaining share goes to the surviving spouse. Matt retains his third. When we are both gone, the business is entirely his.
To provide an equitable inheritance for our daughters, we bought an insurance policy naming them as the beneficiaries.
Taking the time in advance to think about an exit strategy for a smooth transition, exploring options, and then communicating the plan to the family may be difficult, but it's also essential to the future of your business—and to family relations. Here are some steps to consider for a smooth transition.
Build a strategy. An exit strategy should be part of your overall business plan. It's never too early to start considering your future plans. Will you transition the business to a family member? Is there one who is truly interested in the business? Do they have the knowledge, skills, and passion to carry on the business? What if more than one child expresses interest and all are qualified?
Review your franchise agreement. Find out in advance if there are any limitations. Most agreements say that if the franchise owner dies, the franchisor approves the successor. For us, since Matt is already approved by corporate as a partner, the transition should be seamless.
Confer with experts. Find trusted business advisors who are regularly involved with these types of agreements. You'll need a good financial advisor to counsel you on structure, an attorney to draw up the paperwork, and an accountant to review the tax implications. They should ask you questions you never considered to ensure there are no surprises at the end.
Put it in writing. Create a written contract that outlines the agreement, including pay structures, responsibilities, transference of shares, etc. Outline the final exit plan. For instance, does transfer happen upon retirement or death? This is in addition to a will. Make sure to review the agreement annually. Changes in your business situation or personal lives may require an update.
Communicate the plan with your family. Manage expectations up front by having candid discussions with your family and key team members about your succession plans. This is important to avoid misunderstandings or hard feelings. These discussions should happen early so there is time to address any concerns. We talked with all three of our children to make sure they were comfortable with our plan. They are all happy and we know it's a fair way to leave an inheritance.
Committing to having these difficult conversations up front and putting succession plans in place are critical to the long-term success of the business you worked so hard to develop.
Now it's time for Matt to develop his exit strategy.
Published: August 10th, 2020
Share this Feature
Recommended Reading:
Comments:
comments powered by

Disqus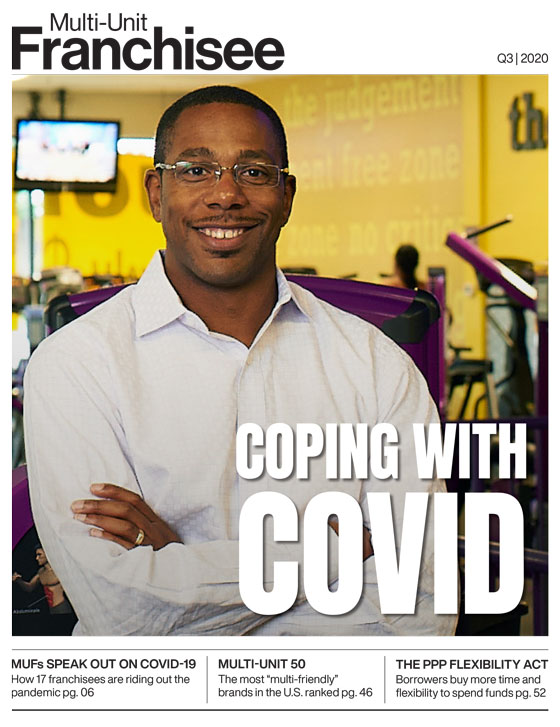 Multi-Unit Franchisee Magazine: Issue 3, 2020
SweatHouz is on a mission to bring the full range of health benefits from infrared saunas, cold plunge tubs, and more to communities all over the...
Cash Required:
$200,000
Want to become a part of one of the country's fastest-growing industries? Check out Central Bark's doggy day care franchise opportunities!
Cash Required:
$200,000