Fazoli's Refreshed: Adapting for the next 30 years
For a brand that celebrated its 30th anniversary in September 2018, there's no denying it: Fazoli's has staying power, a loyal fan following, and is clearly doing something right.
The company was founded in 1988 (as Gratzi's) by Jerrico, Inc., a multi-brand restaurant group based in Lexington, Kentucky, and then parent company of Long John Silver's. Franchising since the early 1990s and after numerous ownership changes, Fazoli's is still based in Lexington. Today, with nearly 220 restaurants in 28 states, the brand is owned by private equity firm Sentinel Capital Partners, which acquired it in 2015 from Sun Capital Partners, which had owned it since 2006.
To maintain its best-in-class status, the brand must remain focused on providing guests with an experience that is unmatched in the industry. That experience comes from the quality food, the unparalleled service, and the final piece: a complete brand refresh.
Like many legacy brands, we faced a few growing pains, including operational challenges and changing consumer tastes. The brand also needed a redesign to appeal to new guests and stay relevant in an ever-changing business landscape. In 2008, when Carl Howard joined as CEO and president, the brand was ready for a refresh. (See our profile of Howard in the Q1 2018 issue of this magazine, available on our website.)
"When I joined, the brand was ready for its next act," says Howard. "We went to work creating the next evolution of Fazoli's. We're proud that so many of our franchisees stuck with us and were able to reap the benefits. We are a much stronger brand because of our challenges, and we made a commitment to keep our finger on the pulse and keep the momentum going."
Restaurant industry veterans and business partners Allen Peake and Mike Chumbly opened their first Fazoli's restaurant in the mid-1990s, but sold in 2000 feeling the brand needed an update. "The restaurant industry is competitive," says Peake. "If you don't have a concept that is fresh and appealing for customers, they will find a different place to eat. It's vital to evolve as a brand."
In 2015, Peake and Chumbly were so impressed by the changes the brand had made that they decided to give it another shot. They saw a renewed opportunity that was "right on the money." They now own three new locations and have six more in development.
"After we saw major improvements in food quality and the exciting new prototype, we decided it was time to get back in business with Fazoli's," Peake says. "The updated design helps attract a new customer, and that's a tremendous value."
Peake says the key component in getting franchisees excited about a brand refresh is aligning the goals of the refresh with the mission and values of the company.
New prototype
We recently introduced our newest prototype, and the response from both guests and franchisees has been positive. The menu influenced much of the upgraded design. The new modern decor and additions, such as communal seating, are a nod to the family-friendly atmosphere the brand is known for. The new design also includes artwork that emphasizes our "made to order" and "made to share" atmosphere, along with fresh ingredient cues with the brand's iconic red tomato, which greets guests right when they step through the doors. Every detail, down to the color scheme and rich wood tones, is a nod to the quality and innovation fans have come to expect from the brand.
The new design also supports our growing off-premise business, which includes third-party delivery and online ordering, and incorporates design elements such as our dedicated Pronto Pickup shelving. In this technology-driven, on-demand marketplace, the brand is embracing the changing consumer landscape.
"Our new restaurant design was built to showcase our premium menu and highlight the quality that comes from fresh ingredients made to order," says Howard. "We're dedicated to enhancing the guest experience by offering delicious new menu options, unparalleled guest service and a modern, fresh new look. Our new prototype is the final piece of the puzzle."
With this new round of upgrades complete, Fazoli's has a goal of completing a total system remodel by the end of 2021. And, after seeing close to a 12 percent sales and traffic lift in remodeled locations, existing franchisees are on board.
Our team has worked tirelessly to bring down the current remodel expenditure, which is now 75 percent less than where it started in 2016. This is significantly below what competitors are spending, and the results are unmatched.
Along with top-line sales results significantly outpacing the industry, the brand is on a development roll with both new and existing franchise groups. With sales and traffic on the rise, legacy franchisees are updating their existing locations and opening new locations to expand the brand footprint.
"A big reason our brand stays relevant is our commitment to delivering the complete package--inside and out--to everyone who walks through our doors," says Howard. "With our new prototype, we've created the best experience possible for our guests without adding significant cost to our franchisees, and we still have amazing development opportunities in many desirable markets. Fazoli's is proving the update was entirely worth it."
Doug Bostick is senior vice president of operations and development at Fazoli's.
Published: February 20th, 2020
Share this Feature
Recommended Reading:
Comments:
comments powered by

Disqus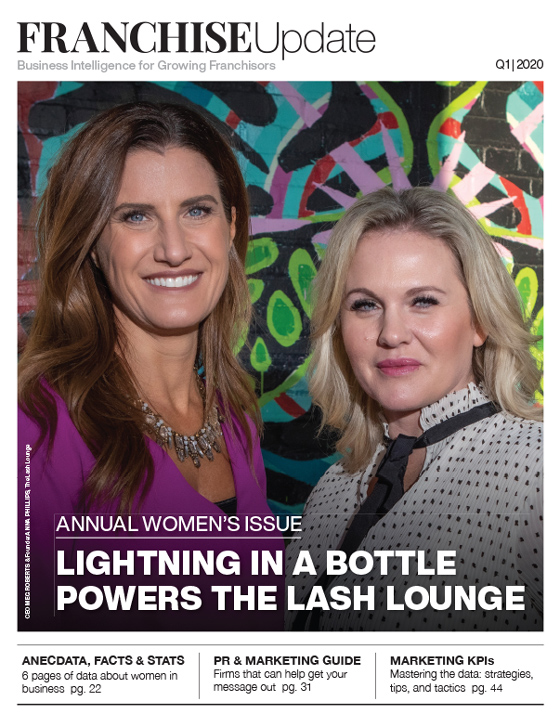 Franchise Update Magazine: Issue 1, 2020
Conferences
InterContinental, Atlanta
OCT 18-20TH, 2023
MSA provides domestic and international franchise advisory services to franchisors and companies seeking to establish franchise and licensing systems.
From lead generation to increasing sales, Hot Dish Advertising is the pro at getting your message in front of those who matter most--consumers...