Flex Your Multi-Unit Muscle!: Three Commercial Leasing Strategies for Multi-Unit Franchisees
Every commercial landlord wants national franchises and chain stores for tenants. They have name recognition and a proven track record in business. So when it comes to expanding your own operations and negotiating further leases, lead with your strengths. If you are opening a franchise location, you are automatically more desirable to a landlord. If you are opening your third, fifth, or tenth franchise location, you are even more attractive because you are proven successful! Here are three strategies to implement in your lease negotiations.
Ask (negotiate) for more than you need or expect. A multi-unit franchisee hired me to do his site selection and negotiate his shopping center leases. One stipulation the franchisee had was that he would not consider any location where he did not get at least three months of free rent. When he learned that I had gotten him the first 12 months free on a 5-year lease term (in a very good shopping mall), he was shocked. "How... how... how did you do that?" he asked. "I asked for 18 months," I said. While it took a fair bit of negotiating to get him that amount of free rent, it helped considerably that he was a successful multi-unit franchisee. I played that card repeatedly with the landlord and it worked.
Create competition for your tenancy. When a seven-location multi-unit restaurant franchisee asked me to negotiate one of his upcoming lease renewals, he was certain his rent would increase. After all, he thought, "Isn't that the way it goes?" When I came back with a $30,000 per year rent reduction, he was amazed. Unfortunately, most tenants (independent or franchise) seeking a lease renewal neglect to create competition for their future tenancy. Once I showed the landlord that other landlords wanted my client in their shopping center, I was able to shift the tenant from the pursuer to the pursued. Even if you want to renew your lease, it is essential to go through the motions of looking at the marketplace. You must avoid handing your lease renewal over to your current landlord on a silver platter.
Educate the landlord. I remember a small landlord who didn't recognize the name of a major franchise system (over 1,000 units), simply because the franchisor had only a few stores in that city at the time. The real estate agent (who the multi-unit franchisee thought was representing him) reported that he just couldn't convince the landlord to consider the franchisee as a prospective tenant. When I learned that only verbal dealings had taken place, I recommended that a full franchisor information package be couriered to the landlord, and that the landlord be picked up and driven to one of the franchisee's locations to look at the successful operation personally. Everyone is so busy these days, you cannot assume the landlord knows anything about your franchise system--no matter how big or thriving.
Toot your own horn!
Unfortunately, too many franchisees can't, won't, or don't toot their own horn. I recently negotiated a lease in a major shopping center for a multi-unit franchisee. He told me that his newest location was ranked fourth-highest in sales in all of North America and that he had been awarded rights to open more units in other cities. Do you think this information would help me get the attention of other developers for prime mall sites? Of course! I often send in a video crew to film store grand openings and upload the recorded footage to YouTube. This way, I can easily show off the franchisee's locations to multiple landlords who might have properties in a city but whose head office is located elsewhere.
When I attend or speak at multi-unit franchise conferences, I frequently hear the same story: franchisors want to help their franchisees with new locations. Some of them indeed do, but many simply do not have the resources or staff to provide sufficient real estate help. This leaves the multi-unit franchisee to make the mistake of personally mishandling the lease negotiations and chalking this up to being the only alternative. When was the last time you cut your own hair or built your own furniture? Don't be afraid to also ask for help with commercial leasing.
Do you have a leasing question? E-mail me and ask for a free leasing CD.
Dale Willerton is The Lease Coach and a Senior Commercial Lease Consultant who works exclusively for tenants. He is a professional speaker and author of Negotiate Your Franchise Lease or Renewal. Have a leasing question or need help with your new lease or renewal? Email me for a free leasing CD. Want The Lease Coach to speak at your next franchise convention? Contact me at 800-738-9202 or dalewillerton@theleasecoach.com, or visit www.theleasecoach.com.
Published: March 21st, 2011
Share this Feature
Recommended Reading:
Comments:
comments powered by

Disqus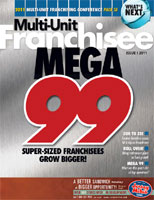 Multi-Unit Franchisee Magazine: Issue 1, 2011
Pure Fitness is committed to bringing high-quality, affordable gyms to everyone, everywhere by leveraging technology to enable low prices and...
Cash Required:
$500,000
Signage has never been more important. Right now, businesses are looking for new and better ways to compete.
Cash Required:
$80,000