Follow The Leader: Spencer Smith on His Simple but Powerful Strategy for Success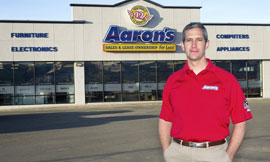 Sometimes leaders gain followers by being flashy and charismatic.
And sometimes role models are people like Spencer Smith, the soft-spoken Colorado multi-unit, multi-brand franchisee who has earned his success by "following the program" and the Golden Rule.
The winner of Multi-Unit Franchisee magazine's Role Model MVP Award describes "following the program" - also known as Franchising 101 - as a "simple but powerful" concept. "Years ago, I read an article about franchising and some of the mistakes people make," says Smith, who opened 39 Aaron's stores in eight years and nine months and also owns two Big O Tires.
"I gleaned from that article, that when you buy into a franchise, you're buying into doing business that particular way. If you have to be a maverick and reinvent the wheel all the time, both you and the franchisor will be frustrated. When I look at a potential franchise, I ask myself: 'Am I fully onboard with doing business they way they're doing business?' If not, I keep looking."
Smith, a staunch family man who grew up working at his father's tire store and on the family farm, disputes the notion that to diligently follow the franchise system is to work without innovation or entrepreneurship.
"There's a difference between being entrepreneurial and being someone who wants to be very creative. For me, I was looking for the best system out there, one that was financially viable and would grow rapidly and create opportunities for others. That was my original litmus test," he says, adding he found that at Aaron's. "At the end of the day, I wanted to create, not just minimum wage jobs, but careers for our associates."
His innovation has taken the form of myriad employee reward and compensation programs. "We offer so many competitions and reward programs that it takes an associate a full six months on the job before he realizes just how many competitions there are at the company and corporate level," he says. "It's almost impossible for them not to win something."
Also part of Smith's "litmus test" was finding a franchise with units that were closed on Sundays. "That was important to me personally for religious reasons. It is fully up to associates if they want to take advantage of that, but I wanted to make the opportunity available."
Name: Spencer Smith
Title: President and CEO
Company: Smith Group, Cortez, Colo.
No. of units by brand: Aaron's, 39, and Big O Tires, 2 (across eight western states)
Age: 40
Family: Five children ages 3-14 and an amazing wife that makes it all work
Years in franchising: 12
Years in current position: 12
Personal
Formative influences/events:
My father had me start working at his tire store each day after kindergarten. When I was eight, my family bought a farm and I started working there. I owe much of my success to my father, not only for the work ethic he instilled in me but the business sense that he passed along.
Key accomplishments:
Assembling the key management positions within our organization to grow our Aaron's operations to 39 locations in less than nine years and being able to cash flow our organization growth from within.
Decision I wish I could do over:
Nothing because I've needed every experience for my personal growth. Of course I have things I'd like to say I'd do differently, but I'm concerned it may have taken me down a different path and the one I'm on is perfect for my family and me.
How do you spend a typical work week?
8 a.m. to 5 p.m. in our office. As needed, I start working at about 10 p.m. after my family has gone to bed. I travel six to eight days a month.
Favorite fun activities:
House boating at Lake Powell - our children choose this over Disneyland every time. We invite family, friends, and associates and enjoy one of the best places on earth.
What are you reading?
Huckleberry Finn to our children and Never Eat Alone for my professional development.
Best advice you ever got:
Follow the program. It's simple but powerful.
What's your passion in business?
I love to create opportunity for others and grow our organization. My lofty ambition was to have 10 Aaron's open in 10 years. We've blown that out of the water and will continue to do so.
How do you balance life and work?
I spend my energy when it is needed most each day and leave the rest to the Lord!
Last vacation:
Maui with my wife and five of our top-performing key management associates and their spouses.
Management
Business philosophy/management style:
As I've gotten each part of our organization started, I've found someone who is better than I am and have turned it over to him and gotten out of his way.
Greatest challenge:
Recruiting the right talent to keep up with our growth.
How I give my team room to innovate and experiment:
I turn it over to them and move out of the way. I have gotten much better at having forthright conversations when things aren't being performed to expectation.
How close are you to operations?
I'm not hands-on on the day to day, but I visit all 41 locations every six months. I go with our COO and get out to meet all the associates, shake their hands and thank them face-to-face for what they're accomplishing. While I get weekly updates on operations, I concentrate far more on acquisition of real estate, development, and finances.
What do you rely on/expect from your franchisor(s)?
A profitable business model and a willingness to make changes on their end in order for it to be a mutually beneficial relationship.
What do you need from vendors?
Corporate manages these relationships, but what we need from our vendors is leading edge innovation, quality, and a mutually beneficial relationship.
How is social media affecting your business?
Social media is helping our business but, for us, there's not much push or pull from it. Its importance will be growing in the future and so will our involvement.
How do you hire and fire?
I hear what happens but I'm not involved anymore. Our organization sets clear expectations with clear time lines and then goes through a methodical process when an associate is not meeting expectations and lays out what is needed for them to achieve success. At the end of the day, if someone is not the right person, we help them find success elsewhere.
Fastest way into my doghouse:
Lack of integrity. I'll work with anyone with deficiencies unless it's a jugular integrity issue, such as the values they must uphold while representing the company.
Bottom Line
Annual revenue:
$49 million
2013 goals:
To open three more Aaron's locations, to increase our net profit, and to further develop our bench of management so that we can take advantage of future expansion and acquisitions.
Growth meter: How do you measure your growth?
We measure our growth by net profit.
Vision meter: Where do you want to be in 5 years? 10 years?
Our goal for 5 years is 60 Aaron's stores. For 10 years, it's 100 Aaron's stores.
Are you experiencing economic growth or recovery in your market?
Yes. In all of our markets, we continue to see slow but recognizable growth where we've continued to add revenue each year since the downturn.
How do you forecast for your business?
Our forecasting is based upon incremental growth for existing units and the addition of new units.
Where do you find capital for growth/expansion?
We have found it all internally. We've been very blessed; we did well enough with the first tire store we purchased to build the second tire store. Then from that, we did the first two Aaron's stores. We've been lucky enough to create the momentum to propel us forward.
What are you doing to take care of your employees?
We continue to add additional benefits and are looking for better ways to compensate associates each year. Early on, we added health insurance. A few years ago, we added a 401K, and recently, we've offered flexible time off.
How are you handling rising employee costs (payroll, healthcare, etc.)?
We are watching our overtime more closely as well as scheduling at our stores. We discovered that in some locations, we're overstaffed. We've made adjustments without any terminations. In these cases, if somebody leaves, we don't replace them. It's a slower process to get staffed at the right level, but I feel a responsibility to the associates who are performing well.
How do you reward or recognize top-performing employees?
We have a very healthy bonus plan as well as almost endless competitions within the organization. Every month, we have a competition among all 39 locations on five key positions in each store. Every other month, we have a large customer appreciation event, and everybody competes for that. It takes a new associate six months or better before they even begin to understand how many levels of competition there are within our business and at the corporate level. It's almost impossible for them not to win at something.
2013 MVP Questions
Why do you think you were recognized for the Role Model Award?
My organization and I were recognized because we just follow the program. Our level of execution is higher than most anybody else in Aaron's. Someday we will be executing better than anyone in our organizations.
As a multi-unit franchisee, how have you raised the bar within your own company?
I continue to expect more of myself every month, every year, just as I do with our associates, and when I go on store tours, I tell them they should hold me, the home office, and the franchisor to high standards.
Give an example of innovations you have created and used to build your company.
We just follow the program. We're not trying to reinvent the wheel. The only thing we do more than most companies and franchisees is compensate and reward.
What core values do you have that you feel led you to winning the MVP Award?
I believe in living the Golden Rule. Do the right thing whether it makes financial sense or not at the moment, because it always makes financial sense in the long run.
Explain the role of community involvement to you and your company.
Community involvement is huge, both at the local and international levels. We get involved in fairly significant ways with the Make a Wish Foundation and the Red Cross. During the earthquake in Haiti, our company donated money for solar systems and got a local guy from Colorado to go down and install solar systems and battery backups.
What are the important leadership qualities to you and to the members of your team?
The most important leadership quality is integrity and doing the right thing when nobody's watching. A leader is someone who realizes that the whole team creates success, not the individuals. If some superstar thinks he can do it on his own, he won't be on the bus with us.
Published: September 30th, 2013
Share this Feature
Recommended Reading:
Comments:
comments powered by

Disqus

Multi-Unit Franchisee Magazine: Issue 3, 2013
Founded in 1959, Ziebart provides premium automotive appearance and protection services to extend the life of vehicles. Recently ranked #1 in its...
Cash Required:
$150,000
Bonchon is an internationally recognized Korean Fried Chicken concept. Bonchon means "my hometown" in Korean, and represents our...
Cash Required:
$250,000