Franchising provides a second act for former family business owner
Most people would trade their day job anytime for Bob Stucker's problem a few years back: "I retired too young."

In the mid-1970s, when Stucker was 18, he joined the family business, Barjan Products, LLC, which sold general merchandise to the travel industry - over 7,000 items from sunglasses and toys to lights, lenses, and fuel additives at truck and rest stops along the nation's highways. "Everything but food and tobacco," he says.

Eventually, after learning the ropes, Stucker took over the business from his father, who had founded the company. After about 20 years at the firm, Stucker sold it and retired. He moved from Illinois to Florida, bought a boat, traveled around the world on it, and fished every day. That lasted about six years.

"I was tired of being retired," says the 49-year-old area developer. "I got bored. There was nobody to play with. All my friends my age had jobs."

But it wasn't all play for Stucker. He first became involved in franchising when he invested in Panchero's Mexican Grill. "I saw this concept and started investing in some of them. After investing, I thought, 'This concept seems pretty cool.'" After talking it over with Rodney Anderson, who founded the brand in 1992, Stucker traveled back to the Quad Cities to speak with his daughter, Rean.

Rean, who was working in marketing at the time, agreed to join Dad in the franchise business and has been vice president from the start. "The only reason I did this is if she was going to get involved," says Stucker.

Rean focuses on operations, hiring, firing, and training, while Stucker mostly deals with contractors, architects, realtors, and site development. "It was a way for Rean and me to do a company, a family business, something for her to grow up with," he says. "It was only a matter of time before she moved to Florida."

Their 7 restaurants are all in central Florida, "along I-4" says the former rest stop supplier, with the biggest concentration in St. Petersburg, Clearwater, Tampa, and Orlando, and they've signed to develop 17.

After two decades in the family business and six years of retirement, Stucker's transition into franchising was fairly smooth. "There were no surprises, really," he says. "It still is our company, but I have to get approval from corporate to make sure I'm not stepping on toes. That's where my daughter keeps me in line," he says with a laugh. "At the same time, it's a good concept, they have a plan, and I don't have to reinvent the wheel - just adapt to the wheel."

Name: Bob Stucker

Title: President

Company: Stucker Family Holdings

No. of units (by brand): Panchero's Mexican Grill (7 open, 4 under construction, signed for 17)

PERSONAL

Age: 49

Family: divorced, 2 girls; Rean 31, Tiffany 27

Years in current position: 3

Years in franchising: 3

Biggest mistake: Retiring too early.

Smartest mistake: Investing in Panchero's. I did it through a friend in the Quad Cities where I grew up, who had invested. He told my father and me about it and what he was getting for a return. I said, "That sounds pretty good. Why didn't you tell us?" He said that he didn't think the deal was big enough for us. I said, "Percentages are percentages."

How do you spend a day, typically?: On the phone 80 percent of the time, and at one of the job sites or looking at site locations.

Work week: It depends on what day or what week it is, but 40 to 50 hours probably. Sometimes contractors call at 6:30 in the morning or 7 at night. I do a lot on the phone.

Favorite activity: Fishing, golf

Exercise: Not a lot.

What do you do for fun?: Golf, spend time with my two grandkids.

Books (or magazines) recently read/recommended: All the financial stuff - Wall Street Journal, financial magazines, trade journals, Nation's Restaurant News. Because we hadn't been in franchising, we try to learn as much as we can from what others do and say.

MANAGEMENT

Management method or style: Basically, I don't claim to be the smartest person. I'm just smart enough to surround myself with smart people to help us put the whole deal together.

How close are you to operations?: When I walk in a store, I see through a customer's eye. But I try not to tell the managers anything. If I see anything I don't like, I'm on the cell phone to Rean or Matt, our director of operations. I don't feel the employees need 27 bosses. They don't need me trying to tell them what to do, and then have Rean or Matt come in and tell them something different. They won't know which way they're supposed to go. We have meetings where I give advice and tell Rean and Matt what I think.

Greatest challenge: Getting the brand recognition out, because it's so new to Florida. If you're coming in with something new, you better be prepared to lose some money on the front end - and be prepared to spend money to make money. We give away a lot of food. We're involved in the community through high school football and sports teams, for example.

Personality: Easygoing

How do you hire and fire?: At the higher level I would get involved, but I haven't had to cross that bridge. I've had to help make decisions for Rean and Matt, or tell them this is the right thing to do for business. Firing is never an easy thing to do. I had to fire my best friend, years ago, and get him out of the position he was in because it just wasn't right.

Find good people?: Rean and Matt do the hiring. We run regular ads and we went through a couple of different things, like monster.com. When we're opening stores we put up signs. Some of it comes by word of mouth, through a friend of someone working for us.

Retain them?: The pay scale for management is a little bit higher down here. We offer some incentives if they hit a food cost, labor cost, or sales goal. Our rank and file is 17- and 18-year-olds who are in college and need a job for a while. Some of them you would like to retain, but you know they're going to go back to college, graduate, and go on to be an accountant or doctor.

"Growth meter" - How do YOU measure your growth?: We have three stores now just over a year old. Now we can compare and try to track year to year, or compare Thanksgiving or other holidays. We can start looking at numbers and try to figure out what to expect during a holiday season. Every store is just like a person: they're different. I can do month to month, but every month is different. Down here we could have had a hurricane. We try to keep track of all that. Why was this week so bad last August? Oh, we had a hurricane. People were out buying plywood and lumber.

Annual revenues: They're fine.

2008 goals: We have four more opening. Real estate is always a struggle until we find the right location. Then I get a break, and Rean and Matt can wrap their arms around it and get it going.
Published: January 18th, 2008
Share this Feature
Recommended Reading:
Comments:
comments powered by

Disqus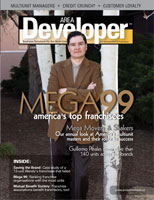 Multi-Unit Franchisee Magazine: Issue 1, 2008
Salata is a 90-plus unit, built-to-order salad and wrap kitchen providing quick, healthy meal options. Known for excellent customer service, the...
Cash Required:
$300,000
Our nostalgic dining experience transports customer to a 1920's garage. Our menu drives broad guest appeal with hand-crafted America fare. Ford's...
Cash Required:
$1,750,000