Francorp founder Don Boroian is back
Franchise UPDATE recently sat in on a seminar for aspiring franchisees. One of about 150 such events held each year in the U.S. held by Francorp Consulting, this session was led by veteran industry consultant Don Boroian, who founded Francorp 31 years ago.

Don Boroian is probably the nicest ex-con you'll ever meet. Released from federal prison last May after serving nine months for income tax evasion, Boroian appeared relaxed, confident, and glad to be back as he led nine attendees, eager to hear his thoughts on their franchise ideas, through the pros and cons of franchising.

"I love this work," he says. "There's no greater joy than being in on the launching of a company."

And yes, you couldn't help but feel it, even at 7:30 in the morning on a warm New York day at the start of autumn. The fire in the belly shone brightly in the eyes of the young entrepreneurs who had come to the city's elegant Marriott East Side Hotel to ask questions and learn from a man who's been advising aspiring franchisors since before most of them were born.

Each participant arrived with a burning idea or a fledgling business they wanted to franchise - and most had absolutely no idea how to do it. That's what Boroian lives for.

A roomful of entrepreneurs
"To be in a business in which we are building successful companies is so much fun," says Boroian, 72, who's built up quite a business himself since founding Francorp in 1976. "Working with emerging companies is a wonderful activity."

Fueled by his 50 years of business experience and obvious passion for his work, Boroian stoked the fires of the attendees with tales of past franchising successes. He regaled the young entrepreneurs with stories, one of which included him sitting with Anne Beiler in her kitchen when she had three locations and urging her to franchise her pretzel business (Auntie Anne's). In another, he helped Culver's Frozen Custard grow from one custard stand to today's 360-plus units and counting. And amidst the tales, he sprinkled comments such as "Share your dreams with us" and "You could be sitting next to the next Ray Kroc."

He also splashed equal doses of cold, harsh reality on their dreams with a factual, often sobering presentation of the difficulties involved in starting and building a successful franchise company: UFOCs, financing, federal and state regulations, infrastructure, field support, lawsuits, etc.

His role, Boroian told the group, was "to accelerate or pour cold water on your ideas." In fact, he told one participant not to franchise, but instead to try working directly with distributors for her boutique dessert product.

In a few short hours, Boroian provided attendees with an information-packed introduction to franchising - the highs, the lows, and the mundane. He also provided off-the-cuff advice, often accompanied by a story. Afterward, he met one-on-one with attendees for about 10 minutes each to give them his candid assessment of their idea and their plan.

One-stop, four parts
Francorp's value proposition, beyond its years of experience and long list of clients past and present, is that it offers single-source shopping: a client can start at square one and find all the services they need to create a franchise. Or, an established franchisor can tap into the company's expertise for management training, sales, marketing, operations, and more.

"The important thing is we are the only one-stop shop in the industry, where you can get everything done under one roof," says Boroian. In fact, his own experience at a large franchise company, and later in starting Francorp - where he had to run from one department or expert to another to get anything done - contributed to this philosophy.

Today Francorp has four parts: Francorp Consulting provides the services described above; Francorp Capital helps find capital for franchises; Francorp International, with 16 offices that serve 45 countries, is franchised through master franchisees; and Francorp Connect markets the consultant's clients online. Francorp does not invest directly in the startups it works with, but through Franchise Capital, may receive a percentage of a client's revenue.

The price of admission
Working with Francorp isn't cheap, especially for impoverished startups: the entire package, from soup to nuts, runs about $130,000 (or up to $150,000 if purchased separately). This includes help with creating strategic, business, and marketing plans, writing a UFOC, as well as with legal, operations, building a web site, and anything else one needs to start up - as well as a hand to hold throughout the process, which usually takes the better part of a year. But it's well worth the time and money, says Boroian.

"It can cost less money to start a franchise than to open another unit," he says. And that's the way startups rationalize it: they can open a new unit, hire a manger, and absorb operating losses for two years before making a small return; or they can spend the money to develop a franchise and start selling units. "It's not even a close call," says Boroian - at least not for anyone seriously interested in accelerating their growth.

Before attending a seminar ($195 for the first person and $100 for associates), aspiring franchisors can take Francorp's online "franchisability" quiz. However, says Boroian, anyone is welcome to attend the seminars.

"They certainly get enough information," he says. "Some, who are still at the concept stage, we wouldn't take as a client. But at least they get the education. For the amount of time and for what they get, it's a very nominal fee." And everyone goes home with a half-inch-thick spiral-bound book containing charts, tables, graphs, and articles.

People attend Francorp seminars looking for ways "to grow their business from one to many," he says. And all come with one of three problems: the need for more capital, more people, or more time. Capital by far is the most common problem, says Boroian, who spent a good deal of the session on this topic. He also highlighted the importance of the need for structure; of the need to have a solid system in place before setting out to sell franchises.

To illustrate, he asked the nine attendees which brand - McDonald's, Burger King, or Wendy's - had the best hamburgers. All nine rated Wendy's first, Burger King second, and McDonald's last. Yet McDonald's he noted, had a greater market share than the other two combined. His point? It's not the best product, but the best system that wins the race. Example: McDonald's cut 30 seconds off its drive-through time and increased revenues by $1 billion.

Repeatedly, in many different ways, Boroian drove home the value of having a solid business model and system, not just a great product. He counseled the would-be franchisors to approach franchising with the following attitude: "We sell a system and business model that uses our product."

Referring frequently to franchise legends such as Ray Kroc, Kemmons Wilson, and Colonel Sanders, Boroian said these types of successes are still possible today.

"Most of these franchises' success stories were born out of people who just didn't have the money to expand. If they did, they probably would have opened five or six of whatever they had, and they would have been stuck there. Because they didn't have the money to open another one, they ended up franchising and creating these behemoth companies."

And although today's franchising superstars may not be as "legendary" as they were in the industry's more flamboyant "Wild West" days, there are nevertheless many modern franchising legends in the making. You may be the next Ray Kroc.
Published: January 1st, 2008
Share this Feature
Recommended Reading:
Comments:
comments powered by

Disqus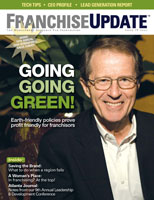 Franchise Update Magazine: Issue 4, 2007
Prisma has reinvented the marketing supply chain with an end-to-end solution that makes it easy to design, customize, order, download, print, kit,...
UMI has over 23 years of experience supporting fast-growing multi-unit brands. From strategic planning to design, execution to analysis, UMI...