From Top Gun to Top Gym
Largest Snap Fitness franchisee has big plans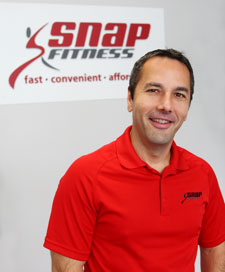 As a former Air Force fighter pilot, Greg Mooneyham is a natural risk-taker. But his decision to venture into the world of franchising in the fitness industry during an economic downturn was a calculated move to practice what he preached.
Mooneyham, CEO of Atlanta-based JRG Fitness Operations, recently closed a deal with a private equity firm that opened the financial door for him to acquire 35 Snap Fitness facilities. The move made JRG Fitness the largest independent North American franchisee of Snap Fitness, the compact, state-of-the-art 24/7 fitness center concept based in Chanhassen, Minn.
After serving his country as a fighter pilot for more than a decade, the U.S. Air Force Academy graduate worked as an account executive with corporate giant Johnson Controls, where he learned the real estate and store management ropes from an entrepreneurial owner of a retail chain of decorative fabric stores. Mooneyham caught the entrepreneurial bug and ventured out solo as a consultant for The Entrepreneur's Source, a franchise and business ownership coaching organization. When Mooneyham, a fitness buff, saw the need for a gym near his home in southeast Atlanta, he decided to heed the advice he gave his clients. He opened his first Snap Fitness unit in March 2007, half a mile from his house.
"I was looking for something that would provide, essentially, passive residual income to my consulting business and Snap Fitness was a perfect fit," he says. "It got to the point where the tail was wagging the dog and the consulting business became residual income, instead of the Snap Fitness business."
Not a bad problem to have. His first Snap Fitness location remains the top gym in the system. He opened a second unit in 2008 and a third in January 2012. In between, in 2010, he earned the brand's Franchisee of the Year award.
As financing and credit slowed and industry growth fell flat, opportunities to snatch up more Snap Fitness facilities grew. Mooneyham turned to The North Avenue Group, an Atlanta-based lower middle market private equity firm, for capital. This past July, North Avenue acquired his company, JRG Fitness, providing him with the funding to purchase of 35 Snap Fitness facilities spanning nine states east of the Mississippi. The acquisition dovetailed perfectly with North Avenue's business plan to build onto the multi-unit management segment of the company's franchise target focus.
"The industry has evolved, it has become much more professional," says Mooneyham. "There is no longer the sweaty, grimy gym the local body builder owns. Now it is an industry that has a lot of the same business concepts as any other retail industry."
The partnership with North Avenue has put Mooneyham's growth plans on the fast track: he hopes to grow his portfolio to 200 gyms, including new construction, in the next five years.
The timing couldn't be better. The evolution of the fitness industry comes at a time when more than a third of our nation is obese, says Mooneyham. Most people who are fit, he says, are already gym rats. The challenge is to get the folks who need to work out to use the gym, he says. His marketing plan is to focus on personal training and results.
"The gym is no longer just a place to go. It is a place to go to lose weight, get your cholesterol down, get off your diabetes medication, and do all the things you need to get results," he says. "As the economy picks up, we believe the growth in the industry will also pick up." In the meantime, he hopes to snap up more Snap Fitness locations.
Name: Greg Mooneyham
Title: CEO
Company: JRG Fitness Operations, LLC
No. of units: 37 Snap Fitness
Age: 47
Years in franchising: 9
Years in current position: 2 months
Key accomplishments:
Purchasing and transitioning 37 clubs.
Biggest mistake:
Thinking it would be easy.
How do you spend a typical day?
We are still transitioning and optimizing these new clubs. So I spend time traveling, in the office, and on the phone with vendors.
Work week:
Monday through Sunday.
Favorite fun activities:
Golf, traveling, hanging out with my dogs.
Exercise/workout:
Four days a week, both cardio and resistance training.
Favorite tech toys:
I prefer a good book, but I do like to read books on my iPad.
What are you reading?
The Steve Jobs bio.
Do you have a favorite quote/advice?
I have lots of them. I pull them out depending on the need and timing.
Best advice you ever got:
From a previous boss: "It's not about research and education, it's about having the ability to pull the trigger."
Formative influences/events:
Four years of education at the U.S. Air Force Academy.
How do you balance life and work?
You have to. One of the great things about this business is that there is rarely a dire emergency that needs immediate attention. Ultimately, if you let yourself get stressed, you become a less effective leader. So I take time to exercise, play with my dogs, and stay in touch with those important to me.
Management
Business philosophy:
Work hard, but have fun.
Are you in the franchising, real estate, or customer service business? Why?
I prefer the franchise sector. Franchises are more successful for many reasons, brand recognition and franchise support being two of the most important.
As an operator, what are the two most important things you rely on from your franchisor?
I need them to keep an eye on the future and help us plan strategy to deal with change and also to set the course for change.
What gets you out of bed in the morning?
My dogs.
What's your passion in business?
I enjoy creating new. I like to find and develop new opportunities more than run existing ones. So my VP of operations is spending his time optimizing our existing portfolio, while I am trying to identify new locations.
Management method or style:
I believe that you must pass responsibility to the lowest level that can handle it. So I have no problem delegating. The military taught me that. Your employees will always surprise you with just how good they can be if you give them the chance.
Greatest challenge:
Melding personalities.
How close are you to operations?
I keep my eye on it, but my VP of operations is all over it.
Have you changed your marketing strategy in response to the economy? How?
Not really. We believe we offer great value for the money. It's our job to demonstrate that value to our members. When we do that successfully, they join and stay. You cannot put a price on your health.
How is social media affecting your business operations?
We take advantage of Facebook and Twitter. It works and will continue to become more important. We find that the majority of folks find us on the Internet these days.
Personality:
Charming, of course.
How do others describe you?
You'll have to ask others.
How do you hire and fire?
Not as much as I used to. Mostly I make suggestions now.
How do you train and retain?
Always. It's one of the most important things that we do as an organization.
How do you deal with problem employees?
It really depends on the problem.
Bottom Line
Annual revenue:
$8.5 million
2013 goals:
$10 million in revenue
Growth meter: How do you measure your growth?
We look primarily at EBITDA.
Vision meter: Where do you want to be in 5 years? 10 years?
We want to grow to over 200 clubs.
How has the most recent economic cycle affected you, your employees, your customers?
The economy kept things flat over the last three years or so. But we did not suffer any real losses. We focused on improving our personal trainer sales and providing good customer service. As a result our attrition rate remained steady. On the employee side, we were able to attract some very high-level folks that were out of work. That also helped on the customer service side.
Are you experiencing economic growth/recovery in your market?
The economy has been growing for over three years now. Sometimes folks forget that. Our business will continue to thrive as the recovery pace quickens.
What did you change or do differently in this economy that you plan to continue doing?
We just doubled down on good customer service and training. Plenty of people are still going to the gym. So we just need to be the place that they go.
How do you forecast for your business in this economy?
The business is still very cyclical. So forecasting has not changed all that much.
Where do you find capital for expansion?
That's the hardest part. We have looked at senior level lending to PE lending to high net worth individuals to friends and family. There is still money out there. You just have to work hard to get it.
Is capital getting easier to access? Why/why not?
No, it's still very difficult.
What kind of exit strategy do you have in place?
We have two strategies for this new entity. Time will tell which is the better option.
What are you doing to take care of your employees?
We will be offering healthcare within three months. We also try to hire and promote from within. We want our folks to have a chance to advance in the organization.
How are you handling rising employee costs (payroll, healthcare, etc.)?
We are using a PEO. The costs are there, we just have to get the value we need out of the employees.
How do you reward/recognize top-performing employees?
We use all the normal things like bonuses and rewards. But I learned a hard lesson some time ago. Employees want to be recognized and they want to know they are valuable members of the team. I used to tell folks that if I was not talking to them, then they were doing a great job. Now I know that I need to let people know that they are doing a great job. Recognition from the top is vitally important.
Published: December 3rd, 2012
Share this Feature
Recommended Reading:
Comments:
comments powered by

Disqus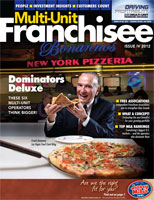 Multi-Unit Franchisee Magazine: Issue 4, 2012
At Radiant Waxing, we make it our mission to help people achieve smooth skin and beautiful brows in mere minutes.
Cash Required:
$100,000
A one-of-a-kind concept with wood-fired pizza and a self-pour taproom wall serving beer, wine, and mixed cocktails. Great for the semi-absentee...
Cash Required:
$250,000