Gimme (Pie) Five!: Former Applebee's CEO Embraces Emerging Brand
Dave Goebel has crammed several lifetimes into his 66 years. Goebel, who nimbly quotes Jesus, "The Wizard of Oz," and The Seven Habits of Highly Effective People, hasn't just dabbled--he's immersed himself in each: franchisor (Applebee's CEO); franchisee (Boston Market, Pie Five Pizza, Goodcents Deli Fresh Subs); creator of several original concepts; board director (Jack in the Box, QuickChek); executive coach (Merryck & Co.); philanthropist (Children's Mercy Hospital); and husband, father of six, and grandfather of eight.
Today, after a couple of failures at retirement in his adopted home of Kansas City, Mo., Goebel is tackling his latest career move as a Pie Five Pizza multi-unit franchisee, alongside three of his children, with his usual energy and verve.
"Becoming a franchisee for Pie Five was actually the idea of two of my sons, Kerry and Kevin. Kerry, whose brother calls him 'brainiac,' had done masterful spreadsheets and boiled our next venture down to fast casual pizza. The guys said, 'Dad, it keeps coming back to the fact that Americans are eating sandwiches, burgers, and pizza, and that's probably not going to change.' So we went to Dallas and saw 142 pizzas coming out while employees engaged with customers on the line. It reminded me of the early days of Boston Market. We loved the concept because it gives us the ability to customize pizza for each guest's needs," says Goebel.
He also likes the focus of the young franchise. "They're all about consumer, R&D, food innovation, and marketing--in other words, all about everything other than operations," he says.
With Kerry on finance/operations, Kevin on construction/real estate, daughter Lyssa Krumholtz on marketing, and Dad at the helm, the family business is flourishing. All 10 contracted Pie Fives will be completed by year-end, and they'll be going back to Rave Restaurant Group for more, opening at least 18 to 20 more restaurants in the Kansas City area.
This time around, Goebel wants to keep the company's restaurants close to home, making it easier to manage and grow the business and still have plenty of family time. In fact, this is his fourth concept in Kansas City, and he also operates Goodcents Deli Fresh Subs, Y-Leave Cafe, and he owns Prime Catered Events.
"After developing Boston Market in seven states in a seven-year period, I realized that I no longer want to be in a situation where I have to walk into a restaurant and ask someone their name," he says. "I said to the kids, rather than expanding into non-contiguous states, let's just look for a new concept close to home where we can really make a difference the way we want to."
As he works with his children on his latest challenge, Goebel still maintains many of the same business philosophies he had years ago. "My first venture into franchising came in 1993 when I became the second or third franchisee for Boston Market," he recalls. "I always knew I was not a creator. I am an executor and operator. In my early life, I'd owned three concepts in downtown Cincinnati, so I knew the pain that comes with the creation of menus and writing training manuals, and what color should the booths be--just shoot me! Let me show customers how good it can all be," he says today.
"I like franchising. It's a beautiful joint venture, where franchisors are responsible for their piece of the pie--the creation of concept, menu, training manuals, building designs--and then hand it to the franchisee and say, 'Now run with it.'"
Having been on both sides of the house--including a seven-year run at Applebee's from 2000-2007 that culminated in his role as CEO--Goebel can clearly see the challenges of both franchisor and franchisee. His degree in sociology and psychology from Notre Dame and his postgraduate studies in personnel administration at Ohio State University also have served him well. After leaving Cincinnati for Kansas City, Mo., he hung out his shingle as Summit Management, Inc., a consulting group specializing in executive development and strategic planning.
Today, Goebel feeds his love for coaching and counseling by working with his children and other young employees and by partnering with Merryck as a CEO coach. "That's the most fulfilling part of my life right now. I love coaching CEOs and having them understand the benefit and beauty of balance," he says. Goebel says his particular interests are attracting, recruiting, and developing talent and orchestrating successful growth strategies in fast-paced organizations.
Earlier in his life, he'd planned a career as a guidance counselor in a university setting. "I liked the idea of influencing younger people, making a difference in their lives. And lo and behold, that's what a restaurant is, coaching them from sink to CEO," he says.
Goebel is happy to share his wisdom and experiences with would-be franchisees. "My best advice is to do really good homework, due diligence where you talk to other franchisees and ask to speak with the franchisor leadership team. It's also important to understand trends in the restaurant industry and to try and keep your personal likes and dislikes out of it," he says.
He also encourages multi-unit franchisees and CEOs alike to "decide who your leadership team is going to be. Have clarity around your role, around who's involved and the whole notion of building a sound foundation around people," he adds. "Often in our business, or any business, people say, 'That doesn't look too difficult.' But it's important to understand that unless you have industry experience, it takes a long time to get there."
His third suggestion is find a local banker to partner with. "We have a banker we truly consider our partner. I want him and his officers to hold our feet to the fire, so that we're smart about controlled growth and capital."
Having learned the importance of balance in life, Goebel practices what he preaches. He has been married to wife Jan for 42 years. They have raised six children together: three girls followed by triplet boys. He coached baseball for 19 years and makes a daily workout a priority.
The Goebel family, which now includes eight grandchildren, also feels strongly about giving back. They have a longstanding commitment of donating 5 percent of sales each Monday to Children's Mercy Hospital, a Kansas City hospital that treats children regardless of ability to pay.
Having been successful in life and business, Goebel says there is one thing he'd like to get better at: "Retiring!"
Name: Dave Goebel
Title: President
Company: Santoku Restaurant Group
No. of Units: 10 Pie Five (2 set for completion inQ4), 5 Goodcents Deli Fresh Subs, and 6 Y-Leave Cafe; owner, Prime Catering Events
Age: 66 Family: Married 42 years to Jan; six children, three daughters, three sons (one daughter and two sons in business with me)
Years in franchising: 14
Years in current position: 8
Personal
First job:
Working in my father's butcher shop at age 14.
Formative influences/events:
Growing up with four brothers and playing sports in high school. The Notre Dame experience. My wife's cancer battle (she won). My son's brain tumor and his courage. The birth of all six children and all eight grandchildren. The rise and fall as a franchisee of Boston Market. The death of my father. Being CEO of a publicly traded company with all the thrills and challenges. My work at Children's Mercy Hospital and my work mentoring CEOs with Merryck & Co.
Key accomplishments:
Raising six great kids with my wife, developing several handfuls of great leaders, and doing a pretty good job of living my personal mission statement.
Biggest current challenge:
My current challenges are balancing growth with capital requirements, managing a business with a lot more "satellites from outer space" than I ever remember, and keeping the mind young and the body active
.
Next big goal:
Setting my entire family up for the future and becoming the best Pie Five franchisee.
First turning point in my career:
Resigning from Steak and Ale.
Best business decision:
Becoming a Pie Five franchisee with my family.
Hardest lesson learned:
No matter how much you can be invested and believe in people, occasionally they will really disappoint you.
Work week:
All week. I'm like a physician on call. But I do a beautiful job of blocking time for my wife and kids.
Exercise/workout:
A 3½- to 4-mile walk each morning and a reasonable number of push-ups and curls.
Best advice you ever got:
"Love one another." (Jesus)
What's your passion in business:
Creating solid careers for my teams and developing, developing, developing talent.
How do you balance life and work:
By living my portfolio life and trying to never short-change my wife, my family, and my friends.
Guilty pleasure:
Caymus Special Selection (wine).
Favorite book:
The Seven Habits of Highly Effective People by Stephen R. Covey.
Favorite movie:
"The Wizard of Oz" because of the lessons it teaches us.
What do most people not know about you:
That when I'm alone or with my wife in nature, I'm in heaven.
Pet peeve:
Lack of integrity.
What did you want to be when you grew up?
A guidance counselor or dean of students.
Last vacation:
Eight days at our lake home with my wife and dog.
Person I'd most like to have lunch with:
Two people: Jesus Christ and Herb Kelleher.
Management
Business philosophy:
Always lead and manage for the future.
Management style or method:
Care. Listen. Love. Develop. Execute.
How do others describe you?
Warm, intuitive, empathic, and anal.
One thing I'm looking to do better:
Figure out how to begin retirement.
How I give my team room to experiment and innovate:
Train 'em up and let go. Challenge all the ideas by clarifying and confirming: "Help me understand."
How close are you to operations?
Arm's length.
What are the two most important things you rely on from your franchisor?
Keeping the concept current and relevant, and balancing "tough love" with standing in the franchisee's shoes.
What I need from vendors:
Quality product, A+ service, market insight.
Have you changed your marketing strategy in response to the economy?
Not really, but certainly in response to the social media momentum.
How do you hire and fire?
Hire with really solid due diligence, the gut and the heart. Fire after thorough communication, be crisp, and do it professionally and with grace. Leave the person whole.
How do you train and retrain?
Constantly, thoroughly, and very specifically.
How do you deal with problem employees?
Eyeball to eyeball, swiftly.
Fastest way into my doghouse:
Be disloyal to the absent or gossip.
Bottom Line
Annual revenue:
$18 million.
2016 Goals:
20 percent EBITDA.
How do you measure your growth?
Controlled growth with solid returns.
Where do you want to be in 5 years? 10 years?
In 5 years, I'd like to have 5 concepts in Kansas City with 35 operations. In 10 years, 6 concepts in Kansas City with 50 operations.
Are you experiencing economic growth in your market?
Yes, moderate.
How do you forecast for your business?
Start with a target of 5 percent comp growth and adjust up or down for concept relevance, specific trade area conditions, and price elasticity.
What are the best sources for capital expansion?
Cash flow from operations, and working with local/regional banks as true partners concerned about our success and simultaneously holding our feet to the fire.
What are you doing to take care of your employees?
Sounds simple, but genuinely caring about them and their families, recognizing good performance, giving lots of feedback and constantly developing for promotion opportunities.
How are you handling rising employee costs?
Not graciously. Margin pressure is tougher than it's ever been. We're very, very carefully looking for pricing opportunity and constantly working on hiring noticeably better people and productivity opportunities.
How do you recognize top-performing employees?
Employee recognition programs, unexpected perks, personal visits, and bonuses.
What kind of exit strategy do you have in place?
I will be able to articulate that more clearly when my family's and partner's career goals are solidified. They are the reason I am doing this today. Well, also because I love this crazy business.
Published: November 14th, 2016
Share this Feature
Recommended Reading:
Comments:
comments powered by

Disqus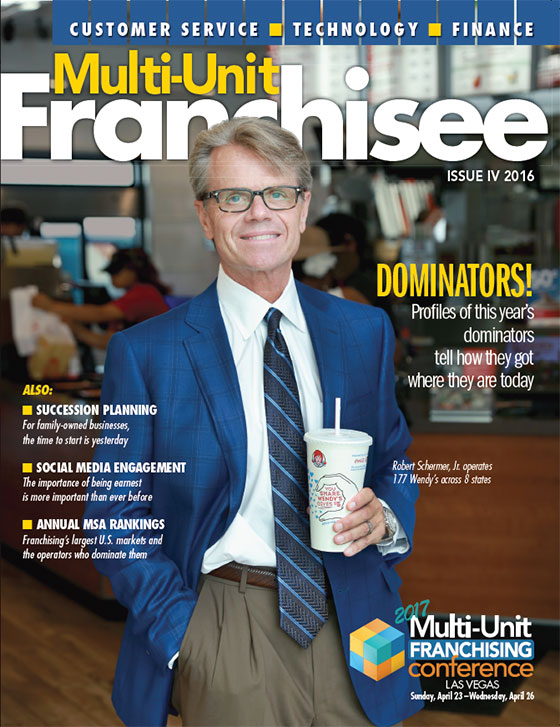 Multi-Unit Franchisee Magazine: Issue 4, 2016
Cicis is an iconic, modernized restaurant that pushes the limits of the regular family dining experience. With unlimited opportunities for revenue,...
Cash Required:
$250,000
Join one of the fastest-growing fast-casual restaurants with excellent financial potential, multiple business models to choose from, and an all-start...
Cash Required:
$100,000