Going Big: Big Data Around the World
In researching the use of big data in franchising outside the U.S., we asked two leading franchise development executives abroad to tell us how this it being used where they are. We also found several international companies that work with franchisors. Finally, we looked at how data is regulated in the European Union (very differently than in the U.S.).
According to Logi Analytics, a company that helps clients access, manage, and understand the growing volume of consumer data, "Big data refers to the ever-growing volume of data, increasing velocity in the generation of that data, and increased variety of types of data. In just a few short years, big data technologies have gone from nothing more than hype to being one of the core single disruptors in the digital age. The challenge for organizations is to know how to appropriately use these new data repositories to improve business performance by analyzing data in as close to real-time as possible."
So just how "big" is big data? Here are some numbers: the amount of data produced daily worldwide is an astounding 2.5 quintillion bytes (2.5 followed by 18 zeroes); Google processes 3.5 billion requests per day and stores 10 exabytes of data (10 billion gigabytes); Facebook has 2.5 billion pieces of content, 2.7 billion "likes," and 300 million photos (which adds up to more than 500 terabytes of data); and Amazon hosts its estimated 1 trillion gigabytes of data across more than 1.4 million servers. These figures, from CloudTweaks.com, are from March 2015 and have increased greatly since.
Mohit Sharma, who heads marketing and business development at PromptCloud in Bangalore, says, "With a petabyte of data being generated every 11 seconds, close to 90 percent of all the data in the world today has been created in just the last 2 years. With the dawn of user-generated content, Eric Schmidt opines that every two days we create as much information as we did from the dawn of civilization up until 2003. The data sector is expanding at an unimaginable rate." (A petabyte of data is 1,000 terabytes, which is 1,000 gigabytes.)
According to Elite Franchising magazine in the U.K., "Franchises hold a wealth of big data that, when utilized, can tremendously boost their success. It can improve the customer experience, increase efficiency, and help you decide whether a certain neighborhood is likely to make a new franchise location in that community a success. The proper use of big data you collect about your customers can make them feel like a business knows them and cares about their customer experience."
Big data in the U.K.
From Iain Martin, managing director, The Franchising Centre:
"Most established franchisors in the United Kingdom are using either their own or a third-party CRM system that captures significant amounts of data--both in terms of sales generation (leads to conversions, etc.), and service or product delivery. Many of these systems are linked to accounting software, and often franchisors will undertake billing on behalf of their franchisees. This means that it is easy for the franchisor to gather hard data on the number and value of sales made, and can derive the data required to measure actual performance for their chosen KPIs. The way in which the statistics and derived reports are used varies across the franchise community, from those who publish full tables that include a number of their KPIs, to those who review performance on a one-on-one basis with their franchisees. The driver for most is, of course, to identify relevant data; where franchisees and the franchisor can make adjustments to how they operate; and so improve effectiveness and profitability. A growing trend in the U.K. is for franchisors to use third parties to gather objective data on how well they're doing as a franchisor by getting feedback from the franchise network. Typically this data is aggregated, and normally individual franchisees will not be identified (hence their willingness to provide honest feedback). Its value is in its integrity and in the opportunity it provides for the franchisor to modify their training/support to improve franchisee performance."
Big data in India
From Rajeev Manchanda, managing director, Inventure India:
"With its vast size in terms of area and population, combined with diverse culture, India is a huge opportunity that comes with the challenge of understanding the market. Retail brands are depending heavily on such data as the market is evolving. Shopping destinations are deploying innovative mobile phone-based solutions that channel data insights from customers visiting shopping malls. The technology performs real-time analytics to convert data gathered from a shopper's movements in the malls to provide meaningful interactions for smartphone users. These are then provided to retailers in the mall to extend sales deals to shoppers through apps, based on footfall heat maps. This is also seen in the e-commerce world. E-commerce giant Flipkart, for example, analyzes 25 million rows of inventory data every day to enable data-driven decision making. Likewise, other leading companies like Snapdeal and HomeShop18 claim they generate 30-40 percent of their orders with the help of big data tools that they use."
Leveraging social media
Laura Donovan, president of The Word Pro, a social media marketing firm, notes that "93 percent of consumers research brands on social media before making a purchasing decision. Facebook adds 500,000 new users every day. Most U.S. Internet users have an average of 5.54 social media accounts."
According to Innovation Enterprise, a business media company, "Social media can help you collect feedback on new products, track the success of marketing campaigns, and compile information that can be used to improve the overall customer experience."
Smartphones in developing countries are often used for communication through social media, as this is very inexpensive. Some large food and beverage franchises in Indonesia use Facebook for 30-40 percent of their total annual advertising budget. Used properly, social media can tell you a lot about your customers in other countries.
Social media apps and platforms are a growing contributor to the world of big data. Here are some representative numbers of these tools, which give a franchisor access to and information about consumers:
Facebook: in the U.S., 59 percent of its 324 million population are on Facebook; in Brazil, 50 percent of its 208 millions; in Indonesia, 30 percent of its 260 millions; and in Mexico, 49 percent of its 129 millions.
LinkedIn: 39 percent of the U.S. population are members; 29 percent in Singapore; 31 percent in the U.K.; and 32 percent in Australia.
Twitter: 44 percent of the U.S. population has an account; 26 percent in Central Europe; 49 percent in the U.K.; 47 percent in Singapore; and 27 percent in Japan.
Big data in Europe
Consumer data is tightly regulated in the European Union (EU). The European Commission (EC) says that the people or bodies that collect and manage personal data must respect EU law when handling such data. Unlike in the U.S., data you collect on your franchisees and customers in the EU be shared widely. In fact, U.S. franchisors are limited in what European customer information they can access here in the U.S. This is a challenge for U.S. franchisors used to owning their franchisees' customer database.
The EC states that big data technology and services are expected to grow worldwide at a compound annual growth rate of 40 percent. (Data can be created either by people or generated by machines, such as sensors gathering climate information, satellite imagery, digital pictures and videos, purchase transaction records, and GPS signals.)
Conclusion
Of course, the real challenge and the bottom line is how to cost-effectively analyze this immense and extremely rapidly growing amount of data to help you grow your customer base and franchisee sales around the world.
(Author's note: The Facebook, LinkedIn, and Twitter country statistics are from the "2016 Major Social Media By Country" study done by Edwards Global Services for our U.S. franchisor clients.)
William Edwards, CEO of EGS LLC, has 40 years of international business experience. He has lived in 7 countries, worked on projects in more than 60, and has advised more than 50 U.S. companies on international development. Contact him at 949-375-1896, bedwards@egs-intl.com, or read his blog at edwardsglobal.com/blog.
Published: October 20th, 2016
Share this Feature
Recommended Reading:
Comments:
comments powered by

Disqus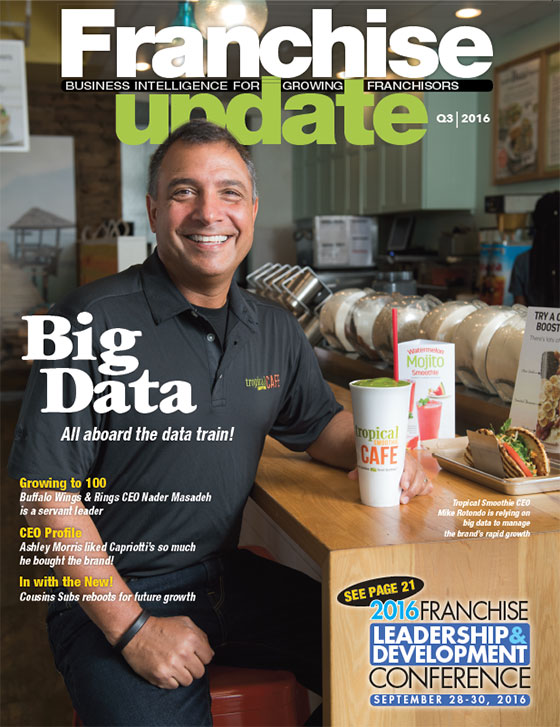 Franchise Update Magazine: Issue 3, 2016
Conferences
InterContinental, Atlanta
OCT 18-20TH, 2022
BoeFly drives growth by delivering financially qualified candidates increasing lead-to-franchisee conversion, and helping franchisees secure...
Qiigo unifies digital marketing for national brands and their locations, building brand unity and success helping businesses get found locally....