Going Global? Consider these factors first!
When going global with their brand, perhaps the most important decision a franchisor makes is which countries to enter. The goal for international franchise development is to expand the number of units and increase the royalty revenue over time. To increase the chance of profits over time, advance market research in target countries is absolutely essential. Here are the factors to consider when making a proactive plan to maximize the return for your brand.
What it's like to do business in a country. The World Bank has an "Ease of Doing Business" index that covers 190 countries. One interesting factor is how easy it is to start a new business in a country. While Australia, Canada, China, Singapore, South Korea, and the UAE rank in the top 25%, Brazil, Germany, India, Indonesia, and Japan fall in the bottom half, requiring more steps and time to open a new business. The key for success is planning for the time and cost to open new franchise units in a given country.
Rule of law. In some countries, laws and regulations favor local companies when it comes to litigation and maintaining control of a brand and its trademarks. This may mean that if your licensee terminates your agreement (or does something that requires theirs to be terminated) you're unlikely to get your license or your marks back without incurring high legal fees.
Franchise laws and regulations. Twenty years ago, few countries had franchise laws and/or disclosure requirements. The U.S. has done a great job of "exporting" franchise laws and regulations to more than 40 countries. Laws and regulations in most countries are fairly easy to adhere to, but some are quite onerous, resulting in high legal costs to enter. This doesn't mean you should ignore excellent franchise markets such as Canada and Australia, but do factor in the time and legal costs needed to properly enter.
Culture and adaptation. Stories of franchisors entering countries without considering the local culture, both business and personal, abound. In the case of restaurant brands, this means adapting your menu to local tastes and religious requirements, such as no pork in Muslim countries. For fitness brands, you may need to provide separate gym facilities for men and women. For home healthcare franchises, there may be medical regulations on who can provide your service. These are just a few examples. Market research can save you huge amounts of time and money—and prevent embarrassing cultural blunders.
Political and economic factors. It's just good business to project unit growth for a country to decide where you should invest time and money. But all that effort can mean little if the local political and economic environment is historically poor or hard to predict. Of course, even in "iffy" countries you might get that all-important license fee up front. But the real money comes from opening lots of units with acceptable revenues that produce sufficient royalties to justify ongoing licensee support.
Customers for your specific brand. A country may have a large population, but that doesn't necessarily mean lots of customers for your franchise. Determine how many people can and will pay for your service. To ensure there's sufficient consumer buying power, research what competitors charge, their customers' demographics, and factors such as GDP per capita.
Competition. While it's not recommended you be the first brand of a kind, be sure your brand has a competitive edge over similar, established businesses. If you're just another burger offering entering a country saturated with similar brands, both local and foreign, you'll need a "special sauce" to succeed.
Acceptance of foreign brands in a country. One parameter I believe is really important is the percentage of franchises in a country that is local versus foreign. Over years of working with more than 30 franchises in 35 countries, it's apparent that if more than 90% of franchises are local, foreign brands will face high barriers to success, as customers probably prefer local brands. In Brazil, where about 95% of franchise brands are local, it's been hard for foreign brands to succeed. In Mexico and the Philippines, with more balanced foreign/local brand percentages, many foreign brands have succeeded.
Ability to get paid. You'll certainly want to be paid fees and royalties by your licensee. Many countries have withholding taxes, which means any fees and royalties will be taxed (withheld!) before the money leaves the country. Also, some countries don't like hard currency (like the U.S. dollar) leaving their borders. China, Brazil, and South Africa all have barriers that may prevent you from getting paid in a timely manner.
Expenses you'll incur. Many of your costs (such as initial research and finding and signing international licenses) will come you sign a license agreement and are paid an initial fee. These costs, which can be considerable, include: trademark and URL filings; legal costs to create an agreement enforceable in the country; supply chain and local adaptations, if needed; new licensee training costs both in your country and theirs at startup; and travel and staff costs to support the growth of your business.
All of the above isn't meant to discourage you from taking your franchise into new countries. But these are essential factors to consider when developing a proactive plan for expanding internationally.
William Edwards is CEO of Edwards Global Services (EGS) and a global advisor to CEOs. From initial global market research and country prioritization to developing new international markets and providing operational support around the world, EGS offers a complete international operations and development solution for franchisors based on experience, knowledge, a team on the ground in more than 40 countries, and trademarked processes based on decades of problem-solving. Contact him at bedwards@edwardsglobal.com or +1-949-224-3896. Read his latest biweekly global business newsletter at geowizard.biz.
Published: February 11th, 2023
Share this Feature
Recommended Reading:
Comments:
comments powered by

Disqus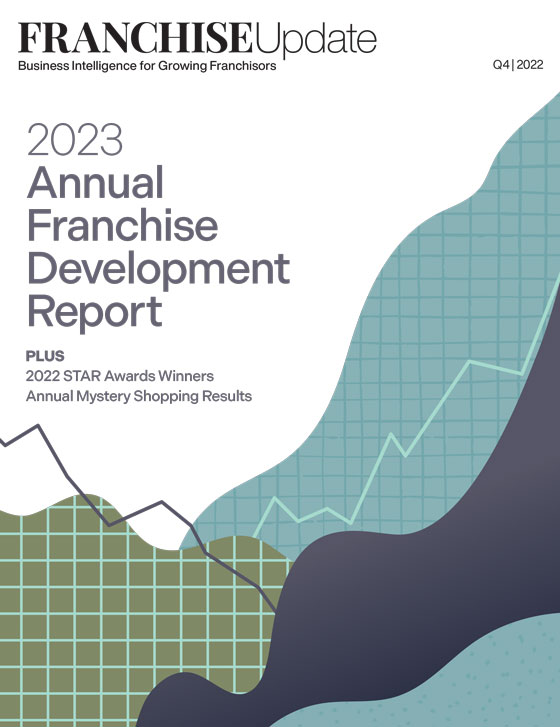 Franchise Update Magazine: Issue 4, 2022
Prisma has reinvented the marketing supply chain with an end-to-end solution that makes it easy to design, customize, order, download, print, kit,...
Our franchise management software helps increase unit growth, reduce opening time, track and improve unit performance, automate financial reporting...