Going Mobile: Help Your Customers Spend With Mobile Apps
According to the National Restaurant Association:
13 percent of all Americans have made a reservation using a smartphone or tablet in the past 30 days;
46 percent said they would do it if the establishment offered it; and
41 percent said they have used a menu to view what's available.
Consumers are engaged. They see mobile as a way to make life easier for them. With that in mind, when looking to launch a mobile solution don't just try to make it cool-looking or all about the branding (though that is important), and keep your customer in mind, remembering what they are looking for.
Most surveys show that consumers rank making an order, tracking loyalty points, making a payment, and finding locations as the order of importance to them. Make each of these components as easy as possible to use and you will find the adoption of your mobile strategy much higher.
Mobile can be used to place orders for takeout, but it can also be used in the store for line-busting. During peak times, patrons can order their meals while they are waiting in line. And if you enable a payment feature, they can pay by showing a QR code on their smartphone or by making a direct payment from their account on the app, significantly reducing their wait time.
Unintended benefits
If you meet the customer needs described above, you will achieve the benefits you intended of increasing brand awareness, locking that customer into your brand as a loyal customer, and increasing your share of their spend.
If you also include the ability to earn and redeem loyalty points by integrating that into the app, you will see ticket lifts (we have seen as high as 17 percent) and increased frequency of visits (we have seen as much as 50 percent). If you do not include the loyalty program, you will be alienating customers you have worked hard to engage and who have joined the program, forcing them to not use your mobile program if they want to earn points.
Here's one idea that could end up paying for your mobile program: include a payment option where customers can register their preferred payment type and pay for the order through that account (think Starbucks Card). QSR operators remember when the Durbin Amendment passed and the card networks basically doubled the cost of a debit transaction. If you provide incentives for customers to pay with the app, you can bypass the impact and lower your total cost of transactions.
For example, if you have an average transaction of $8 (and 70 percent of all of those smaller transactions are done with a debit card), your cost for that transaction will be around 27 to 28 cents (debit interchange is .05 percent + 22 cents + whatever your processor charges). In the prepaid model, where you "top off" a customer's card to $50 when their balance drops to a certain level, you are paying for that transaction only once instead of six times. A $50 transaction on a debit card will cost you around 50 cents, but if the customer paid for six transactions separately those same transactions will cost you more than $1.60. If yours is a concept where your customers come in fairly frequently, this could add up to substantial savings over time.
Geofencing
We've discussed geofencing before in this column. Basically you set up a "fence" around a geographic location, and when one of your customers enters that area a notification will push to their phone with an offer of some sort to drive them in. A new use for this technology is being explored as a means to better serve your current customers. How many times have you ordered takeout from a restaurant and when you got there either the order was not ready, or worse, it had been sitting there getting cold for some time? In the not-too-distant future you will be able to order your meal and the kitchen will know when you are getting close by using geofencing technology. Your order will be fresh, warm, and ready to go as you pull into the parking lot or drive-through.
Tom Epstein is CEO and founder of Franchise Payments Network, an electronic payments processing company dedicated to helping franchisors and their franchisees improve system performance, increase revenue, and reduce expenses. Contact him at tomepstein@franchisepayments.net or 866-420-4613 x1103.
Published: September 5th, 2014
Share this Feature
Recommended Reading:
Comments:
comments powered by

Disqus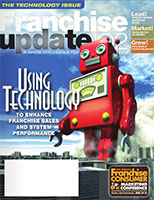 Franchise Update Magazine: Issue 2, 2014
Hub by Thryv is an end-to-end client experience platform custom-built for franchises. Its ready-to-use business apps help franchisees view their...
MSA provides domestic and international franchise advisory services to franchisors and companies seeking to establish franchise and licensing systems.