Groomed For Success: Hair Salon Multi-unit Operator Grows In Style
"Our first salon was a real struggle," explains Doug Barnes. "There were times when we didn't know if we'd have enough money to get through the next day." But those hard times helped forge a determination that he and his wife Elizabeth rely on still today. And it must be a formula that works because today, Barnes operates 26 Cost Cutters and three Supercuts locations throughout Nebraska and Iowa, and Regis Corporation, the parent company of Cost Cutters and Supercuts, just recognized him with its 2005 Multi-Concept Franchisee of the Year Award.

Barnes grew up on a dairy farm in southeast Minnesota, the son of hard-working parents who taught him to work diligently and set goals that would ensure good things would follow. After finishing barber school in 1977, Barnes went to work at his brother-in-law's franchise hair salon. He spent two years "behind the chair" as a hair stylist and learned a lot. So much, in fact, that he and Elizabeth decided to start their own salon business in 1979, and they, too, chose the franchise concept to do it. "I'd seen how franchising worked as a system and I liked the franchise's initial terms and the support that they offered." At first, Barnes says the day to day operations were very hands on and labor intensive. But before long they had opened a second and a third store, and the growth has continued.

"A multi-unit operator has to be able to adapt to change," says the 48-year-old, who's now been in the hair styling business for 29 years - with Cost Cutters since 1987. "Each salon can be different and offer unique challenges, the markets can be different, but the beauty of the franchise concept is that the support is there to help you handle almost anything." Indeed, Barnes specifically relishes the training support, marketing support, and in his case the product distribution support.

Product distribution is a key ingredient in Barnes' operations, because he says 30 percent of his total sales come from hair care-related products his customers buy. He says Regis not only gets him the shampoos, conditioners and other products he needs, when he needs them, but offers strategically planned marketing initiatives each month. That's an advantage to Barnes who creates his own in-store contests to offer his employees incentives for selling the products - the winners receive everything from cash prizes to trips to Disney. Hair salons are notoriously a high turnover business and Barnes says it's essential to find ways to retain key performers. These contests and prizes are one way he has done it.

Training is part of the package with Cost Cutters and Supercuts and it's something Barnes takes seriously as well. At his Lincoln, Neb.-based office and training center, Barnes has TVs and DVDs for training and chairs with mannequins for hands-on teaching. There's a staff of six at the office, including two operations managers who oversee the 29 salons and more than 250 employees. One of those operations managers has been with Barnes for more than 18 years. "I know that a strong performing store cannot exist without a strong manager, and a strong manager cannot exist without strong training." Every new stylist hired comes to the main office for training and there is ongoing and continuous training for store managers and other employees.

"I recognize that our employees are the front-line with our customers," explains Barnes. "If they cannot do the job right and with the right attitude, we're all going to suffer." He says that's the key reason he implements training, quarterly employee reviews, incentives, contests, and a healthy benefits package.

Fifteen of Barnes' Cost Cutters stores are located inside Wal-Mart Super Centers. "The Wal-Mart locations really offer us built-in traffic and are a perfect match for our clientele, the cost and value sensitive buyer," says Barnes. He says most of Cost Cutters' customers are walk-ins and that works very well inside a crowded and often visited Wal-Mart. His other stores are primarily located in strip shopping centers. In fact, one of his near-term goals is the expansion of his Supercuts stores into more shopping centers. "Our shopping center locations have done well when there are strong anchors such as grocery stores, Target, and even Wal-Mart." He says when the business is primarily walk-in, it's essential to have a busy retail environment to draw in business. And location is important. He says his stores compete with numerous 'mom and pop' salons as well as other franchises like Great Clips. "I think we've been able to be as successful as we have because of better training, marketing and better locations."

As with any multi-unit operator, there have been trying times. Sometimes what appears to be failure is actually success in disguise. That's what Barnes experienced a few years back when he opened a salon that quickly floundered and failed. "That was one of the best things that ever happened to me," he explains. "It taught me to do a better job at researching and selecting a site, and helped me refine not only what I was looking for in employees, but also how to find them." Failure can be a great learning tool.

That learned experience can also be a tool for other operators in the franchise system. Barnes has been very active as a mentor for other Cost Cutters and Supercuts franchisees. He has spoken with numerous interested prospects answering questions and giving advice, and has also walked alongside new recruits helping them learn the ropes, providing insight into such dilemmas as how to increase sales or how to pay stylists.

Barnes says in the beginning, a franchise takes a lot of hands on hard work to make it go. As you add units, you must bring in key people who can help you manage overall. "When we reached around 10 stores, I knew I needed some operational help. That's really when personnel and organizational needs began to change," he says. But the strength of the franchising concept remains the same. "There's no need to reinvent the wheel, but you do need to create some layers of management, because you can't do it all." In fact today, he's very "hands-off" allowing his managers to keep the ship sailing smoothly.

So how does Barnes want his salons to be positioned in his market and his customers' minds? "I want people to know that by coming to Cost Cutters or Supercuts, they're going to get a great haircut, at a great price, from a great stylist, and at a great convenience."

Those are just some of the characteristics that undoubtedly helped Barnes snag the Regis Franchisee of the Year Award, which recognizes successful management skills, achieving exemplary business results, and sharing knowledge with other franchisees. Barnes was recognized for helping his salon staff grow professionally, providing outstanding leadership, and serving as an excellent role model. The Franchisee of the Year works closely with other franchisees by offering ideas, input and time to help them improve their own businesses. "This is the greatest honor I've ever received, there were so many qualified candidates that I recognize how special it is to receive the award," he says.

And as for the future, Barnes plans to surpass the 40 store mark within the next three to five years, concentrating on expanding his Cost Cutters stores in Wal-Marts, while building his Supercuts brand through shopping centers. Internally, he's aiming to build sales year to year and continue focusing on retaining and growing his employees.

What began as a struggle 27 years ago has grown into a thriving multi-unit operation that looks to continue its expansion.
Published: August 22nd, 2006
Share this Feature
Recommended Reading:
Comments:
comments powered by

Disqus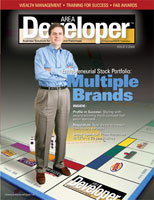 Multi-Unit Franchisee Magazine: Issue 2, 2006
The opportunity to grab a slice of the pie and partner with Perkins Restaurant & Bakery, a tried and true concept, is ready for the taking for...
Cash Required:
$600,000
Own a highly profitable business that impacts lives in your community by jumping into action as an Urban Air franchisee owner.
Cash Required:
$750,000