Grow Smart, Risk Less: BrightStar CEO Builds On Her Rapid Success
When Shelly Sun and her husband JD founded BrightStar, their full-service healthcare staffing agency in 2002, the concept was rooted in their experiences searching for quality care for JD's sick grandmother. "We were managing multiple relationships and thought how great it would be to have one company handle the entire continuum of care," says Sun, CEO of BrightStar.
In forming the company, she conducted research on aging and health trends and drew from her background as a CPA, corporate controller, and executive at two major insurance companies. And after she and JD became franchisees for two hotels, a Choice Hotels property and a Carlton Suites unit, Sun began to see how well franchising would work for their emerging concept.
In 2004, while on bed rest awaiting the birth of her twin sons, she wrote the franchise operations manual. In January 2005, the franchise was established, becoming the first franchisor in the country to specialize in both medical and non-medical care and healthcare staffing. She jokes that was the birth of her "first baby," followed days later by the twins. Since then, BrightStar has grown from one company-owned store in the Chicago area to more 160 locations in 31 states.
Sun, who was named IFA Entrepreneur of the Year in 2010, says she expects to have 400 franchise units sold by the end of 2012. Her "2019 plan" is ambitious (see below) and includes launching a total of eight franchise brands, a technology company, and a franchise consulting company.
CEO Q&A
Name: Shelly Sun
Title: CEO and co-founder
Company: BrightStar Group Holdings, Inc.
Brands: BrightStar LifeCare, BrightStar KidCare, BrightStar Staffing, BrightStar Senior Living
Age: 40
Family: Husband JD Sun (co-founder of BrightStar) and twin boys
Years in franchising: 5
Years in current position: 8
Leadership
What is your role as CEO?
I oversee the strategy and innovation plans for the enterprise, including the development and launch of new brands. I also engage with all departments, plugging in with them continually to keep our ship pointed toward our goals at all times.
Leadership style?
First, I seek to attract world-class talent. Core philosophies also include finding people with a true passion for the business, an undeniable work ethic, and the potential to move to the next position within 18 to 24 months. Second, my team understands that this is hard work and we have particularly high standards as an organization.
What has inspired your leadership style?
I've had great success building a team by hiring world-class talent, and we have developed fairly rigorous recruiting practices that help us ferret out individuals who don't share the same passion for building a great business. The result is a team that is empowered and engaged, and one that shares a passion for continuing to innovate when it comes to serving our franchisees.
Biggest leadership challenge?
Not taking on too much. I am very driven, and with the quality expectations I have for myself and my team I try to be first whenever possible. Innovation is also extremely important to me, and we are always searching for new ways to better our organization and our franchisees, and to provide more to our customers.
How do you transmit your culture to your front-line employees?
We take prospective franchisees through a long vetting process where we get to know each other really well. With the constant training and support of our franchise family, franchisees then become responsible for carrying out the BrightStar vision.
Where is the best place to prepare for leadership:
an MBA school or OTJ? I believe the best place to prepare for leadership is on the job. Leading is about assessing individuals to determine how to motivate them to get the best results for the organization. MBA school can't teach you that.
Are tough decisions best taken by one person?
I've had positive experiences with both: tough decisions determined by a committee, and those that landed solely with me. At the end of the day, I take full responsibility for the tough choices we make.
How do you make tough decisions?
I try not to react, but instead to respond to situations, giving thought to all possible outcomes. Because our organization functions under a "no surprise" rule of full disclosure, it allows me to digest challenges as they arise.
Do you want to be liked or respected?
Both... but who doesn't?
Advice to CEO wannabes:
Surround yourself with mentors, remain tenacious, and never be afraid to ask for what you want. Set new personal and business goals every year that stretch you and enable the business to grow. Find a peer group to be a sounding board and offer encouragement.
Management
Management style?
Hire right. Share and reinforce the vision clearly. Empower.
What does your management team look like?
My senior leadership team is composed of seven individuals representing the operational facets of our organization. They understand my vision for the future and are strong, unified, and committed to our franchisees and staff in a way that continues to inspire me.
How does your management team help you lead?
They work diligently to achieve our organizational goals and are adept at taking the ball and running with it. Knowing that I have the right people in the right seats on the bus allows me to drive without pulling over to adjust seatbelts.
Favorite management gurus, books?
My favorite books include Good to Great by Jim Collins, The Breakthrough Company by Keith McFarland, Making Ideas Happen by Scott Belsky, and The Ultimate Question by Fred Reichheld.
What makes you say, "Yes, now that's why I do what I do!"
One example is our annual Caregiver of the Year program. The stories our clients submit bring me to tears, because each is a personal account of how a BrightStar caregiver went above and beyond to make a difference in the life of somebody's loved one. We fly six regional finalists to our Annual Franchisee Conference, where they are recognized in front of our franchise family. Each finalist receives $500, and one is awarded a $5,000 BrightStar Care Scholarship. Knowing that our caregivers are having such a positive impact on their clients and that we can make such an impact on the caregivers' lives makes me proud to do what I do.
Personal
What time do you like to be at your desk?
I like to see my boys off to school, but I strive to be there by 7:30 or 8 a.m.
Exercise in the morning? Wine with lunch?
My husband and I work out three mornings per week before heading into the office. We're on a high-protein, low-carbohydrate diet, so no wine at lunch. However, I try to reward myself with a glass in the evening now and then.
Socialize with your team after work/outside the office?
I like to celebrate company milestones with my senior leadership staff. For major accomplishments, I treat them to a weekend with our families.
Last two books read:
Scott Klososky's Velocity Manifesto and Ram Charan's Boards that Deliver.
What technology do you take on the road?
I always take my Sony Vaio laptop, my iPad, and my iPhone.
How do you relax, balance life and work?
It's a challenge, especially because I'm wired to work and am pretty driven.
Favorite vacation destination(s):
We love traveling as a family. It's our rejuvenation time after working so hard. We love traveling to Turks and Caicos and had a wonderful time taking a cruise last year.
Favorite occasions to send employees notes:
I like to personally sign anniversary cards for all of my employees.
Bottom Line
What are your long-term goals for BrightStar?
We will launch a total of eight franchise brands, a technology company, and a franchise consulting company. We're going to launch our second franchise brand within the next 12 months, and then add one new franchise brand approximately every 18 months through 2019. We'll launch our technology company to take on third-party clients in 2012, and our franchise consulting company in late 2011. We are building toward a system-wide revenue potential of $2 billion by 2014, and $4 billion to $6 billion by 2019, with 12 to 20 percent year-over-year growth through 2030.
How has the economy changed your goals?
The downturn in the economy pushed us to institute new programs to accelerate sales results for our franchisees, enable access to capital for our franchisees, and drive accountability at the corporate level to support franchisee unit economics. Last, we knew we needed our franchisees focused on the mission and not worried about job security, so we made a decision not to lay off any employees, regardless of economic pressures. Instead we increased healthcare benefits and added an accountability program with a short-term bonus opportunity tied to corporate, departmental, and individual results.
Where can capital be found these days?
In July 2010, BrightStar became the first franchisor to receive a credit facility from a new SBA-guaranteed lending program created by Franchise America Finance and The Bancorp Bank. The $6 million facility provides loans for start-up franchisees entering our system, as well as expansion funding for existing franchisees who are ready to expand their business. The lending program is the first of its kind, providing a collaborative effort between lender and franchisor to set up a predictable model for franchise financing.
How do you measure success?
I measure success based on what my customers, my employees and my franchisees say about me and my brand. If our customers, our employees and our franchisees are pleased with the services they receive and would encourage others to join us, then we are successful.
Your greatest success?
I have a wonderful loving husband and adorable twin boys, who define my personal success. Professionally, we've built a business from scratch to help people receive high-quality care and compassionate, dedicated service and then expanded that to allow individuals to own their own businesses through a franchise model. We have created thousands upon thousands of jobs across the U.S. and taken care of more than 10,000 families.
Any regrets?
My Dad passed away in 2009. I was with him two days before he died and then flew home to be at a Join the Team Day. I planned to fly back in two days. I regret that I left, because my Dad died before I returned.
What can we expect from BrightStar in the next 12 to 18 months?
We will continue expanding into new markets domestically, and our international expansion will continue in Canada, U.K., and Australia. I am also in final edits of my first book, "Grow Smart, Risk Less" (out in October), which discusses my experiences growing our business through franchising. We will also launch our next franchise brand, BrightStar Senior Living, as well as our technology and franchise consulting companies in the next 12 to 18 months.
Published: July 11th, 2011
Share this Feature
Recommended Reading:
Comments:
comments powered by

Disqus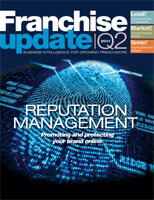 Franchise Update Magazine: Issue 2, 2011
MSA provides domestic and international franchise advisory services to franchisors and companies seeking to establish franchise and licensing systems.
ApplePie Capital provides a fresh new approach to franchise financing that is focused on your growth and success.