Growth Machine: Anil Yadav Shows No Signs Of Slowing Down
Anil Yadav has graced the pages (and one cover) of Multi-Unit Franchisee magazine twice before. We first interviewed him in 2008 when he had "only" 78 Jack in the Box restaurants and 16 Denny's. Just two years later, when he was named one of the magazine's MVP Award winners, he had expanded to 155 Jack in the Boxes and 26 Denny's.

Today, another couple of years down the line, he's done it again, staking claim to 227 Jack in the Boxes and 30 Denny's. For the record, that makes him the largest Jack in the Box franchisee in the country. He also has become involved with Marco's Pizza as the broker for both the Northern and Southern California markets (so check back with us in 2 more years).

It's all quite amazing when you consider his present-day empire began in 1984 in Northern California, when the teenaged Yadav took a part-time job as a Jack in the Box fry cook to help pay for college. Within 18 months he'd become store manager, and within 5 years he'd purchased his first restaurant--a Jack in the Box.

"From the very beginning with Jack in the Box, there was a desire to grow," says Yadav. "With the availability of corporate restaurants through the refranchising effort, the growth was greater than one could imagine." His growth goals were never driven by total number of restaurants, he says, but whether or not growth made good business sense.

When presented with the opportunity to acquire Denny's in Northern California--his core market--Yadav couldn't resist. Adding Denny's, he says, was a way to diversify in the markets where he was already operating. Today, says Yadav, he's the largest Denny's franchisee in California.

"I believe the company should always be in growth mode. With that mentality it brings the best out of you to stay relevant with current conditions or the current market trend," he says. "Drive to be the best has given me the desire to continue to expand and take the underperforming restaurants and turn them around."

This kind of growth doesn't come without its challenges. Building the back office organization to support his expanding restaurant operations was an early one. And when Yadav acquired restaurants from the franchisor, he also acquired the stores' personnel, and had to learn how to support the restaurants and build the team to achieve his goals.

"Once we had a couple of transactions behind us, we developed a plan on how to conduct a successful transition. The challenge early on made us a better organization that could handle future growth," he says. "Setbacks are there every day, but we use them as a learning tool and try to avoid them in the future." Today, he says, he has created opportunity by growing the business through proper leveraging and by improving the operations of the restaurants he's acquired.

His ability to thrive and expand during the longest recession in U.S. history has required a steady command of the basics: cost control, hard work, strong training, and earning employees' respect while demanding integrity and honesty from everyone on the team. "Today I believe I have one of the strongest teams in the industry. We have experienced operators in each region who possess outstanding character and who work hard and smart on a daily basis," he says.

"Once you get to a certain level, you often change your fundamental values, but I have never done that," says Yadav. He maintains a solid operational structure, takes care of his people, and keeps his eye on the ball.

Of course with Yadav at the helm, you can be certain more growth is on the horizon. "I'm looking specifically to streamline operations and maximize opportunities within each restaurant," he says. "And I'm also looking to grow market share."

Would you expect anything less? Check back with us in two years.

Name: Anil Yadav
Title: President and CEO
Company: JIB Management Inc., Central Valley Diner Inc.
No. of units: 227 Jack in the Box; 30 Denny's; Marco's Pizza (broker for Northern and Southern California

) PERSONAL

Age: 47
Family: Wife and 3 Children
Years in franchising: 22
Years in current position: 22

Key accomplishments:
Being able to grow and sustain the business for 22 years. Started as a Jack in the Box employee and have grown to the largest Jack in the Box franchisee in the nation and the largest Denny's franchisee in California.

Biggest mistake:
Making emotional decisions instead of factual decisions in growing the brand. Smartest mistake:
Growing from 7 to 34 restaurants without the proper infrastructure in place.

How do you spend a typical day?
Working on business strategies and dealing with the day-to-day operational issues... always attached to my cell phone!

Work week:
I try to work Monday through Friday, but really work 10 to 12 hours per day, 7 days per week.

Favorite fun activities:
Spending time with my kids at every opportunity. Play cricket in a league every weekend. Love sports in general.

Exercise/workout:
Three to 4 days per week, early morning in my home gym.

Favorite tech toys:
The latest cell phone!

What are you reading?
Not much of a pleasure reader. I listen to people and enjoy quick information, i.e., CNN, MSN, highlights.

Do you have a favorite quote/advice?
"Food may be our language, but customers are our lifeline!" An original quote by me.

Best advice you ever got:
My wife tells me to always be humble and respectful, and don't forget where I came from.

Formative influences/events:
I have always looked at the successes of others as a positive. I am self-motivated to be successful by doing "the right thing."

How do you balance life and work?
I work hard and I play hard! I have a large family and circle of friends that keep my life balanced.
Management
Business philosophy:
Do the right thing. Never cheat. Negotiate hard, but once there is an agreement, honor that agreement.
Are you in the franchising, real estate, or customer service business?
All of the above. It takes all three to grow a successful organization.
What gets you out of bed in the morning?
Wanting to make a difference in the day by doing better than yesterday. I am always striving to improve myself.
What's your passion in business?
To be the best at what I do, and be successful.
Management method or style:
Easygoing, but I have high expectations for myself and others; willing to provide others with the tools they need to be successful.
Greatest challenge:
Satisfying everyone's needs, and making them understand why they are being told "No."
How close are you to operations?
Very close. Since I started as a team member, I know firsthand the details of the operation.
Have you changed your marketing strategy in response to the economy? How?
Yes. We are using a more value-driven method. We've increased awareness of guest satisfaction by providing quality food, a clean environment, and quick, friendly service.
How do others describe you?
Caring, helpful, supportive, good businessman, charming, and fun.
How do you hire and fire?
I'm not too involved in hiring any more, but do use my instinct. I have no tolerance for dishonesty and unethical behavior and will terminate immediately. But for those on the fence, I will spend the time coaching underachievers and give them the opportunity to improve.
How do you train and retain?
I provide the tools my employees need to do their job. We use computer-based training, on-the-job training, and lots of coaching. Recertification of our employees keeps their skills fresh.
How do you deal with problem employees?
Talk to them and give them clear expectations of their job. If they don't meet those expectations, they will be terminated.
Bottom Line
Annual revenue:
Not disclosed.
2012 goals:
Streamline the operation and maximize our opportunities within each restaurant. Grow market share.
Growth meter: How do you measure your growth?
By how good I feel about what I am doing, how happy I am, and being appreciated by others.
Vision meter: Where do you want to be in 5 years? 10 years?
In 5 years, be the largest franchisee and become a brand franchisor. Have my son Akaash join me to run the operations side of the business, so I have more time to continue to grow our organization. In 10 years, expand my real estate portfolio.
How has the most recent economic cycle affected you, your employees, your customers?
This cycle has taught all of us to go back to basics. We can't take anything for granted and we need to focus on the P&L, line by line. Be frugal.
Are you experiencing economic growth/recovery in your market?
Yes, we are.
What did you change or do differently in this economy that you plan to continue doing?
To be frugal and disciplined. Providing the best guest service that exceeds their expectations will allow us to grow market share.
How do you forecast for your business in this economy?
Sustain the business and allow it to grow organically. Continue to steal market share from our competition.
Where do you find capital for expansion?
We have had great success working with local, regional, as well as national banks and GE Capital.
Is capital getting easier to access? Why/why not?
In our case, yes. Historically we have been controlling our debt and have maintained a healthy leverage position.
What kind of exit strategy do you have in place?
My son, Akaash, will follow in my footsteps.
What are you doing to take care of your employees?
Educating them about the realities of the company by sharing information. Offering incentives at the store level for consistent performance.
How are you handling rising employee costs (payroll, healthcare, etc.)?
By teaching the stores the best practices for reducing turnover and improving scheduling. These are the costs of doing business.
How do you reward/recognize top-performing employees?
Internal promotions, raises, and bonus programs go along with sincere thank-yous for your hard work.
Published: May 18th, 2012
Share this Feature
Recommended Reading:
Comments:
comments powered by

Disqus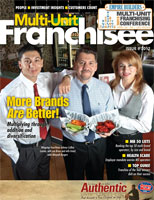 Multi-Unit Franchisee Magazine: Issue 2, 2012
At Radiant Waxing, we make it our mission to help people achieve smooth skin and beautiful brows in mere minutes.
Cash Required:
$100,000
Genghis Grill, the nation's leading create-your-own bowl concept, offers guests broad appeal and caters to various flavor preferences and...
Cash Required:
$750,000