Head West, Young Man: Danny Sonenshine Conquers California and Heads for the Pacific Islands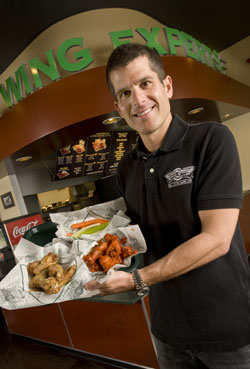 Danny Sonenshine clearly remembers his father encouraging him to look into franchising back in the early 2000's. The elder Sonenshine had experienced his own successful career in the restaurant business and he had always been an important influence on his son.
"There weren't many Wingstops around southern California at the time," recalls Sonenshine, "but my dad saw the potential of the brand and how getting in at the beginning could be a great move." At the time Sonenshine was slogging it out as a litigator and transactional attorney with a major law firm in Orange County - and he was unhappy. "I didn't like working for someone else," he says. "And I didn't like not having any control over my schedule."
So he heeded his dad's advice and although he didn't know much about franchising or restaurants, he had heard that a couple of Wingstops in California were doing good numbers and that the franchisor was looking for franchisees.
That was in 2004 and he signed a deal for 10 units in southern California. His first store opened in the spring of 2006, and the last time we visited with Sonenshine (Multi-Unit Franchisee 4th quarter, 2010) he had grown to 11 units. Now he's got 22 open and has 5 more in development. He's also acquired the rights to Hawaii and Guam (he expects to open two Wingstops in Hawaii in 2014), and he's about to add a second brand to his organization but was not ready to disclose as of press time. On top of all this activity, he was selected as Multi-Unit Franchisee magazine's Spirit of Franchising Leadership MVP Award winner and recognized at the Multi-Unit Franchising Conference this past March.
The Laguna Beach native is on a roll. He's weathered the tough economic storms of the past few years and come through with flying colors. "Our progress has been to open 2 to 3 stores each year and I see that continuing for at least the next couple of years," he says.
He has no regrets about leaving his law career behind and loves having more time to spend with his family. He's adapted well to the franchising world and has been a quick learner.
"I have close supervisory relationships with my main employees - my VP of operations and my regional director. They run the stores, because I know they know much more than I do," he says. "I focus on development and finances and let them handle day-to-day operations."
Sonenshine says he's happy with the Wingstop product and the simplicity of its concept. "In California, Wingstop has a huge following, much like In-N-Out Burger," he says. "We're the wing experts. We are now serving not just the traditional bone-in wings we are known for but also boneless wings and strips, but we do wings better than anybody else."
He and his wife Kerri remain actively involved in their community and support numerous causes and groups. As for business, he looks to stay busy growing his Wingstop locations in California while adding new territories and a new brand.
Looks like father really does know best.
Name: Danny Sonenshine
Title: President
Company: Far West Restaurant Group, LLC
No. of units by brand: 22 Wingstops currently open, 5 in development.
Age: 40
Family: Wife Kerri (VP of Marketing for Far West Restaurant Group), Daughters Maggie and Sarah
Years in franchising: 9
Years in current position: 9
Personal
Formative influences/events:
My father has been my biggest influence. He's had a strong, successful career in the restaurant business and was the person who encouraged me to take a chance and become a Wingstop franchisee. At the time Wingstop didn't have many restaurants in California, but he saw a great opportunity to get in on the ground floor of a growing brand. Prior to Wingstop, I was a lawyer, and left behind a legal career to get involved in the restaurant business and never looked back.
Key accomplishments:
Owning more than 20 Wingstop throughout Southern California and helping build the brand in this market, as well as building an organization and team to support the network. Far West Restaurant Group has created jobs for almost 400 employees, and with several new restaurants on the horizon, we expect to add to many more opportunities within the company and in our restaurants. Balancing running a business, with involvement in community organizations and spending quality time with my family.
Decision I wish I could do over:
Several years ago, we acquired a few Wingstop locations from another brand partner. Those stores have not performed as we expected, and I wish we had done more due diligence to negotiate a more favorable price and brought in our own staff members.
How do you spend a typical work week?
My focus is primarily on development, which includes meetings with key team members about current operations. I am also the President of both the Wingstop Franchise Advisory Committee and the Wingstop Southern California Ad Association, so I regularly attend meetings and conference calls with the corporate team and other franchisees.
Favorite fun activities:
Running - I have completed 9 marathons. Activities with my daughters, ages 7 and 11. Southern California Food and Wine Society. I am on the board of several non-profit organizations, including my daughters' school, which I also attended.
What are you reading?
Wall Street Journal, New York Times, my email
Best advice you ever got:
Take a chance. I left practicing law to franchise with Wingstop and it was one of the best decisions I ever made.
What's your passion in business?
I'm passionate about always doing the right and fair thing, for my employees, our guests, my family and the community. Providing opportunities for our employees, and helping others achieve success also drives me in business.
How do you balance life and work?
I have to remember that one of the reasons I work for myself is so I can be there for my kids and family, enabling myself to attend school activities and participate in non-profit organizations. I have learned to be able to take breaks when needed and catch up on work in the evenings.
Last vacation:
Palm Springs with my family
Management
Business philosophy/management style:
I am not a micromanager. I try to hire the best people in the business and let them shine. They know their areas of expertise and don't need me getting in the way. As long as they keep me updated, and we can problem solve together when necessary, things are good.
Greatest challenge:
Recently, food cost has been a major challenge because of the high cost of bone-in chicken wings. Our team has been extremely diligent in managing all of our inventories and promoting items such as boneless wings to help us through this period. Our ongoing challenges remain finding and developing strong sites for future locations in Southern California and managing food costs.
How I give my team room to innovate and experiment:
The teams I've put in place are the experts in their respective areas. Each team member can come to me with ideas or recommendations, whether it's on controllable costs, HR policies, or systems to manage back of office and accounting tasks. I'm open to any good ideas and encourage my employees to bring new ideas and best practices to the table.
How close are you to operations?
I rely on my operations team for the day-to-day tasks. Even though I am not in the restaurants daily, I'm always in the loop on what is going on, including reviewing daily sales and food cost numbers.
What do you rely on/expect from your franchisor?
The relationship between the franchisor and the franchisee must be built on communication and honesty.
What do you need from vendors?
With more than 20 restaurants, 400 staff members, and loyal guests who expect a quality, made-to-order product, we rely on vendors for timely service and solid communication.
How is social media affecting your business?
From a traffic-driving standpoint, we are using Facebook and other tools to better engage with our customers at the market/ad association level, and to build additional occasions through offers. On the feedback side, we are constantly on top of Yelp and other reviews. That has become an area we need to continually manage. We are alerted to each review as it comes in and share them with the team. We respond when necessary to gain more information so we can continue to improve our operations. Despite it being an open forum where customers can share their gripes, we try to see social media as a positive that we can learn from.
How do you hire and fire?
I have an excellent team in place to run the day-to-day in the restaurants, so I deal with management at the top level. My senior team manages the rest of our employees. When we have to make tough personnel changes, I believe in giving people a second chance, and making sure there aren't ways to better coach and develop. If that is not the case, then we have to part ways. It's also important and standard practice to properly document each employee.
Fastest way into my doghouse:
I value honesty and genuine people above all else. If someone is not being honest, that's the fastest way to ruin a business relationship.
Bottom Line
Annual revenue:
$25,000,000
2013 goals:
My goal this year is to open three new Wingstop locations in Southern California and grow comp sales by 10 percent at my existing locations. I'm also working to become a developer with another concept. We are currently in discussions to bring a national brand to Southern California.
Growth meter: How do you measure your growth?
The most important measurement is guest count, and the second is average ticket. Guest counts allow us to see how our stores are performing, isolated from price increases.
Vision meter: Where do you want to be in 5 years? 10 years?
I intend to be operating more than 35 Wingstop units, in addition to becoming a multi-brand operator.
Are you experiencing economic growth or recovery in your market?
We are currently in a growth mode in our market. Despite continued tough economic times, our food is still relatively affordable and guests crave the product. We also focus on carryout service, which adds to our value, and it's a great way to feed a family.
How do you forecast for your business?
We rely on data from our POS and accounting systems to look at trends from the previous year and weeks, factoring in seasonality, sports games, promotions and other factors that may have influenced sales.
Where do you find capital for growth/expansion?
We are primarily funding new locations through cash flow, but also use bank financing.
What are you doing to take care of your employees?
 We start by offering more than minimum wage. We pride ourselves on promoting from within, and have created dozens of opportunities for employees to become shift managers, general managers and even regional managers. We have also put in place many incentives for our employees at all levels of the organization.
How are you handling rising employee costs (payroll, healthcare, etc.)?
By planning ahead, researching changes in laws, and meeting with vendors early, so that we can be prepared.
How do you reward or recognize top-performing employees?
Managers are eligible for weekly bonuses. We also host a year-end dinner for the employee of the year at each store and all general managers. The employee of the year is selected by his or her teammates.
2013 MVP Questions
Why do you think you were recognized for the "Spirit of Franchising Leadership" award? (The award description is "extraordinary and enduring performance, growth and community giving)
I have always placed a priority on being involved in the communities in which we operate our stores. We do this through making donations for raffles and auctions, sponsoring teams and hosting fundraisers for schools and organizations. We believe it is important to take an active role in our communities. I have also given back significantly to the Wingstop brand. I have volunteered my time on the Franchise Advisory Council for many years and now chair the council. I also spearheaded the formation of the Southern California Advertising Association and have served as its president since its inception. Additionally, I have almost daily conversations with potential and future brand partners about the Wingstop brand and share my experiences as a franchisee.
As a multi-unit franchisee, how have you raised the bar within your own company?
Operating multiple Wingstops forced us to develop systems and procedures to ensure the highest standard of operations. We have consistently been recognized as a top operator within the Wingstop system, receiving the multi-unit operator of the year award in 2009, and other brand partners have adopted many of our practices and procedures into their restaurants.
Give an example of innovations you have created and used to build your company.
People are our top priority. Not only do we take pride in offering our guests the best service, quality and hospitality available, we take care of our employees. When we bring someone in for a position at Far West Restaurant Group, we are offering a career and not just a job.
What core values do you have that you feel led you to winning the MVP Award?
I'm proud of the values my parents and family have taught me. Generosity of time and money, and hard work. Those qualities will help lead you to success in business, and in your daily life.
What are the important leadership qualities to you and to the members of your team?
I look for team members that I can trust. If you have trust and communication, you have the keys to a strong business relationship that will set you on the course to growth and building an enduring brand and company.
Published: November 4th, 2013
Share this Feature
Recommended Reading:
Comments:
comments powered by

Disqus

Multi-Unit Franchisee Magazine: Issue 3, 2013
Boring breakfast food? Never heard of it. Bring the savory flavors and colorful personality of the South to your neighborhood with the Biscuit Belly...
Cash Required:
$500,000
Signage has never been more important. Right now, businesses are looking for new and better ways to compete.
Cash Required:
$80,000