In with the New!: Cousins Subs Reboots for Future Growth
The fast casual space is one that continuously evolves to meet consumer demands. From restaurant design to ordering methods and digital advancements both in-store and online, brands are continually undergoing changes to keep their dynamic guest base happy... and full. We at Cousins Subs are no exception. But before I introduce you to the reinvented Cousins Subs, I must first set the stage as to how we got here.
Who we are

For those not familiar with Cousins Subs, our 40-plus year journey began in 1972 when my father Bill Specht and his cousin Jim Sheppard brought their favorite/ style of sub sandwich from the East Coast to their new hometown of Milwaukee. Setting out to serve "Better Bread. Better Subs." they began a legacy of meticulously crafting the finest sandwiches possible. Driven by a belief that "there is no substitute for quality," they used bread baked daily, ingredients sliced deli fresh, and grilled subs made to order--a cuisine philosophy we are proudly known for today.
Setting the stage for change
Now that I've introduced you to our Midwest sub shop, let's talk about its reinvention. In May, we announced that we are rolling out a streamlined look and feel across all of our restaurants as we seek to expand our footprint further into the Midwest. This will be accomplished through a new in-store and exterior design concept, remodeling of all existing locations, and rebranding of key brand attributes. However, the road to a revitalized Cousins Subs has been years in the making, and the journey did not come without its hurdles.
We first had to take a step back to ask ourselves, "Why are we doing this?" The answer? Because we "Believe in Better" through the continual improvement in everything we do. That is our mission at Cousins Subs. We believe our guests deserve a better product, served in a better environment, by team members who genuinely care. The idea that we are continually improving is exciting because it means that tomorrow will be better than today, and that only means good things for our guests. So with that in mind, for the last few years we embarked on a new journey that started with peeling back the onion and evaluating every part of our concept. We reevaluated and adjusted not only to remain relevant in a sea of competition, but to further communicate to guests our vision and values.
Along the way, like many others in our industry, we hit a roadblock as we felt the impact of the 2008-2012 economic decline. As a result, our leadership team has taken a calculated and thoughtful approach to our rebranding and growth strategy. We evaluated all upcoming franchise agreements and corporate locations, closed underperforming and noncompliant stores, determined what units would be viable sites for the next 10 years, and worked with our franchise partners to secure their commitment to reinvest in both the remodel of their locations and other strategic initiatives.
By taking the time to efficiently evaluate what changes had to be implemented, and by taking the necessary steps, we were able to strengthen our unit-level economics, create a stronger core of franchisee partners, and solidify our future in existing markets by positioning ourselves as an appealing investment to future multi-unit franchisee prospects.
Welcome to the new Cousins
Legacy brands can often lack one key ingredient--consistency--and our brand fit this category. To address this, we set out to rebrand starting with updating our logo, packaging, and uniforms to better communicate who Cousins Subs is to our guests. The new logo package consists of a series of marks, which allows more flexibility and features the return of the brand's original iconic logo of the two original cousins. Packaging concepts, which are still in development, will offer a minimalist and crisp design, allowing for versatility in logo use, and uniforms will take a more casual approach featuring an industrial, old-school sub shop look.
A significant phase of our rebranding efforts includes remodeling all existing restaurants to unify the brand in look and feel. In response to consumer demands, we created a modern, inviting environment that delivers on our unique identity. This is achieved through showcasing our history, Milwaukee roots, personality, values, and cuisine philosophy in the new "Milwaukee Sub Shop" restaurant design. Every element of our new design reflects our Midwestern roots by incorporating timeless trend designs, such as natural materials balanced by solid surfaces, stone walls, wood floors, earth-toned color palettes, industrial finishes, and the original Cousins Subs logo. Aside from our consistent product across all our locations, the remodels are our most obvious pursuit at creating system-wide consistency.
As the fast casual space continues to evolve, consumer trends indicate that guests favor interaction with frontline staff while they customize their sub and observe their order being made. As a result, we've created the "Project Henry" make line ordering process--a nod to Henry Ford's assembly line. All new Cousins Subs restaurants outside of Wisconsin will feature both the Milwaukee Sub Shop design and Project Henry make line. Existing locations due for remodel upon renewal and any new Wisconsin development will all feature the new design, but only select locations will test the Project Henry make line at this time.
We've also completed a new exterior design package that will be rolled out and carries through the earth-toned color palette, wood features, and industrial finishes--reflective of what guests will experience once inside the restaurant, further establishing consistency.
Overall, through the rebrand our goal is to showcase to guests how we've made improvements in our store environment, and how we're better communicating our story and what we value. Each facet of our rebranding and remodeling efforts has set the stage for expansion into additional markets--both corporate- and franchise-owned.
Our Vow
I'm excited about the future of Cousins Subs and the growth opportunities ahead. I absolutely believe we have the best sub sandwich in the market, and that more people need to enjoy what Milwaukeeans have enjoyed for more than 40 years. We will bring our brand to new regions and embed ourselves in new communities. We will continue to set the benchmark for what a high-quality sub should taste like, and give our new guests a taste of "better" and everything that stands for. We will continue to stay focused on our local communities and partner on initiatives that are important to them. As the daughter of Bill Specht, founder and chairman, I couldn't be more connected or proud of the brand and what we've achieved.
Christine Specht is president and CEO of Cousins Subs.
Published: September 21st, 2016
Share this Feature
Recommended Reading:
Comments:
comments powered by

Disqus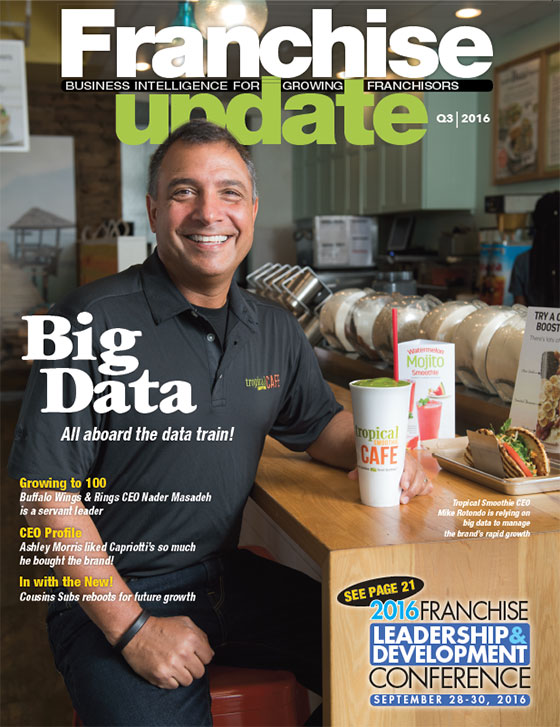 Franchise Update Magazine: Issue 3, 2016
Conferences
InterContinental, Atlanta
OCT 18-20TH, 2023
919 Marketing Co. is a national content marketing, PR and social media agency serving franchise brands. Our proprietary social relations approach...
UMI has over 23 years of experience supporting fast-growing multi-unit brands. From strategic planning to design, execution to analysis, UMI...