Is It 2012 All Over Again?: Will Congress Finally Act Fiscally Responsibly in 2013?
In all likelihood, 2013 will feel a lot like 2012. Only two significant factors could change the economic environment in 2013 from the past two years of choppy, but painfully gradual improvement.
One factor--global conditions--is unpredictable and largely out of the control of any of us. Global weaknesses are outside our control, but weigh heavily on the recovery. And it's unlikely many positive shocks are looming in the next year or two internationally. We can't expect much from Europe any time soon. BRIC countries are unpredictable, led by China's apparent slowdown.
The other factor--our own Congress--is within our country's control. Unfortunately, I don't have very high confidence in a positive outcome. If the politicians in Washington somehow are overwhelmed by a strong dose of common sense (I hold out very little hope for this), the influence a compromise will have initially is big, in that it removes uncertainty. Knowing what tax and spending environment we will have for the next few years will help all of us make better business decisions. We have a growing lag in capital spending caused by uncertainty; a compromise will reduce that uncertainty and stimulate basic economic growth. The same is true for consumers: uncertainty will diminish and spending decisions will be made and not delayed. However, many of the spending decisions may be to not spend for the following reasons.
Public debt is above 100 percent of GDP. Not only the federal government, but also some of the most populous states, have no ability to spend their way back to economic health. Although household debt has started to come down from all-time highs, it is only at 2006 levels and still well above historical norms. We simply took about 10 years of normal consumer and government spending and compressed it into seven. Earning our way back to normalized spending levels is still a few years away.
Further, a lot of consumer spending ability is in the hands of older Americans, who are starting to enter a retirement-spending mindset. Since 1965, the ratio of Social Security covered workers to beneficiaries has dropped from four to below three. This ratio is headed lower, and we can't do anything about it quickly because it's a generational issue--unless we do something such as open our borders to massive immigration, which usually involves younger people.
Finally, hundreds of years of economic history has shown that rebounds from downturns caused by financial crises come in three phases and take 7 to 10 years to find a new normal. This time around the first phase, marked by capital contraction from consumers, businesses, and government, lasted until 2011. We're in the second phase now, revealed as a gradual willingness for capital providers to begin lending again, albeit very conservatively. By historical standards, this phase should last another two to three years. Thereafter, we will reach a new normal where consumers are optimistic, businesses are expanding, and capital providers are willing to move out further on the risk curve, pricing loans to reflect differential risk.
All these factors lead me to conclude that we are two to three years away from seeing significantly improved confidence levels, the most reliable indicator of economic activity. Therefore, the ability of Congress to alter the 2013 economy is indeed limited on the upside. However, they can significantly affect this forecast on the negative side. As I write, the fiscal cliff is real, and further delaying a willingness to meaningfully address the underlying issues--primarily tax policy and the social safety net--will lead only to further uncertainty. And uncertainty is the enemy of making job-creating investment decisions.
To be sure, the Fed has done all it can to buy time for Congress to get infected with common sense. Interest rates are at unprecedented lows, which at first had a modest stimulus effect. However, few consumers or businesses are waiting for interest rates to drop another 25 basis points before making an investment decision. The cost of debt capital is so low right now that it isn't much of a factor in investment decisions. This manufactured low-interest strategy will work for only another year or two, at which time we are likely to see a rapid rise in interest rates, putting a big damper on the recovery.
Through all of this, consumers and businesses have remained quite optimistic, a clear cultural difference that Americans have always had. Taken as a whole, businesses have lowered their debt-to-capital ratios and are sitting on a lot of cash. Banks also are sitting on a lot of cash. If Congress can remove the uncertainty that is within their power, we will have a decent recovery over the next two to three years. However, if Congress continues to perfect the business of finger-pointing and blame, it makes it very hard for businesses and consumers to make capital expenditure decisions they will have to live with for many years to come.
---
Darrell Johnson is CEO of FRANdata, an independent research company supplying information and analysis for the franchising sector since 1989. He can be reached at 703-740-4700 or djohnson@frandata.com.
Published: March 20th, 2013
Share this Feature
Recommended Reading:
Comments:
comments powered by

Disqus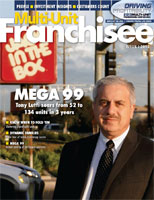 Multi-Unit Franchisee Magazine: Issue 1, 2013
Why open a dog daycare franchise with Dogdrop? Dogdrop is a modern brand that is technology-focused, offers unparalleled support as well as ease of...
Cash Required:
$100,000
Pizza Factory houses hardworking owners, family-friendly dining and high-quality products. Restaurant design options include a Pizza Factory Express...
Cash Required:
$90,000