Is There a Merger in Your Future?: Why Mergers Could Become A Hot Strategy This Year
Mergers and acquisitions (M&A) have been an instrumental component in franchising over the past two decades, particularly as a growth vehicle for expanding companies. Historically, most transactions in franchising have concentrated more on the "A" than on the "M." Some of the primary drivers for this have been cultural and business trends deeply entrenched within franchising. However, the current global financial crisis and franchising's own changing dynamics may alter this.
Why acquisitions have dominated
Historically, the franchise industry has been predominantly represented by entrepreneurs in the form of franchisees and emerging franchisors. Given this fact, franchise companies often have a "lifecycle" pattern similar to that of the founding entrepreneur. This lifecycle typically follows a natural path that includes the following stages: market entry, initial growth, moderate expansion, harvest, and eventual exit.

This last phase has traditionally created the main supply of acquisition opportunities in franchising. In the exit stage, the entrepreneur is ready to retire or move on to the next venture. No longer interested in managing the business and/or maintaining the associated financial risk, franchisee and franchisor owners pursue a sale of the business rather than a merger. Generally speaking, a merger does not satisfy the entrepreneur's objective to effectively walk away from all financial and personal interests in the company and maximize exit proceeds.

Equally important is the fact that, historically, the marketplace has largely cooperated with the strategic plans of owners seeking an exit through a sale of their company. The availability of debt and equity capital, coupled with a relatively positive financial performance, resulted in acquisition multiples that generated profitable sell-side opportunities. Such flexibility within the capital markets facilitated a general preference for sale transactions, rather than other forms of business combinations, such as mergers.

Last, we cannot ignore the fact that many of the entrepreneurs who built franchising over the decades took great pride in their companies and operated them in a very personal and independent manner. A merger introduces the concept of shared control and decision-making. For many owners, the thought of merging with another organization and giving up their autonomy has little appeal.
Why mergers now?
In the present economy, owners are exploring all internal options that will enhance their companies and keep their businesses financially sound. Operating practices and policies are evolving to provide maximum financial efficiencies. Staffing levels have been reduced, and all aspects of internal operating expenses are being examined. In addition to these strategies, mergers can provide companies with additional benefits in these areas that may not have been previously considered.

Administrative overhead is one area, largely untapped, where a merger can provide greater financial efficiency. Independent companies are performing administrative and supervisory functions that, when viewed on a system-wide basis, are duplicative and inefficient. In the past, the acquisition/consolidation model sought to benefit from this inefficiency by acquiring these companies and eliminating the excess G&A expenses. Consolidation of related companies through a merger also can eliminate this excess and provide substantial financial savings.

On an operational basis, a merger can provide an opportunity to combine companies that are more powerful than their parts on a standalone basis. Combining businesses in adjacent markets can create greater geographical control and market share and add new team members in the field who can provide greater depth and expertise in operational decision-making. Franchisees often complain of conflicting marketing and advertising strategies within a particular market, or find varying menu pricing or store conditions to be a challenge in presenting a consistent brand identity to the consumer. A merger can eliminate some of these challenges and potentially provide synergies. And at the top of an organization, a successful system of shared control may combine years of talent and experience to maximize future performance of the business.

Additionally, mergers can assist owners of a business experiencing financial challenges in the current economic environment. A company with moderate to significant sales declines over the last two years has felt the impact of significantly reduced cash flow. Consolidating the resources of two companies through a merger can provide a solution to today's challenges while preserving the future for the equity holders.

Finally, a merger also can provide significant financial benefits when an eventual exit stage is reached. Creating a larger organization with greater market control, significant revenue and earnings, and a deep and experienced management team generally improves access to all forms of capital. Most important, it dramatically increases the number of buying groups willing to entertain such an investment, which can have a positive impact on pricing and overall execution.

A merger of a franchisee or independent franchisor is not a strategy for every company. However, ownership groups seeking additional alternatives to strengthen their position should consider whether the benefits of a merger could be right for their company.

Dean Zuccarello, CEO and founder of The Cypress Group, has more than 25 years of financial and transactional experience in mergers, acquisitions, divestitures, strategic planning, and financing in the restaurant industry. The Cypress Group is a privately owned investment bank and advisory services firm focused exclusively on the multi-unit and franchise industry for more than 17 years. Contact him at 303-680-4141 or dzuccarello@cypressgroup.biz.
Published: January 25th, 2010
Share this Feature
Recommended Reading:
Comments:
comments powered by

Disqus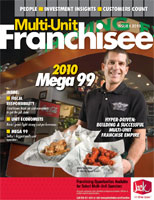 Multi-Unit Franchisee Magazine: Issue 1, 2010
Daddy's Chicken Shack believes in simple, high-quality ingredients with a lot of love.
Marco's Pizza is the nation's fastest-growing pizza brand* with 1,100+ stores and counting. It is America's No. 5 pizza brand based on annual...
Cash Required:
$286,852