It All Began with a Haircut...
Great Clips operator found his brand and hasn't looked back

In 1993, Grant Simon had his heart and mind set on identifying a franchise he could commit to. He found it while getting a haircut.

"I must have been doing due diligence for 20 different franchise opportunities at the time," he says. "I decided to do something I knew about, and since I was a customer I picked Great Clips."

Since his first jump into the Great Clips franchise in Atlanta, Simon has acquired a chain of 15 locations, and he and a partner recently bought the master development agreement for Tallahassee, Fla., where three locations are already open.

Twelve years ago he sold out his interest in another franchise and, aside from some small side businesses, has devoted himself to Great Clips.

"Atlanta has been a good market for Great Clips," he says. "The population is really growing, especially in the outlying suburbs. I've owned and operated 10 to 15 others that I since sold. Now I'm back to a growth mode." He's set to open three more in the coming months and intends to continue adding Great Clips units and keeping them.

Simon's first foray into the working world came after he earned his business degree with a concentration in finance from the University of Florida. It wasn't long before he became an area supervisor for a group of convenience stores, and from there he set his sights on running his own business.

"I got the bug. I didn't want to work for anyone else, I started looking for franchise operations, and I found Great Clips in the end," he says.

To succeed as a multiunit franchise operator, says Simon, requires an ability to identify issues quickly and build a team that makes things happen. "I've hired people who are better than I am, and it allows me to be better." For example, he says his general manager is a much better operator than he is. "And I couldn't have her unless I had multiple units."

Also, he's learned, "Having multiple units can free up your time to do more. It seems that the more units I have, the easier my job becomes. I can focus on the real estate side and the policies and procedures—the things that matter for a company. I'm not tied up in day-to-day things that can take up a lot of your time and make you lose focus."

Name: Grant Simon
Title: President
Company: Simon Clips Inc.
No. of units (by brand): 18 Great Clips
PERSONAL STATS
Age: 43
Family: Wife and two daughters, 14 and 8
Years in current position: 15
Years in franchising: 15

Key accomplishments: My major accomplishment has been to grow on cash flow. Until Tallahassee, I never took out a bank loan. It makes things less stressful, although I could have grown faster by leveraging myself.

Biggest mistake: My original general manager stayed with me for seven years, maybe two years longer than I should have kept her. The position outgrew her. I stuck with mediocre results and problems and issues much longer than I should have. After she left, the company was re-motivated, I was re-motivated, and the company became a much better place to work for all the employees.

Smartest mistake: The second location I purchased 14 years ago. I was just buying the assets to relocate the business. When I got in there to close it, I started talking to the people there and decided it needed to stay open. That proved successful.

How do you spend a work week, typically? Sometimes I work 30 hours and sometimes I work 100 hours. It just depends on what's going on that week. There are periods when I can't seem to have enough time in a week, and I have times when everything is running very smoothly and I don't have any big projects. The average is probably 60 hours.

Favorite activity: Wakeboarding with the kids.

Exercise: I work out 3 times a week. I run as well as play tennis. I'm pretty adamant about physical fitness for my age. Plus it helps me relieve any stress I may have.

What do you do for fun? I love to travel. Our family goes on several trips every year. I like to mountain bike, ski in the winter, and do all water sports in the summer.

Books/magazines recently read/recommended: I'm finishing The Kite Runner. I usually read during the summer. BusinessWeek is probably my favorite magazine. Fortune Small Business, Inc., the local business chronicle.
MANAGEMENT
Management method or style: I hire the right people and expect them to do the job. If they do their job, I don't have to get into the micromanagement routine. I find people who are self-motivated and care about the company. I spend a lot of time on recruiting. I don't accept mediocrity. I'm fair, but I also demand results.

How close are you to operations? I look at all of the salon metrics every morning. I communicate with the management team daily, and I try to do salon visits on a weekly basis.

Greatest challenge: Increasing sales, providing better customer service, finding the right people.

Personality: Focused, pragmatic, and always optimistic.

How do you hire and fire? We try to screen well. We are very selective. We're looking for people who are part of a team. When they start causing problems or when they're not part of the team we're quick to identify the problem and terminate.

Find good people? Referrals are the best way. Cosmetology is a small world in any area and you develop a reputation over time. People want to come to work for us, typically because they've been told about us.

Train them? We have an extensive training program. Great Clips provides us with a training module, and we send people to a training class. They provide a high level of instruction at their facilities. We get them back and then we train them about our company and our company culture. We take that part of it very seriously.

Retain them? The main way we retain people is by providing a good company culture, an environment they enjoy working in. And we pay them well.

"Growth meter"—How do YOU measure your growth? The main way we look at growth is through customer counts. If customer counts increase, then we're growing.

Annual revenue: $4 million in 2007

2008 goals: Growth. Add more stores, build up Tallahassee and acquire new master development agreements covering other markets.
Published: September 29th, 2008
Share this Feature
Recommended Reading:
Comments:
comments powered by

Disqus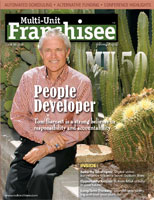 Multi-Unit Franchisee Magazine: Issue 3, 2008
Anytime Fitness makes wellness approachable for millions of members and gives franchisees the opportunity to be a part of a worldwide family of...
Cash Required:
$175,000
PetWellClinic is a walk-in veterinary clinic offering basic health and wellness services to dogs and cats. PetWellClinic is the first vet clinic...
Cash Required:
$250,000