It's Mega-nanimous! Six Inspiring Stories to Start the Year
We're starting the year in our usual way: with our "Mega 99" list of the largest U.S. franchisees, ranked by total number of units. We also feature profiles of six successful multi-unit operators--including a Reconnect with Shirin Kanji; a profile of a former NFL player turned franchisee Jason Avant; and an Under 30 profile with Tommy Hoopsick, who became a franchisee at 19--along with 3 more profiles (see below). Together they provide a broad spectrum of size, industries, and scope of operations. Perhaps more important, each has been successful in their own way and has a unique story to tell--and learn from.
Successful franchisees, from mega to micro, must learn to become leaders, CEOs of their own organizations who know how to make deals happen, hire the right people, and create a dedicated, hard-working team, both internally and on the front lines. With the right combination of skill, brains, heart, and soul, they're able to create, build, and sustain franchisee organizations that provide high-quality products and services, top-notch customer service, a wide range of job opportunities and training in their communities, and build revenue and royalty streams for their brands.
Once again we are privileged to have been granted a look into the lives of six franchisees who have carved their own pathway to success. These are highly personal stories of how they've overcome obstacles and grown not only their organizations, but also their employees and themselves in the process. It's rewarding and inspiring for us--and we hope for you--to read their stories, now in progress at hundreds locations near you.
Michael Kulp (cover) has built a 64-unit, $70 million franchise organization into a 777-unit (691 KFCs and 86 Taco Bells), $780 million behemoth employing 14,000 people--and is far from done. He's shooting to hit $900 million in annual revenues this year, and plans to stick around for the foreseeable future. Asked about his exit strategy, he quipped, "What would I do all day long?"
Brent Veach is Del Taco's largest franchisee, with 29 in Arizona and 21 in Colorado. The CPA left the corporate world for franchising in 1999, investing in three Del Taco locations in Phoenix. "I loved the product and thought the company was large enough to be a strong regional player and small enough for me to come in and make a meaningful impact. I thought if I could get to three to five stores it would make a nice little business."
JD Busch, with 90 units (60 Amazing Lash Studio and 30 Massage Heights), plans to add 40 more Amazing Lash locations this year alone. Since 1995, he's had a knack for spotting brands on the rise and getting in early. Today he's most excited about his own new venture: Manage 2 Profit, a franchisee management software package he's created based on his own desire to track the KPIs of his multiple units through a single dashboard.
Shirin Kanji (Reconnect), whose family business operated 6 franchised hotels when we profiled him 3 years ago, has since diversified, adding 36 Rent-A-Centers (to the 40 they'd just acquired), 2 Carstar shops, a BurgerFi, and even a Starbucks. That expansion has boosted Impact's annual revenues from $60 million to more than $85 million. Best advice he ever got? "Focus on the things you can control."
Jason Avant (Athlete) grew up on Chicago's South Side where gangs, drugs, and violence are all to common. Abandoned by his mother and raised by his grandmother, he was able to escape the dead-end path he was heading down. "My grandmother and aunt encouraged me to go to church and stay in school," he says. It worked: after a decade-long NFL career, he now operates 3 Launch Trampoline Parks, and says he's now had 2 winning careers.
Tommy Hoopsick (Under 30) became a Ductz franchisee at 19, thanks to his terrific work ethic, a little help from the seller (his friend's father), and a fanatical dedication to making his new business a success. Asked how he balances life and work, the 25-year-old replied, "I don't. I am completely dedicated to my businesses."
Mega 99. Be sure to check out our annual ranking of the country's largest multi-unit franchisee organizations, ranked by number of units, following the profiles.
Published: February 28th, 2019
Share this Feature
Recommended Reading:
Comments:
comments powered by

Disqus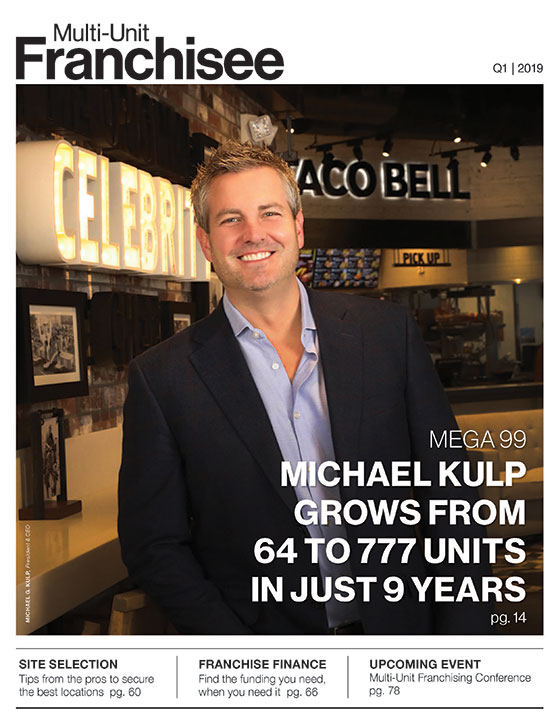 Multi-Unit Franchisee Magazine: Issue 1, 2019
Einstein Bros. Bagels is the largest fast-casual bagel brand, known for its freshly-baked bagels, made-to-order hot sandwiches, signature shmears...
Cash Required:
$564,300
Founded in 1959, Ziebart provides premium automotive appearance and protection services to extend the life of vehicles. Recently ranked #1 in its...
Cash Required:
$150,000