Just Desserts!: Modern-day Renaissance Man Strives For Perfection
Americans' love affair with big, chewy cookies was just taking off in the late 1970s when Lawrence "Doc" Cohen exited the retail pharmaceutical industry after 15 years to open his first Great American Cookies store in Lafayette, La. Nearly two decades and 35 units in seven states later, the Baltimore native sold his company, Deblan Corp., to Mrs. Fields Famous Brands. But he didn't retire from the cookie business, which he describes as having "great resilience." Far from it.
By 2002, Cohen had reacquired the Houston market for Great American Cookies and today is one of the brand's top franchisees, with 18 stores in the Houston area. And as president and CEO of LJC Management, he also owns multiple Pretzelmaker, TCBY, and Coffee Beanery units.
Cohen, who holds both pharmacy and law degrees from the University of Georgia, has never rested on his laurels. He was founding president of Great American Cookie's Franchise Advisory Council and a founding member of the Independent Association of Great American Cookie Franchisees. In 1993, he became one of the first franchisees to join the IFA when it opened membership to franchisees.
"I figured this was an opportunity to learn about the other side of franchising," he says. "Getting involved with the IFA was beneficial to me and helped put me in a position to give something back and share what I know. I learned that the relationship between the franchisor and the franchisee is really a sort of partnership; one can't be successful unless the other succeeds as well."
Cohen also was the first franchisee to earn the IFA Educational Foundation's CFE designation, and the second to assume the chairmanship of the IFA Board of Directors.
Cohen (whose nickname originated during his pharmacy school days) made history again earlier this year when he became the first franchisee inducted into the IFA's Hall of Fame. The award, presented to Cohen at the IFA's annual convention, recognizes individuals who have contributed to the advancement of the IFA and the franchising community.
"The experience was quite humbling. I just shook my head and wondered how I got my picture hanging next to those folks ," he says. "The truth is that you rarely achieve anything by yourself. You always have help along the way. That's why it's important to remember that the same people you met on the way up are the same ones you'll encounter on the way down."
On the heels of his 2011 Multi-Unit Franchisee magazine MVP Award and being named the first recipient of the Great American Cookies Hall of Fame Award, Cohen is taking a brief vacation in France, where he plans to drink fine wines and visit vineyards and wineries. A modern-day Renaissance man, Cohen, a philanthropist who lives in an elegant 8,000-square-foot home in Tomball, Texas, is an oenophile, a serious cook, and an art collector. Although he has considered buying a vineyard and winery, he doesn't want his beloved hobby to be tainted by "work."
As for business, he has no plans to retire and is considering taking on additional brands. "I'd like to see our company with 100 stores someday," he says.
Whatever brands he may add, Cohen also plans to stay close to his cookie roots. "I've seen frozen yogurt, popcorn, and other products come and go, but cookies continue to pop. You can just buy one and walk around eating it. It's not messy and it's not expensive. Americans have a real love affair with cookies."
Questions
Name: Lawrence "Doc" Cohen
Title: President and CEO
Company: LJC Management Inc.
No. of units: 26 locations (some co-branded): 18 Great American Cookies, 11 PretzelMaker, 3 TCBY, 1 Coffee Beanery
Personal
Age: 71
Years in franchising: 31
Years in current position: 31
Key accomplishments: Being the first-ever franchisee inducted into the IFA's Hall of Fame (2011), the first-ever franchisee to earn the designation of Certified Franchise Executive from the IFA's Educational Foundation, the second franchisee in history to assume the chairmanship of the IFA Board of Directors, the first recipient of the Great American Cookies Hall of Fame Award (2011), a recipient of the Multi-Unit Franchisee magazine MVP Award (2011)
Biggest mistake:
Selling the company in 1998.
Smartest mistake:
Selling the company in 1998.
How do you spend a typical day?
Every day is different. None are typical.
Work week:
Monday through Saturday, although I've been trying lately to take Saturdays off.
Favorite fun activities:
Cooking, collecting wine, and visiting wine country.
Exercise/workout:
Who has time?
Favorite tech toys:
All of them, although currently my iPad.
What are you reading?
Tom Clancy's Dead or Alive and Decision Points by George W. Bush
Do you have a favorite quote/advice?
Do the right thing!
Best advice you ever got:
The people you meet on the way up are the same people you meet on the way down.
Formative influences/events:
So many people have influenced me. Going back to my retail days, two brothers owned the drugstore chain I started with years ago in Savannah, Georgia. The younger brother, Mark Hacken, who is now retired and living in California, taught me the meaning of integrity, honesty and treating people fairly. He treated every salesperson who showed up with respect, even if he had no intention of buying from them. That's where I learned about meeting the same people on the way up as you meet on the way down. My Mother also was a great influence.She taught me to appreciate the arts and the finer things in life--even when we couldn't afford them. She taught me that you get what you pay for.
How do you balance life and work?
It all seems to work out.
Management
Business philosophy:
The person at the top of our organizational chart is the customer.
Are you in the franchising, real estate, or customer service business? Why?
All of these, but it's really all about the customer.
What gets you out of bed in the morning?
Usually the alarm clock.
What's your passion in business?
Creating the perfect customer experience.
Management method or style:
Surrounding myself with people smarter than I am.
Greatest challenge:
Finding those smart people.
How close are you to operations?
Very.
Have you changed your marketing strategy in response to the economy? How?
No. We just try to be better at what we are doing.
Personality:
I try not to take myself too seriously. I work hard and I love my work.
How do others describe you?
As a perfectionist.
How do you hire and fire?
Carefully, especially with firing.
How do you train and retain?
By challenging people to be the best at what they do.
How do you deal with problem employees?
Every situation is unique so we deal with each accordingly.
Bottom Line
Annual revenue:
Prefer not to answer.
2011 goals:
To return to a growth mode.
Growth meter: How do you measure your growth?
We look at year-over-year sales and bottom-line improvement.
Vision meter: Where do you want to be in 5 years?
Napa, California.
10 years? Bordeaux, France.
How has the most recent economic cycle affected you, your employees, your customers?
It has been very tough on everyone. We have all had to do more with less and still provide the perfect customer experience. We've devoted lots of long hours and been dedicated to being the best.
Are you experiencing economic growth/recovery in your market?
Yes, sales have been very strong this year.
What did you change or do differently in this economy that you plan to continue doing?
We are watching costs much more closely.
How do you forecast for your business in this economy?
Right now we have moved from month to month to a quarterly forecast.
Where do you find capital for expansion?
Have not looked.
Is capital getting easier to access? Why/why not?
No. Lenders are still gun-shy of the regulators. There is still much uncertainty. Until the unemployment situation improves dramatically, I think we continue down a bumpy road.
Have you used private equity, local banks, national banks, other institutions? Why/why not?
We have a long and good relationship with a national bank. We are too small to attract private equity.
What kind of exit strategy do you have in place?
I am going to work until the very end.
What are you doing to take care of your employees?
We are still providing the same benefits that we were providing before the crash. We have always tried to be there for our associates.
How are you handling rising employee costs (payroll, healthcare, etc.)?
At the moment, we are absorbing those costs. This may change when we learn the real cost of the new federal healthcare requirements.
How do you reward/recognize top-performing employees?
Trips, time off, prizes, award ceremonies, and when appropriate, bonuses.
2011 MVP AWARD WINNER
You were recognized for demonstrating outstanding performance and innovation in growing your organization and brands.
Tell us what you did. I built an organization of people and they built our company. We have always tried to be the very best at what we do while sharing our ideas with our fellow franchisees. We also know that we learn every day by listening to the others in our system.

As a multi-unit franchisee, how have you raised the bar within your organization?
We never settle for "good enough" because as everyone knows, it never is.

 

What innovations have you created and used to build your company?
I don't know if it was an innovation, but in our company we have a "We" mentality. We work together, share our successes, and strive to correct our failures.

What core values do you feel led you to win this award?
People make it happen. Place the highest value on people because, no matter how much talent, drive, and desire a leader might have, if you can't sell it to your team it won't happen.
Published: August 1st, 2011
Share this Feature
Recommended Reading:
Comments:
comments powered by

Disqus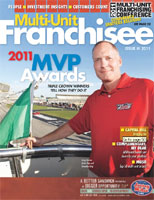 Multi-Unit Franchisee Magazine: Issue 3, 2011
With a passion for creating happy 'Human Beans', the company's drive-thrus have established a reputation for friendly baristas, high-quality coffee,...
Cash Required:
$200,000
If you are looking for a business that is meaningful and fulfilling, you should take a closer look at Bruster's® Real Ice Cream Franchise!
Cash Required:
$125,000