Keeping It Simple--Big Time!
Charles Smithgall sets ambitious goals for his Aaron's empire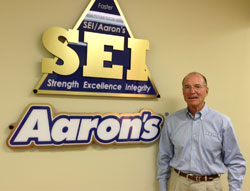 Keeping the business model simple has paid off handsomely for Charles Smithgall over the past 18 years he has been an Aaron's franchisee. "This is my fifth career, but my first in franchising," says the 71-year-old. "It's a fantastic business model because it allows me to focus on operations and execute. Everything else has already been worked out."
And working out it is for Smithgall. When we last spoke with him (MUF 2008, Q4), his SEI/Aaron's company had 61 locations in 7 states. Today, he has 105 locations in 10 states. And though he's preparing to hand over the reins to his son, Chas, in January 2015, Smithgall is not slowing down--in fact, he's stepping on the accelerator.
"We're right in the middle of a 10-year goal to grow to 200 stores, $250 million in net revenue annually, $20 million in net profit annually, and to create 25 millionaires within our system," he says. Bold goals to be sure, but Smithgall is just the kind of person who can make it happen.
"Our business is all about people," he says. "We need great people, especially our store general managers. We search hard for the best and test them, and when we find them we reward them and treat them right so they stay with us for a long time."
His goals may sound big but, he says, but "If I didn't have goals I'd probably still be operating five stores." Growth obstacles for Smithgall's company have little to do with capital or acquiring territory. Rather, it's hiring and retaining great people that present the biggest challenge. "I'd guess about 90 percent of the general managers throughout franchising would not be able to successfully operate an Aaron's store," he says. "Our managers not only have to make the sale, they have to collect the dollars."
That's no easy task, he says, because "Our customers are always in a financial crisis." Aaron's is there to help them, which is one of the beauties of the brand's business model.
Smithgall, who calls himself the company's "cheerleader," is still active and on the road regularly. When we spoke, he had just finished a three-and-a-half day trip that saw him travel more than 1,500 miles, visiting 32 of his stores across 5 states. He leaves his home base in Atlanta to visit his stores throughout New England every week.
SEI/Aaron's has grown over the past five years from a combination of acquiring existing franchisee stores, company-operated locations, building new stores, and converting independent stores into the Aaron's brand. "I'll do whatever deal makes sense," he says.
Asked if he had ever considered additional brands, Smithgall quips, "I already know this business model, why would I go and have to learn another?" Seriously, he says Aaron's is a great company with plenty of expansion opportunities, and he's hoping to get in on the brand's HomeSmart concept. So far those stores are all company-owned, but if Aaron's offers HomeSmart franchises, Smithgall plans to be at the front of the line.
It's been a great ride for this Southern gentleman, who recalls his 90-year-old father asking him what he was doing 18 years ago when he was first kicking the tires of the Aaron's brand. "He said to me, 'Son, if you're gonna hitch your wagon to a star, make sure it's a rising star.'" It was, and nearly two decades later his star is still rising.
Name: Charles A. Smithgall, III
Title: Chairman & CEO
Company: SEI/Aaron's, Inc.
No. of units: 105 Aaron's Sales and Lease Ownership
Age: 71
Family: Wife Griff, son Chas (32), daughters Meghan (29) and Jessica (26)
Years in franchising: 18
Years in current position: 18
Personal
First job:
Holder Construction Company.
Formative influences/events:
Great mentors: Dad, Georgia Tech Football Coach Bobby Dodd, Georgia Tech Athletic Director Homer Rice, Bob Holder, Ted Turner, and Charlie Loudermilk.
Key accomplishments:
I've been lucky enough to be part of developing a great little company.
Biggest mistake:
Paid too much for real estate and stuck too long with under-performing general managers.
Smartest mistake:
Being in the right place at the right time.
Decision I wish I could do over:
Begin purchasing our real estate sooner.
Work week:
I usually fly out of Atlanta an average of 3 days per week and visit 20 stores per trip.
How do you spend a typical day?
I'm on the road about 300 days per year visiting stores, calling GMs to cheer them on, and calling new associates to welcome them to SEI/Aaron's, Inc.
Favorite fun activities:
Traveling, fishing, hunting, and golf.
Exercise/workout:
Two times a day for one hour with trainer.
Favorite tech toys:
None. I still have a flip phone.
What are you reading?
Rumsfeld's Rules, Total Recall, and The Heart of Mentoring.
Do you have a favorite quote?
It's your attitude rather than your aptitude that will determine your altitude.
Best advice you ever got:
Don't ever, ever, ever give up and don't ever, ever, ever run out of cash.
What gets you out of bed in the morning?
The fear of going broke.
What's your passion in business?
I love our SEI/Aaron's associates. I love the people at Aaron's, Inc., our franchisor, but most of all, I love our customers and making their dreams come true.
How do you balance life and work?
I work hard and play hard. My favorite time is being with my family.
Last vacation:
I take 25 vacations a year.
Person I'd most like to have lunch with:
There are three: Ronald Reagan, Theodore Roosevelt, and Abe Lincoln.
Management
Business philosophy:
"Surround yourself with people smarter and more talented than you are." In my case, they are not hard to find.

Management method or style:
Let people do their job and cheer them on when they do.

Greatest challenge:
Finding great talented associates.

How do others describe you?
Upbeat with the attention span of a gnat and high-energy.

One thing I'm looking to do better: Move faster... we're in a hurry. I'm liable to die before we get this done.

How I give my team room to innovate and experiment:
Our store teams have a great deal of flexibility on how they operate. All I want is for them to make all the money and win all of the awards.

How close are you to operations?
Fortunately, we have a great president and COO, Dave Edwards, who is totally immersed in our operational performance. I visit all 105 of our stores a minimum of four times a year, but my role is different than Dave's. I visit t to: a) meet our new associates; b) congratulate the general manager and staff on the success to date; c) note any real estate deficiencies, and d) greet every customer.

What are the two most important things you rely on from your franchisor?
Timely delivery of merchandise, effective brand advertising, and field support.

What I need from vendors:
Almost all of our vendors deliver to Aaron's, Inc. The franchisees receive merchandise from 18 store fulfillment centers placed strategically around the country. We can order on Monday and receive our order on Wednesday. It's a great system.

Have you changed your marketing strategy in response to the economy?
No.

How is social media affecting your business?
We are adapting to young people who want to shop online.

How do you hire and fire?
We hire slowly and terminate quickly, but usually not quickly enough.

How do you train and retain?
We have Aaron's University, which is a great online training resource.

How do you deal with problem employees?
Counsel, counsel, terminate.

Fastest way into my doghouse:
Don't do what you say you are going to do.
Bottom Line
Annual revenue:
$140 million.
2013 goals:
a) $750,000 in GAP; b) 7,500 customers; c) 94.9% collected; d) 9.5% profit in mature stores; e) 110 stores.
Growth meter: How do you measure your growth?
Number of stores and annual revenue.
Vision meter: Where do you want to be in 5 years? 10 years?
Five years: be a $300 million company.
10 years:
be a $700 million company.
How is the economy affecting you, your employees, your customers?
We haven't felt the economic changes in our company. We are as good as our people. The economy does not seem to affect our business. Our success is based solely on our operational performance.
Are you experiencing economic growth or recovery in your market?
We operate in 10 states, so no effect.
What did you change or do differently in this economy that you plan to continue doing?
Nothing.
Is capital getting easier to access? Why/why not?
It's easier because we have an 18-year track record of outstanding performance.
Where do you find capital for expansion?
We have a revolver with three bank participants and we have funding available for acquisitions.
Have you used private equity, local banks, national banks, other institutions? Why/why not?
National banks. It's simple, easy, no loss of control, and great rate.
What are you doing to take care of your employees?
We have a great 401(k) that matches 50 percent up to 6 percent. All associates are paid commission on performance, and we have what I think is the best compensation plan in the retail industry.
How are you handling rising employee costs (payroll, healthcare, etc.)?
We've been fortunate in controlling our healthcare costs because we have a great agent.
How do you reward/recognize top-performing employees?
We have an annual, all-expenses-paid excellence trip to someplace warm with our top-performing associates and spouses. Our general managers are compensated 16 percent of the pretax profit plus 2.5 percent of the net revenue of their store each month.
What kind of exit strategy do you have in place?
My son, Chas, who's 32 years old, is my successor. He will take over as CEO on January 1, 2015.
Published: February 3rd, 2014
Share this Feature
Recommended Reading:
Comments:
comments powered by

Disqus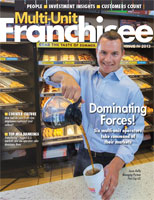 Multi-Unit Franchisee Magazine: Issue 4, 2013
American Freight is the leader in providing quality furniture, mattresses and appliances at everyday low prices. This franchise opportunity is...
Cash Required:
$150,000
After investing more than 45 years in building the most trusted brand in health and wellness, The Vitamin Shoppe is now franchising with only 234...
Cash Required:
$200,000