Krystal Klear: New CEO and PE Investor Seek to Renew 80-year-old brand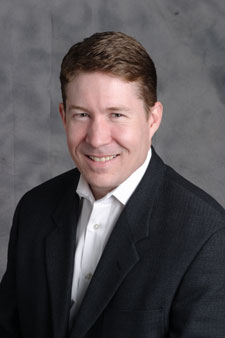 Doug Pendergast makes no bones about it when he says one of his goals for Krystal Burger is to focus the brand on being better, not bigger.
"We're excited to take this established brand that has a great history and make it even more relevant for existing and new customers," says the president and CEO who's been on the job only since last April. Following the recent acquisition of Krystal by Argonne Capital Group, Pendergast says this relationship will help refresh and reinvigorate the brand. "I hope we can look back in five years and see what a turning point 2012 was," he says.
Pendergast, who holds an MBA from Harvard, first dipped his toe in the waters of franchising in 2001 with AFC Enterprises, where he was vice president of corporate strategy. At AFC, he helped lead the brand to divesting its Seattle Coffee Company, Cinnabon, and Church's Chicken brands, which generated a 130 percent increase in shareholder value when the company sold in 2005. He then became the chief franchise officer for Church's Chicken, overseeing significant new store growth and unit returns.
He stepped outside of franchising for a spell in 2010 to work with a private equity firm putting together a deal to create CraftWorks Restaurants & Breweries Inc., whose brands include Old Chicago, Gordon Biersch Brewery Restaurants, and Rock Bottom Restaurant & Brewery. He then served as chief franchising and development officer for the new company. It was during this time, he says, that he really saw the positive power of private equity. "PE can provide a very disciplined focus with a medium- to long-term perspective on ROI," he says. Additionally, he says, private equity often can provide a brand with more tools and resources and an ability to pay down existing debt.
This past April, Pendergast took over as president and CEO of The Krystal Company, which has about 350 locations in 11 states throughout the Southeast. Once again, private equity fueled the deal when Tennessee-based Argonne Capital Group purchased Krystal and Pendergast took the reins.
Pendergast believes that his own progression through the "development" side of franchising benefits him as CEO. "That experience provides a growth-oriented focus to leadership," he says. "I think about expanding the business while fully aware of top-line sales and unit growth." He says he also has an eye for eliminating waste and improving productivity. "I think my experience allows me to balance an understanding of the bottom-line efficiency with the importance of top-line growth."
He's excited about his new role at Krystal and the future. "Energy and attitude are important intangibles in leadership," he says. "We are looking for these traits as we build our new management team because they're really top-down characteristics that benefit the entire organization."
Name: Doug Pendergast
Title: President, CEO
Company: The Krystal Company
Brand: Krystal Hamburgers
Age: 44
Family: Wife Jennifer, and twin 10-year-old daughters, Reagan and Laine
Years in franchising: 11
Years in current position: Less than 1 year
Leadership
What is your role as CEO?
A CEO has four main roles: 1) People: recruit, support, and develop a senior team of A-players. 2) Strategy: lead the development and ongoing refinement of a winning value proposition for team members, customers, and franchise partners. 3) Execution: drive the management processes and secure the financial investments necessary to consistently execute the strategy. 4) Culture: foster a culture that is aligned with our mission and consistent with our values.
Describe your leadership style.
My goal is to lead the organization in a fashion that is customer-driven, fact-based, personally engaging but demanding, collaborative and transparent, and fueled by rapid experimentation.
What has inspired your leadership style?
I learned at Procter & Gamble the power in engaging your customers in every aspect of one's business and investing the time, energy, and money to deeply understand your customers' perspective and experience. I learned at McKinsey & Company the power of fact-based decision making. With the right set of facts and analysis, you can change the mind of even the most stubborn senior executive. I learned from Harsha Agadi, my CEO at Church's, the power of combining deep, genuine engagement with each individual on your team with demanding high (and continually increasing) levels of performance. I learn from Aslam Khan, my largest franchise partner at Church's, the power of sharing detailed results across the organization and the impact of leveraging the energy and insights of your entire team. Finally, my girls have taught me the power of performing and learning from rapid experiments and learning from both successes and failures.
What is your biggest leadership challenge?
To instill in every manager in our company the importance of building a team of A-players and to equip every manager with the resources needed to do so.
How do you transmit your culture from your office to front-line employees?
1) Make hiring and promotion decisions based on capability, commitment, and cultural fit. 2) Communicate and reinforce your company's values, plans, and performance at every opportunity. 3) Ensure the senior management team visibly "role models" expected behavior. 4) Recognize and reward behaviors that support your culture (in addition to bottom-line results).
Where is the best place to prepare for leadership: an MBA school or OTJ?
It's not an apples-to-apples comparison. I've had some sort of job for the last 20 years, but spent just 2 years at Harvard. In total, the OTJ has taught me more about leadership, but the MBA was a great accelerator.
Are tough decisions best taken by one person?
Tough decisions, by definition, don't lend themselves to unanimous agreement. These decisions are made better when informed by group discussion. Ultimately, however, one person makes the call and takes responsibility.
How do you make tough decisions?
When possible, I take the following approach to making tough decisions: 1) Go and see the problem/situation firsthand. 2) Clarify what decision really needs to be made. 3) Gather and verify the critical facts. 4) Seek diverse and dissenting opinions. 5) Think through the implications of potential outcomes. 6) Make the call and measure the outcome.
Do you want to be liked or respected?
Respected.
Advice to CEO wannabes:
1) Be excellent in your current role. Don't get ahead of yourself. 2) Hire or develop your replacement. You can't get promoted if you're indispensable in your current job. 3) Build your network and never burn bridges. You never know who might influence your next big opportunity. 4) Clearly communicate your goals to others and have the confidence to ask for what you want.
Management
What does your management team look like?
It's composed of Al Ryan, our VP of operations; Craig Barton, our chief people officer; Brian Blosser, our VP of development and construction; Tom Peterson, our CMO; and Partha Mukherjee, our CIO. We are currently looking for a CFO. All of these individuals have years of experience in the foodservice industry with brands like Church's Chicken, Hardee's, and others.
How does your management team help you lead?
They help in multiple ways. 1) They are significantly more talented and capable than I am. 2) They know much more about their functional areas than I ever will. 3) They challenge and improve my thinking and decisions, 4) They role-model our values to their organizations and carry our message to the field. 5) We share a common goal for our company and we're working together on the best plan to get there.
Favorite management gurus. Do you read management books?
I actually far prefer to read management books written by proven business leaders (vs. those written by "gurus"). My favorites include: Gordon Bethune (former CEO of Continental Airlines) wrote From Worst to First; Gary Loveman (CEO of Harrah's Entertainment) wrote Putting the Service-Profit Chain to Work; Larry Light (former CMO of McDonald's) wrote Six Rules for Brand Revitalization.
What makes you say, "Yes, now that's why I do what I do!"?
When we can help create "life changing" success for our people and franchise partners. One example is a franchise partner at Church's Chicken. We were able to structure a deal that enabled him to buy his first Church's restaurant. Three years later he tracked me down at our annual convention and gave me a giant bear hug. He told me how he had grown his business to three restaurants and, because of his success, how he had been able to move his entire extended family from Pakistan to Texas. I was elated to have played a minor role in his huge success.
Personal
What time do you like to be at your desk?
5:00 a.m.
Exercise in the morning? Wine with lunch?
I find some way to exercise every day. I only drink wine when there's a reason to celebrate.
Do you socialize with your team after work/outside the office?
We socialize at the office, in the field, and when we travel together.
Last two books read:
Different: Escaping the Competitive Herd by Youngme Moon; This Time Is Different: Eight Centuries of Financial Folly by Carmen M. Reinhart and Kenneth Rogoff.
What technology do you take on the road?
Laptop, iPhone, back-up charger
How do you relax/balance life and work?
I use a combination of intense exercise and quiet meditation to relax. As for work and life, we pursue more of a blend than a balance. For example, my girls and I mystery shop stores together on the weekends. My wife takes our girls on her business trips. We add a vacation day on the tail end of a franchise convention.
Favorite vacation destination:
Anywhere in Italy.
Favorite occasions to send employees notes:
I love to send a handwritten note and a gift card to someone immediately following their demonstration of a core value.
Favorite company product:
For breakfast, low-carb Scrambler with sausage; for lunch, the double bacon-cheese Krystal burger; for late night, share a 12-pack of Krystals with friends.
Bottom Line
What are your long-term goals for the company?
In 5 years: 1) become the favorite QSR in the South; 2) sell out all development territory in our current 11 states; 3) grow to over 500 stores; 4) double the profit margins in company and franchise stores; and 5) generate a 10X return for investors.
How has the economy changed your goals for your company?
We're more focused on being better than being bigger, and we look for a greater margin of safety for investments.
Where can capital be found these days?
Capital is available from traditional sources. However, loan-to-value ratios have dropped dramatically. We see the best terms from banks with which franchise partners have long, established relationships.
How do you measure success?
We teach our kids that success is the ongoing process of giving your personal best in pursuit of worthwhile goals in a manner consistent with your values while helping others to do the same.
What has been your greatest success?
Convincing Jennifer to marry me.
Any regrets?
No. My mistakes and missteps have taught me more than my successes.
What can we expect from your company in the next 12 to 18 months?
From the outside, you should see the first wave of a fundamental brand renovation (new products, new promotions, new store designs, etc.) and a major relaunch of our franchise development program.
Published: November 28th, 2012
Share this Feature
Recommended Reading:
Comments:
comments powered by

Disqus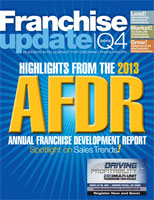 Franchise Update Magazine: Issue 4, 2012
Prisma has reinvented the marketing supply chain with an end-to-end solution that makes it easy to design, customize, order, download, print, kit,...
UMI has over 23 years of experience supporting fast-growing multi-unit brands. From strategic planning to design, execution to analysis, UMI...