Leaving the Law Behind: A Career Change To Franchising
After graduating from the University of Pennsylvania and Loyola Law School in Los Angeles, Danny Sonenshine quickly found himself working as a litigator and transactional attorney at major firms in Orange County.

It didn't take long for the Laguna Beach native to realize a few things about himself--realities that led him to leave the practice of law after six years for the very different field of franchising and restaurants.

"I didn't like working for someone else," he says. "And I didn't like not having any control over my schedule."

He recalls the lifestyle he and his family had when he practiced law. "I remember getting emails on my BlackBerry when I was in the delivery room with my wife. After my first daughter was born, my wife would bring her, along with dinner, to a conference room in the evenings so I could see them."

Seeking an entirely different lifestyle, Sonenshine says he considered going to business school and looked around for a couple of years to see what else he might do. "I thought about business and real estate. I'd always had an entrepreneurial streak in me. Not having attended business school or having run a business, I still thought starting a business was something that was not incredibly complicated, and that I could learn to do," he says. "A franchise seemed logical."

Although he "didn't know a thing about franchising or restaurants," Sonenshine heard that a couple of Wingstops in California were doing good numbers and that the franchisor was opening up the state to development. He was a fan of the product and thought it sounded like a good idea.

"I bought a deal for 10 stores in early 2004 and opened my first store in 2005. Then came four in 2006, one in 2007, four in 2008 and three in 2009," he says, adding that he now has a deal to build up to 18 Wingstops in Southern California.

Sonenshine, now based in Newport Beach, admits there was a "big learning curve," especially in choosing locations, understanding demographics, and hiring the right people. One tough lesson came after construction was completed on his second location in October 2005.

"As soon as we finished construction, we paid all our vendors--the contractors, kitchen equipment, everybody," Sonenshine says. "Then we had problems with the landlord and couldn't open until March 2006. That was tough. So now I don't accept the premises until there's a certificate of occupancy and the landlord has provided all the utilities."

Another important lesson had to do with finding the right locations, he says. "We felt the pressure of the development agreement and probably compromised on some locations in the beginning. When you compromise with a bad location and you don't have a lot of stores open, it can hamper your growth. It's best to work with the franchisor and get some latitude on development and not settle for a 'C' location when you should be looking for an 'A' location."

Sonenshine says he's gotten much better at dealing with all the issues franchisees face. He believes his number-one asset is that he cares a lot about his leadership team and 150 employees.

"I have close supervisory relationships with my main employees--my VP of operations and my regional director. They run the stores, because I know they know much more than I do," he says. "I focus on development and finances and let them handle day-to-day operations. It's also important that the store managers and employees see these operators as authority, empowered."

Sonenshine says he's happy with the Wingstop product and the simplicity of its concept. "In California, there's a cult-like following of In-N-Out Burger. That's fine. We believe in doing one thing and doing it right. We're the wing experts. We have side items, but our main item is wings, and we do them better than anybody else." His favorites are Thai, lemon pepper, and hickory smoked barbecue with fresh-cut seasoned fries.

Several years into his second career, Sonenshine, who was much influenced by his parents, wife, and brother Coby, says the difference in his lifestyle is night and day. "Now I pretty much don't miss anything for my family unless we're opening a new store and I have to be there on opening day." And he and his wife Kerri spend time working on nonprofit boards and community projects, something he says has always been important to him.
QUESTIONS
Name: Daniel Sonenshine
Title: President
Company: Far West Restaurant Group, LLC
No. of units: Wingstop, 11 with 2 more about to open
PERSONAL
Age: 36
Family: Wife and two daughters
Years in current position: 6
Years in franchising: 6
Key accomplishments: Balancing work, family, and community involvement
Biggest mistake: When I got into franchising, I didn't understand what the right brand demographics were. It took some trial and error to figure that out.
Smartest mistake: Opening too many stores at once.
How do you spend a day, typically? Working on the phone with my VP of operations and letting my key people do their jobs.
Work week: As needed.
Favorite fun activities: Running marathons (my best time, 3:13, was last fall), being the chief of my daughter's Indian Princess group, fine wines, community involvement, and body surfing and swimming at the beach with my family.
Exercise/workout: Running
Favorite stuff/tech toys: iPhone
What are you reading? A biography of Lou Gehrig
Favorite quote or advice? Luck is the residue of design.
Best advice you ever got: If there is a problem, fix it right away.
Formative influences/events: Working for six years as a corporate attorney at a major international law firm.
How do you balance life and work? I try not to miss anything important for my family.
MANAGEMENT
Business philosophy: Put the right people in the right place and let them succeed.
Would you say you are in the franchising, real estate, or customer service business? I'm in the people business.
What gets you out of bed in the morning? Whichever daughter wakes me up first.
What's your passion in business? Opening stores and growing sales.
Management method or style: I don't believe in face time or work for work's sake. I used to have a boss who brought people in over the weekend and had them work late at night for no reason--many times just to do busy work. As long as the work gets done and gets done well, my management team has flexibility. They have to be reachable, but they can manage their schedules better than I can. I also try to give them most of the credit for success.
Greatest challenge: Not getting caught up in minutiae.
How close are you to operations? As close as I need to be.
Personality: Honest, considerate, stubborn, impatient.
How do others describe you? Honest, thorough, impatient.
How do you hire and fire? I only hire and fire my most key people--they hire and fire everyone else.
How do you train and retain? My key people train.
How do you deal with problem employees? By giving them second chances.
BOTTOM LINE
Annual revenue: $8.5 million
2010 goals: $13.4 million
Growth meter: How do you measure growth? By revenue and by how little employee turnover we have.
Vision meter: Where do you want to be in 5 years? I'd like to be operating multi-units and multi-brands. 10 years? No idea.
How has the most recent economic cycle affected you, your employees, your customers? Our sales have grown because our food is affordable. Employees are the same. Customers are more cost-conscious and expect better service.
Are you experiencing economic growth/recovery in your market? Growth
What have you changed or done differently that you plan to continue in the future? We've been very conservative with price increases.
How do you forecast in today's economy? It's difficult to forecast because 1) I opened up a lot of units in a short amount of time so there's no long sales history, and 2) only in the past year have we achieved real brand awareness in the market. Sales have increased because we've hit critical mass with our number of stores.
Where do you find capital for expansion? Cash flow and bank financing.
Is capital getting easier to access? Things are the same for us as we have a close relationship with our local bank.
Have you used private equity, local banks, national banks, other institutions? We're satisfied with our local bank.
What kind of exit strategy do you have in place? I don't have one.
Published: February 1st, 2010
Share this Feature
Recommended Reading:
Comments:
comments powered by

Disqus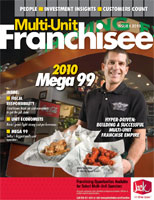 Multi-Unit Franchisee Magazine: Issue 1, 2010
Pizza Factory houses hardworking owners, family-friendly dining and high-quality products. Restaurant design options include a Pizza Factory Express...
Cash Required:
$90,000
Own a highly profitable business that impacts lives in your community by jumping into action as an Urban Air franchisee owner.
Cash Required:
$750,000